As technological advancements continue, subsea processing equipment such as gas compression – now moving beyond Norwegian waters for the first time – may prove to be an increasingly important piece of the offshore production puzzle.
"The overall subsea landscape is changing radically," said Knut Nyborg, EVP and head of front end at Aker Solutions. "There is a move toward smaller, lower cost, flexible and digitally enabled system solutions that focus on enhancing recovery and minimizing environmental impact. In that context, subsea compression has a very important role to play and a very positive market outlook."
Compressors that help maintain plateau gas production rates as offshore reservoir pressures drop over time have typically been installed on platforms above sea level, but placing this equipment on the seabed closer to the wellhead can improve recovery rates and reduce capital and operating costs. Placing the compressor closer to the wellhead increases production and the possibility to extend field life thanks to a lower pressure drop in the pipeline downstream, Nyborg explained.
Subsea compression has a long list of merits, he said: "It provides a better business case by cutting costs and increasing production, it is safer, being remotely operated, and the environmental footprint of a subsea compression installation is significantly lower, offering advantages over topside-based solutions."
But it's been a long road from when the subsea compression concept was first conceived in the mid-1980s to the first commercial use a few short years ago.
An important milestone along the way, Nyborg said, is when Statoil (now Equinor) awarded Aker Solutions a contract in December 2010 to supply subsea compression for the Åsgard project in the Norwegian Sea. "Apart from showcasing the successful developments of new subsea processing technologies, subsea compression also proved itself a viable alternative field development solution," he said.
When the Åsgard subsea compression station started up in September 2015, it effectively completed the final step for technology qualification and demonstrated the system benefits and performance in operation, Nyborg said.
The system uses a MAN High-Speed Oil-Free Integrated Motor (HOFIM) compressor with 11.5 megawatts (MW) compression power. Depending on flow rates and pressure, the system is able to provide a pressure ratio up to 3.5, and flow rates up to 18,000 cubic meters per hour, per compressor. The topside electrical variable speed drives and the subsea transformers for both the compressors and the pumps were provided by ABB. Aker Solutions also delivered the topside power and control module for the Åsgard A floating production, storage and offloading unit (FPSO) to power the compressors and pumps.
To date, the Åsgard subsea compressors have run for more than 60,000 hours with close to 100% reliability, and it is estimated that the solution will enable more than 300 million barrels of oil equivalent to be recovered from the field.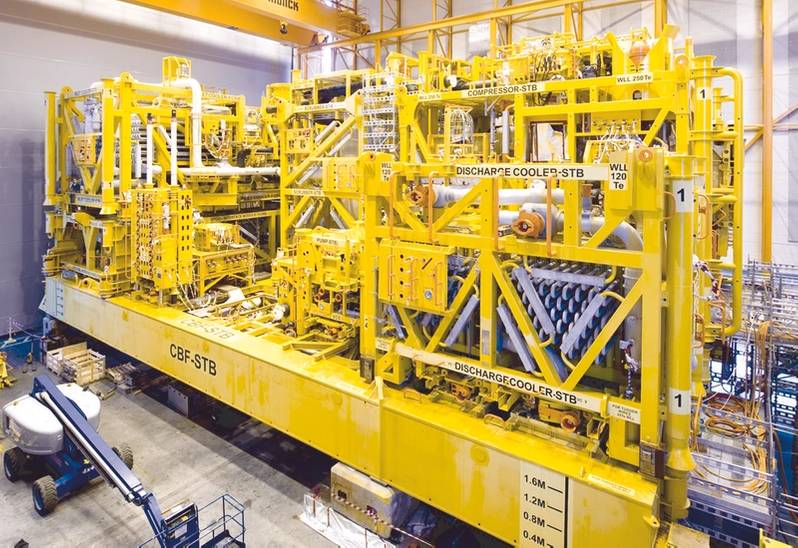 The subsea compression system in Egersund, Norway before sail away to the Åsgard feld. (Photo: Aker Solutions)

New fields
Now Aker Solutions and its partners are working to advance the technology even further as they look to take subsea compression projects into new waters.
Located around 200 kilometers off the Australian northwest coast in approximately 1,350 meters water depth, Jansz-Io, part of the Gorgon project – one of the world's largest natural gas developments – will mark the first use of subsea compression technology outside of Norway. The project, led by operator Chevron with partners ExxonMobil and Shell, is currently in the FEED phase and going "full steam ahead", Nyborg said.
After delivering Åsgard, Aker Solutions' lead engineers from the project, together with help from separate alliance agreements with MAN Energy Solutions and ABB, employed their experience and lessons learned to develop a next generation subsea compression system, SCS 2.0, for new field developments, including Jansz-Io. The companies managed to maintain their core teams and competencies through the downturn, already underway when Åsgard went on stream.
According to Nyborg, "The main objective of the SCS 2.0 program has been to reduce cost, size, weight, complexity, delivery time and also the need for heavy lift operation, while keeping the core functionality and robustness in design." He said, "The engineering work performed indicated that the SCS 2.0 system is able to realize more than 50% reduction in terms of total size and weight."
"Take the compressor module for example, utilizing the lesson learned – the module size and weight were reduced from 294 tons to 180 tons. One way this was done was by simplifying the module pipe routing and by moving the anti-surge function out of the compressor module. Compared to Åsgard the number of modules has been reduced from 13 to seven per train in the SCS 2.0 system."
Building upon the Åsgard experience, the Aker Solutions and MAN Energy Solutions alliance aims to deliver a true well stream compression system boosting the liquid and gas mixture that arrive from subsea wells without the use of scrubber and pump. "This will further reduce the size, weight and cost and thus make the high capacity centrifugal subsea compression system even more attractive," Nyborg said.
"The well stream system will include a flow conditioning unit, a subsea compressor with auxiliary systems, a cooler and associated controls and high voltage equipment. The need for a separate liquid pump, with its high voltage power supply, is removed as all liquid is routed through the compressor. There are tremendous savings in reducing the umbilical scope and high voltage power supply accordingly, in particular on long distance step outs at deep waters."
The flow rates for Jansz-Io are up to three times those at Åsgard, requiring three compressors operating in parallel from one scrubber in one train. Aker Solutions was not able to share details on the subsea footprint, but said the power requirement per train is three times the 11.5 MW Åsgard train. The Jansz-Io compression station is located approximately 140 kilometers northwest of the onshore terminal at Barrow Island (the step out for Åsgard was around 40 kilometers).
Early execution of a technology qualification program for the water depth (1,400 meters) and increased design pressure (285 bar) has been ongoing since 2017.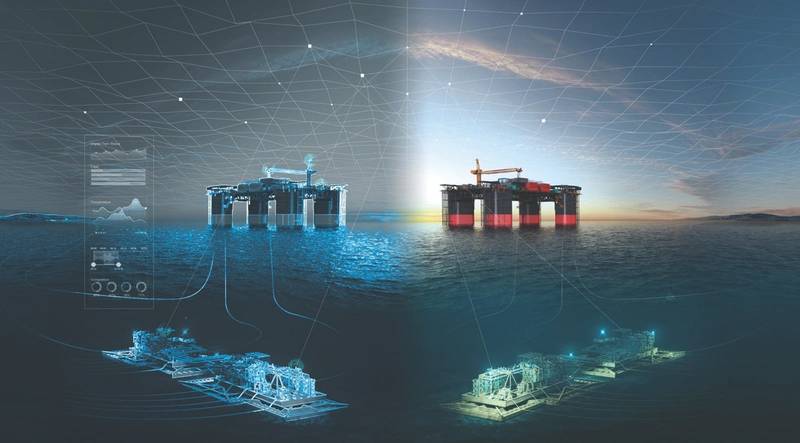 The digital twin being developed for Jansz-lo will allow for a long-term predictive maintenance and performance optimization strategy, reducing the need for intervention and lower operating costs. (Image: Aker Solutions)

Nyborg said the proven Åsgard technology is applied for Jansz-Io but with added lessons learned from commissioning and feedback from operation to support further optimization, including reduced equipment costs, better delivery time, minimized heavy lift operations and design robustness to limit maintenance operations.
"Åsgard subsea compression was the first subsea compression delivery anywhere. The modularization philosophy for Åsgard was to keep all main process equipment individual retrievable from the station, and the consequence of this was separate modules for each of the main process units, in addition to a spool interface module. This gave us a robust design, but also substantial weight and size," he said.
Since Åsgard, the lead engineers have been focusing on implementing the low/no risk opportunities that are spotted in the project execution and design, Nyborg said: "For example, the reduction of the process modules from seven to three results in a significantly reduced footprint of the compressor train. Heavy lift operations are minimized by reducing the weight of the modules."
"Delivery time is improved by the fact that we have done this before. It is all about the knowhow and experience of the team, as well as the strength of the alliances we have with ABB and MAN Energy Systems. We have also been focusing on critical sub-suppliers as a continuous process, not just for specific projects," Nyborg said.
In addition to performance gains, another benefit of subsea compression at Jansz-Io is improved environmental footprint over the life of the field. Nyborg said, "Getting the compressor closer to the well offers big advantages compared with alternative solutions (compression platform or onshore compression). Our updated subsea compression system can offer increased recovery, less power consumption, offshore logistics elimination, no discharge or emissions, with less material used. The weight of the Jansz-Io system will be significantly lower per MW compression compared with Åsgard."
Nyborg said Aker Solutions has developed a set of performance indicators that will be used to measure the environmental impact of products and system solutions in a project or product development. Due to launch this year, the indicators will be incorporated in the Jansz-Io project to measure the efficiency of boosting, material consumption and intervention frequency.