Expandable liner hanger designs are advancing to meet the ever-increasing demands of deepwater well construction.
A new expandable liner hanger design provides an effective liner top seal for high-pressure, high-temperature (HPHT) well conditions while another provides double expansion capability as an option to submudline hanger systems installed in large diameter surface casing.
Expandable liner hangers, such as the TIW XPak Expandable Liner Hanger System, are engineered to mitigate risk by ensuring an effective liner top seal. The XPak is a fully-integrated system that provides both pressure sealing and anchoring capabilities in a compact package, says Edward Royer, engineering manager for downhole tools at TIW, a Dril-Quip company.
The two-component linger hanger/packer system delivers redundant metal-to-metal sealing and elastomer seals to provide assurance for inner diameter casing irregularities. The system also provides for a tieback capability at the liner top with various seal bore lengths to meet future installation needs.
TIW's XPak system is designed differently than its competitors.
"We expand our hanger body to the host casing by using an expander," Royer says. "The expander remains installed in the liner hanger body after expansion," which offers better collapse pressure resistance compared to other expandable liner hangers. This structural support remains intact for the life of the installation, in contrast to other expandable liner hanger systems which retrieve an expansion device as part of the running tool after installation is complete, he says.

XPak Expandable Liner Hanger System (Image: Dril-Quip)
The XPak Expandable Liner Hanger system, which has been installed in over 1,000 wells globally, was designed for offshore use, although it has been used onshore as well, Royer says.
"Our system is compact at the liner top where it's in contact with the host casing," he says, adding the XPak system needs less than two feet of contact with the host casing to provide an effective seal and anchoring capability.
One advantage of the XPak system, Royer says, is the simplicity of installation, which involves deploying the expandable liner hanger downhole on a multi-piston hydraulic running tool, cementing the liner and pressuring up, then expanding the XPak liner hanger onto the host casing. Once the install is complete, the running tool is released with drill pipe weight down or right-hand rotation and recalled to the surface.
The XPak's optimized outside diameter increases the bypass area, so it's possible to run the system faster, which saves operators money and time, Royer notes. The larger bypass area also permits higher flow rates for circulating and cementing the well while mitigating risks concerning effective circulating densities, he adds.
He calls the XPak the "most robust liner top hanger seal in the industry," citing a track record of high reliability. "We've minimized liner top leaks to almost zero," he says.
The XPak Expandable Liner Hanger system is available in sizes ranging from 4-1/2 inch OD x 5-1/2 inch OD to 18-5/8 inch OD x 24 inch OD.
Because of evolving industry needs, TIW developed variants on the XPak theme, including one for HPHT conditions and the Double Expansion XPak Liner System, which eliminates the need for fixed landing profiles and risk associated with sub-mudline hangers when installing casing in larger diameter surface casing, thus increasing operational flexibility and providing cost savings.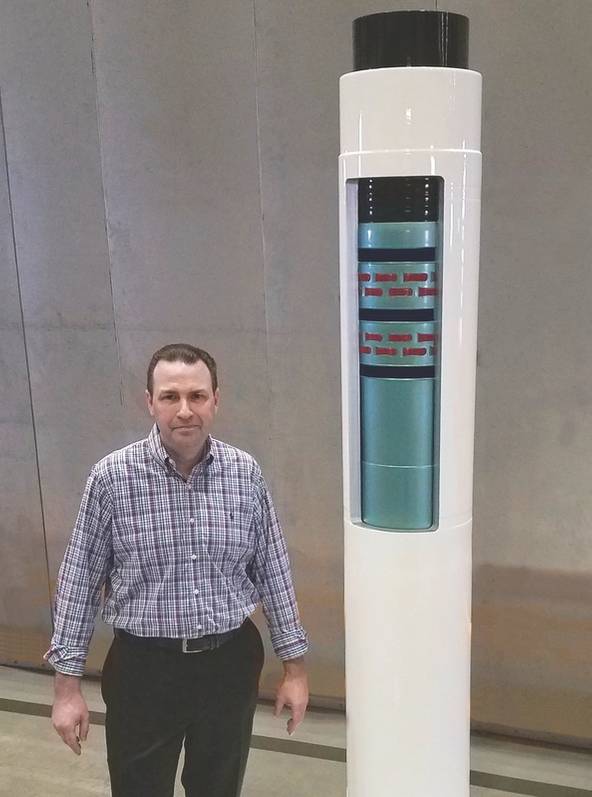 Edward Royer, engineering manager for downhole tools at TIW, a Dril-Quip company, with the HPHT XPak (Photo: Dril-Quip)
Doubling down
The Double Expansion XPak (DE XPak) deploys through wellhead restrictions to provide a metal-to-metal sealing within seamed, thin-wall surface casing (22 inch OD x 1 inch wall) and offers high hanging, lockdown and pressure capacities. The expandable liner hanger system is intended for large bore wells with thin walls. As with the XPak, the DE XPak expander remains installed in the hanger body, providing structural support that permit higher loads and pressures.
The double expansion process is achieved with a pressure activated, multi-piston hydraulic tool used to expand and displace an expander, which in turn expands the XPak hanger body to contact and interfere with the host casing. The expander provides tieback capability via a polished bore receptacle and remains installed inside the hanger body for the lifetime of the installation.
The DE XPak can be placed as desired after running the 22-inch casing rather having to be installed in a fixed location, Royer notes. It will seal inside a seamed pipe.
A supermajor has expressed interest and applications for the DE XPak in the Gulf of Mexico and offshore Brazil using the double expansion technology, Royer says.
The DE XPak is available in 18 inch OD x 22 inch OD (1 inch wall).
Under pressure
Following a customer request in late 2017, TIW set about engineering a version of the XPak that could meet 15,000 psi and 375 degrees Fahrenheit conditions and loads of 1 million pounds in tension and 800,000 pounds in compression.
The 7-5/8 inch OD x 12-1/4 inch OD hanger design required enhancements from the standard XPak offering to meet the challenges of HPHT conditions. For example, Royer says, the slip design changed some to provide better anchoring capability with the use of multiple rows of staggered slips.
For the qualification test, Dril-Quip built a full-scale replica liner hanger and built a test fixture around the assembly. Testing subjected the XPak hanger system to combined loading, tension, compression and internal and external pressure. "For HPHT, we exceeded the burst pressure ratings of the liner," Royer says.
Third-party facility testing revealed the system could withstand internal pressures of 21,750 psi at 60 degrees Fahrenheit and 15,000 psi at 375 degrees Fahrenheit to meet the customer's statement of requirements.
"What makes this HPHT qualification unique is we are satisfying two different drilling groups: injection wells with lower temperatures and production wells with higher temperatures," Royer says. "It's a pretty dramatic temperature difference for a system that has to seal and anchor the way this liner hanger system will have to perform."
Testing wrapped up in early 2018, and the customer has deployed the HPHT XPak Expandable Liner Hanger system four times in the deepwater Gulf of Mexico, Royer says.
System development and qualification of the 7-5/8 inch OD x 12-1/4 inch OD HPHT XPak Expandable Liner Hanger system has allowed the customer to run 7-5/8 inch OD and 8-5/8 inch OD liner systems using the same hanger system. The design incorporated the request to make the hanger system more versatile and applicable for future installations.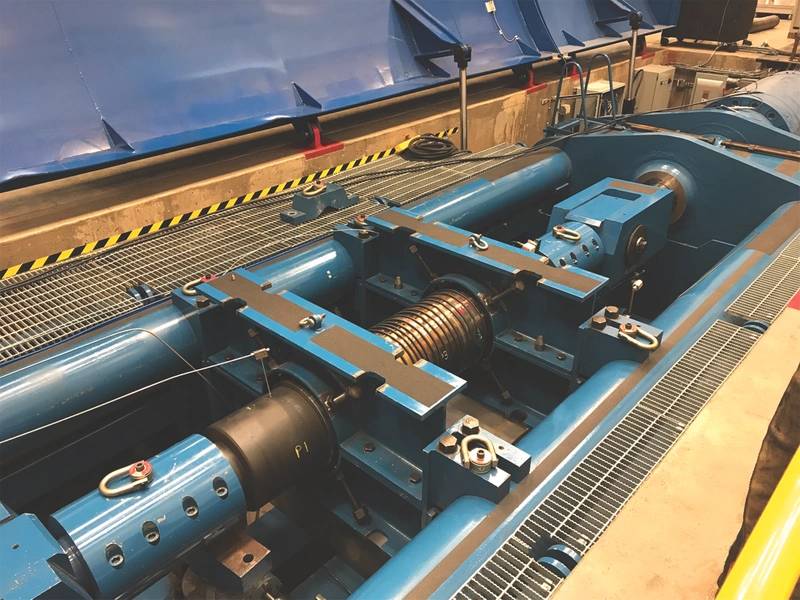 The HPHT test fixture (Photo: Dril-Quip)