First Crew Boat for Nakilat Svitzer Wijsmuller Launched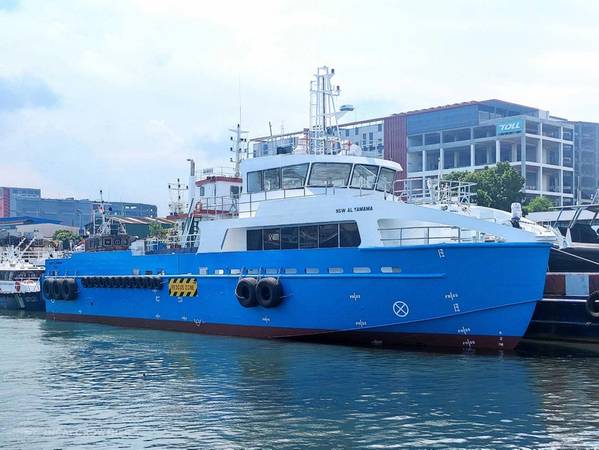 Al Yamama, the first of three new Incat Crowther 33 crew boats designed for Nakilat Svitzer Wijsmuller (NSW), has been officially launched in Singapore by shipbuilder Lita Ocean.
NSW Al Yamama, with its homeport of Doha, will serve as wellhead maintenance vessels for QatarEnergy in the Middle East.
Designed specifically for the transfer of special maintenance personnel and equipment, the three BV-classed vessels can transport 40 people at speeds of up to 24 knots. The vessel's main deck features generously spaced passenger seating, a spacious officers' lounge with refreshment center and two bathrooms. Sleeping quarters for seven crew are located in the hull alongside a large lounge, mess and bathroom.
Al Yamama's large deck cargo can hold up to ten tonnes of payload, ensuring the vessel can perform the dual role of transporting personnel and crucial equipment for QatarEnergy.
The vessel's elevated wheelhouse ensures the captain has an excellent line of sight for day and night operations from both forward and aft-facing helm positions.
The vessel is powered by a pair of Caterpillar C32 main propulsion engines and three Caterpillar C4.4 generator sets.
The final two vessels comprising the new crew boat build contract, NSW Al Shuaiba and NSW Zikreet, are nearing completion and are expected to be delivered in August and September respectively.