Mexico's Energy Reform has sen its first concrete offshore result, with the installation of of Eni's Miztón platform in the Gulf of Mexico.
In March, the Sapura 3500 DP3 Heavy Lift Vessel (HLV) completed the installation under the Area 1 Production Sharing Contract (PSC).
Startup of the Miztón Well Head Platform is planned for first half 2019, and production will be sent onshore through a 10" multiphase line and then treated at an existing Pemex facility. Early production plateau is expected at 8,000 barrels of oil per day (bopd).
Claudio Descalzi, Eni's CEO, said, "Area 1 development will be a fast-track project in line with ENI's strategy aimed at maximizing the long-term value for all stakeholders and shareholders."
Eni's ability to fast-track the project was facilitated by the availability of a suitable topside in nearby Texas.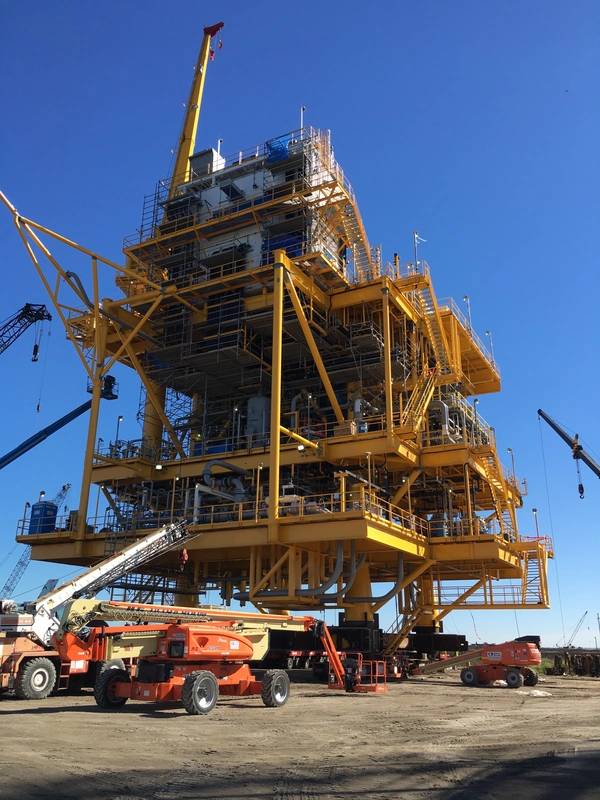 Mizton topside at State Service yard, Ingleside, Texas (Photo: Upstream Engineering)
"In 2014, Houston based Upstream Engineering, LLC and State Service, Inc. in Ingleside, Texas completed the design, engineering & fabrication of the OKORO jacket and topsides; a shallow water, normally unmanned wellhead platform for an overseas client that failed to take delivery of the structure", explains Joost Perquin, founder of Paradyne Services. "Paradyne's unique capabilities in facilitating the re-use of offshore platforms allowed us to connect Upstream and State Service to ENI in Mexico to support their fast-track development for Miztón in a cost-effective manner."
"As the recovery in E&P spending continues into 2019 and oil companies remain cost conscious, we see good opportunities to grow our platform re-use business, as it allows them to reduce project cycle times and reduce cost. At Paradyne Services we have developed a robust system to identify high quality assets that are either stranded or ready to be decommissioned and suitable for installation elsewhere", concludes Perquin.
In August of 2014 the Mexican Government enacted a comprehensive Energy Reform, after 75 years of the national oil company's single rule and allowing international oil companies to acquire operating licenses during subsequent tender rounds. More than 100 contracts were awarded to foreign and Mexico-based companies in bid rounds held between 2015 and 2018.
The Amoca, Miztón and Tecoalli fields are shallow-water fields that form part of a single development block also known as Area 1 in the Southwest Marine region off the coast of Mexico's Tabasco state. In 2015 Area 1 was awarded to Eni in tender Round One.
Full Area 1 field production will start in late 2020 and is expected to reach 90,000 bopd from 2021.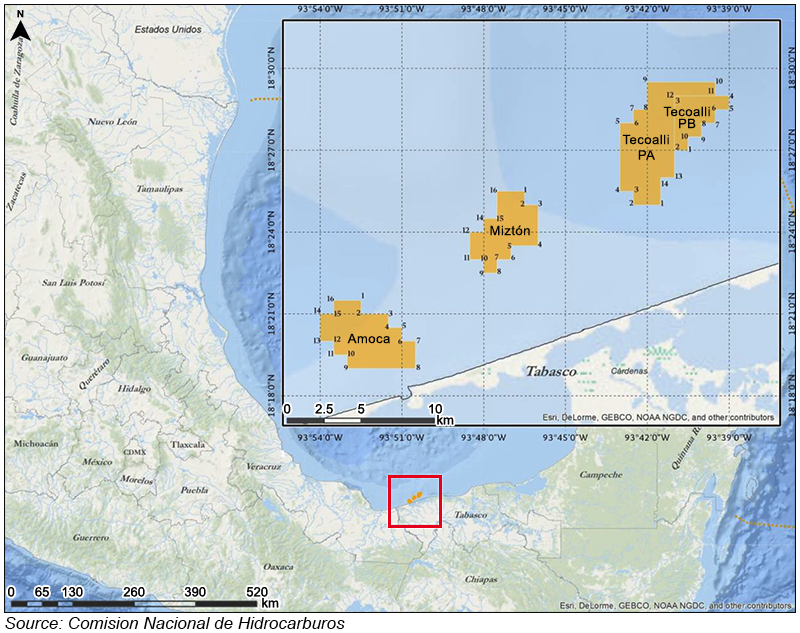 Eni's Area 1, offshore Mexico's Tabasco state