The Northern Lights JV in Norway which is developing the world's first open-source CO2 transport and storage infrastructure, has this week completed the installation of all 12 CO2 storage tanks at its facilities in Øygarden.
The Northern Lights JV, which is a carbon capture and storage partnership between Equinor, Shell and TotalEnergies, said Friday that the tanks are 32.5 meters tall and have the capacity to store nearly 700 tonnes of CO2 each, before the CO2 is injected into pipelines and permanently stored in the offshore reservoir.
"It is truly exciting to see how the site is transforming from vision to reality. Massive thanks to everyone involved in the safe execution. The construction work is on schedule, and Northern Lights will be ready to handle CO2 emissions from Norway and Europe from 2024," Northern Lights said in a statement.
Separately, Aker Solutions confirmed it was responsible for the lifting and installation of all 12 CO2 storage tanks.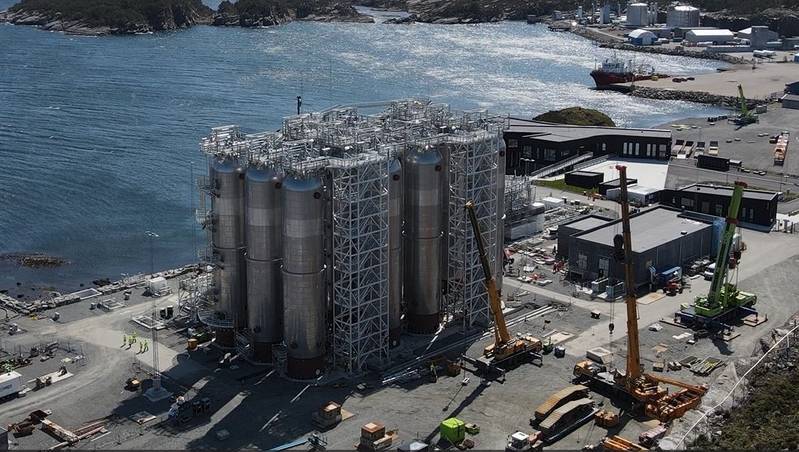 Credit: Northern Lights/Equinor
"Our engineering, method, construction, and marine operations teams in Stord and Fornebu played a key role in reaching this latest milestone.
Working closely with Equinor and partners, we are extremely proud to deliver the engineering, procurement, and construction for the onshore facility for this landmark project.
When in operation the facility will handle 1.5 million tonnes CO2 per year and will look to expand the capacity to above five million tonnes per year for phase 2," Aker Solutions said.
Last month, Northern Lights JV and Ørsted signed a CO2 Transport and Services Agreement (TSA) to store 430,000 tonnes biogenic CO2 emissions per year from two power plants in Denmark.
Northern Lights will transport 430,000 tonnes biogenic CO2 annually for ten years from the Ørsted Kalundborg Hub in Denmark to a CO2 receiving terminal at Øygarden. The liquefied biogenic CO2 will be stored intermediately in onshore tanks at Øygarden prior to the injection into the offshore reservoir via pipeline for permanent and safe storage, 2,600 meters below the seabed. The agreement is effective from 1 January 2026.