ABS Studies Near-Shore Green Hydrogen Production in Korea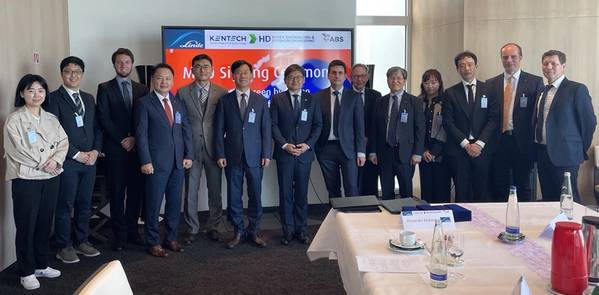 ABS has signed an MoU with Korean industry leaders to produce a feasibility study for a near-shore floating platform for green hydrogen production and liquefaction.
The partners include the Korea Institute of Energy Technology; HD Korea Shipbuilding and Offshore Engineering, part of HD Hyundai Group; Linde Korea; and Linde.
The Korean government is supporting commercial-scale production of green hydrogen, with the expectation of increasing energy self-efficiency. The feasibility study will be included in a report from the Jeolla Province to determine the viability of developing a green hydrogen production and liquification facility at a near-shore floating platform utilizing offshore wind-power.
The study is the latest in ABS's work to support green hydrogen production, which includes an approval in principle (AiP) for HD Hyundai Group's offshore green hydrogen production platform. The platform will be linked to renewable power sources on land as a near-shore concept, as well as offshore wind power. It will offer several options, including hydrogen liquefaction, ammonia and methanol conversion to hydrogen power systems, to address a variety of hydrogen sources and transportation methods. A first facility is expected in 2025.