TGS and SLB Collaborate on Ultra-Long Offset OBN Survey in U.S. Gulf of Mexico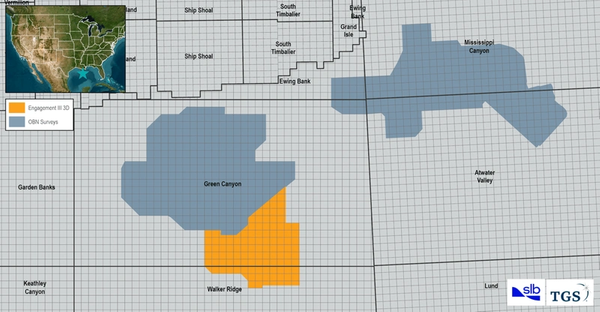 Offshore seismic data firm TGS, in collaboration with oilfield services giant SLB, this week announced the Engagement III ultra-long offset ocean-bottom node (OBN) acquisition in Green Canyon, U.S. Gulf of Mexico.
The 111 OCS block survey is underway, and acquisition is expected to be complete in April 2023.
"Following the success of previous projects, imaging uplifts will be delivered through the application of full-waveform inversion (FWI) velocity model building utilizing the ultra-long offsets—imaging to be carried out by SLB with final results expected in mid-2024," TGS said.
Engagement III is the fifth multi-client ultra-long offset OBN acquisition in the Gulf of Mexico and extends the data coverage south from prior phases.
Kristian Johansen, CEO at TGS, commented: "TGS and SLB continue to lead the advancements of ultra-long offset OBN acquisition in the U.S. Gulf of Mexico, providing the industry with access to marked improvements in image quality in this geologically complex basin."
The project is supported by industry funding, TGS said.