HST Marine Orders Hybrid CTVS from Strategic Marine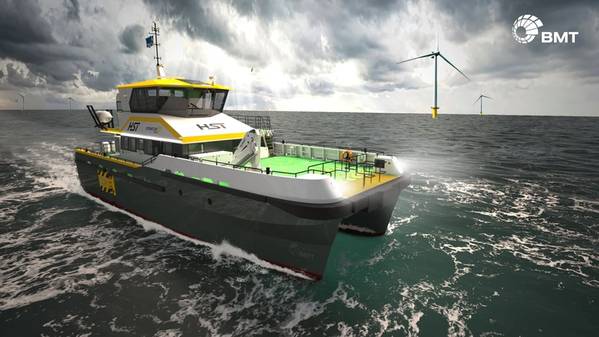 Purus Wind's HST Marine has ordered a series of four hybrid crew transfer vessels from shipbuilder Strategic Marine, with options for two additional vessels.
The BMT-designed parallel hybrid StratCat 27 (SC27) CTVs will be delivered in the first and second quarters of 2023. If the options are exercised, the additional pair will be delivered in third quarter 2023.
The hybrid ready StratCat 27 design was launched in May 2021 and has already seen wide interest from the offshore wind industry, according to the builder. The 27-meter vessel was designed for optimal operational efficiency across a wide range of loading conditions, with a hull form that maximizes waterline length and reduces emissions and fuel consumption. A maximum speed of 26 knots enables operators to transport customers quickly and efficiently.
Accommodations and bridge deck layout have been refined with feedback from vessel operators and customers. Post-Covid, real-world adaptations have been made to reduce the risk of infectious disease on operations, meeting Bureau Veritas biosafety notations. The cabin design has been optimized for improved comfort and workflow, with ample storage space, comfortable sleeping areas and business class seating for 24 offshore service/industrial personnel and three crew members. The vessel's bridge deck layout has been enhanced to give improved visibility from the helm and an ergonomic layout to increase comfort for the bridge crew.
In line with the stringent environmental demands of the market, the vessel also features a Green Passport. The parallel hybrid system enables a reduction in main engine hours and maintenance costs, significant reduction in vessel noise and vibration and, depending on the vessel's operational profile and charging facilities, can significantly cut the vessel's operational carbon footprint.