All 50 Monopiles Completed for Iberdrola's Baltic Eagle Wind Farm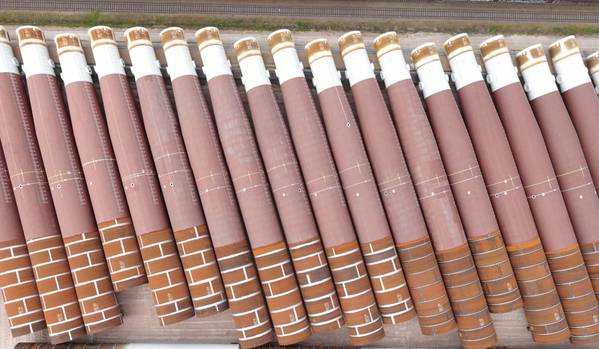 Germany's EEW SPC has completed the construction of 50 monopiles for Iberdrola's second wind farm project in the German Baltic Sea, the Baltic Eagle.
"In December 2022, as scheduled, the last monopile for the Baltic Eagle offshore wind project left the production line at EEW Special Pipe Constructions' Rostock site," EEW said Monday.
EEW constructed and coated 50 monopiles. The monopiles have a diameter of between 8.75 and 9 meters
"We would like to thank Iberdrola for the trust they have placed in us. So far, everything has gone smoothly, and we are delighted to have been able to play our part in the success of the project," says Robert Dreves, Managing Director of EEW SPC.
The foundations will be transported to the installation site in the Baltic Sea, starting in spring 2023.
Once commissioned, the wind farm, with an installed capacity of 476 MW, will produce electricity at least until the middle of the century.
Located 30 kilometers northeast of the island of Rügen, off the coast of Pomerania, Baltic Eagle is part of what will be the largest offshore wind complex in the Baltic Sea, with a total installed capacity of more than 1,100 MW and a combined investment of 3.5 billion euros.
---