When the offshore downturn hit, no operating region was spared. Southeast Asia, once the offshore poster child, found itself falling from grace, and hard. What followed was series of liquidations, bankruptcies, court protection and government intervention. As we head into the fourth quarter of 2019, Southeast Asia still finds itself struggling with low utilization and poor rates. However, out of the ashes can be found a flicker of hope and we are seeing a few savvy Singaporean owners taking a bad market and creating new opportunities.
Two sides to every story: post-downturn distressed owners
Singaporean offshore lynchpins such as Pacific Radiance, Emas Offshore, Swissco Holdings and Swiber Holdings found themselves under the microscope of judicial management, restructuring talks and subsequent bank driven vessel sell offs. Pre-downturn, these companies were powerhouses that represented the might of the Southeast Asian offshore market.
| Singaporean Offshore Companies | 2019 Value (USD Mil) | (2014 Value (USD Mil) |
| --- | --- | --- |
| Pacific Radiance | $165.26 | $964.50 |
| Emas Offshore | $98.96 | $782.31 |
| Swissco Holdings | $67.58 | $382.03 |
| Swiber Holdings | $8.05 | $131.86 |
Table 1: Distressed Singaporean offshore owners market value (USD mil) today and pre-downturn
Singaporean opportunistic buyers, with a thirst for cheap deals
A poor market can create a wealth of opportunity for those willing to take a risk. Fortune favors the brave, and we have seen several well-timed deals concluded by a select number of Singaporean owners. A notable shift is occurring in the Singaporean market. Smaller owners are now rising through the ranks, they are agile, have clean balance sheets are cash rich and can afford to purchase high quality vessels which were once unattainable in the offshore boom.
Who has taken advantage?
Kim Heng, in June 2017, bought three large anchor handling tug supply vessels (AHTS) (10,800 BHP, August 2009 - July 2010, Fujian Southeast) from troubled Swiber Holdings, at $3.3 million each. The combined VV value day before sale was $9.37 million.
| Ship Name | Type | Sale Date | Sale Price (USD Mil) | VV Value Day Before Sale (USD Mil) | Current VV Value (USD Mil) |
| --- | --- | --- | --- | --- | --- |
| Swiber Else | AHTS (Large) | May 5, 2017 | $3.30 | $3.01 | $1.20 |
| Swiber Anne Christine | AHTS (Large) | May 5, 2017 | $3.30 | $3.10 | $1.28 |
| Swiber Mary Ann | AHTS (Large) | May 5, 2017 | $3.30 | $3.26 | $1.43 |
| | | | $9.90 | $9.37 | $3.91 |
Table 2: Kim Heng AHTS transaction
Although the value of these vessels has fallen since the transaction date, Kim Heng still got a good deal. By listing the VesselsValue fixed age analysis tool to assess the Bridgewater 132 (ex-Swiber Mary Ann), we can see that the median value is at $12.4 million, almost four times the original purchase price.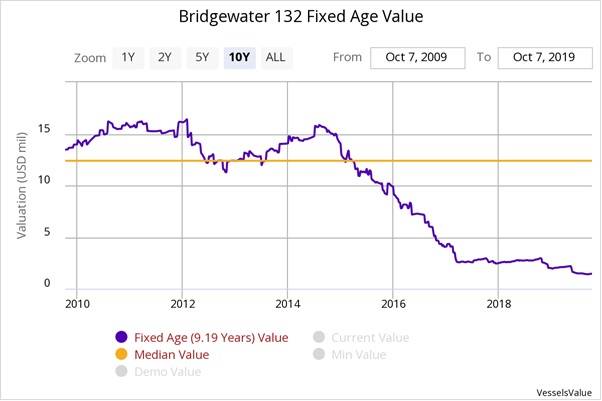 Fixed Age chart of Bridgewater 132 (ex-Swiber Mary Ann)
Possibly the best asset play of 2018 was Eastern Navigation acquiring four vessels en-bloc from bankrupt offshore owner Toisa Ltd. The Toisa Explorer, Toisa Envoy and Toisa Elan (18,767 BHP, Mar to Nov 2013, Wuchang Shipbuilding Industry Group) and MPSV Toisa Wave were purchased for $6 million each. Deal excluded $1.5 million class reactivation costs and relocation to Southeast Asia. The combined VV value of the three AHTS day before sale was $34.15 million.
Looking at the potential upside on this investment the Ena Frontier (ex-Toisa Envoy) the median value is at $37.3 million, which is about six times more than the original purchase price representing a well-timed investment with large potential upside.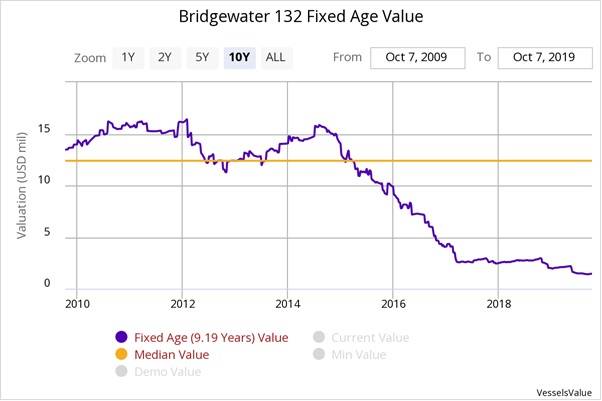 10-Year-Old Fixed Age chart of Ena Frontier (ex- Toisa Envoy)
Smaller companies have taken advantage of the faltering market, making bold moves into acquiring quality assets at a discount to their current valuation. Values, although depressed, are stable. With these strategic value-for-money investments, there could be a new breed of Singaporean power houses emerging. In due time, the Lion City might be ready to roar again.