The starting gun on a subsea space race has now officially been fired with the first ever award of a contract that includes services from a subsea resident drone.
But, what is less known is that the award, made by Equinor to Saipem for operations on the Njord field, was made at what was the largest gathering of resident robotic systems ever assembled to date. Subsea drone vendors attended the event, near the small town of Tau, near Stavanger, from across Norway as well as the UK, Sweden, Japan, Italy, Switzerland and France. It also hosted aerial drone system suppliers and component suppliers and made it on to Norwegian national television.
The event, which saw the first public demonstrations of a prototype of Oceaneering's Freedom vehicle, included automated docking, and a resident vehicle support concept from Stinger AS and a drone from French firm Notilo Plus, attracted hundreds of people involved in this segment of the industry to the otherwise quiet town of Tau, near Stavanger.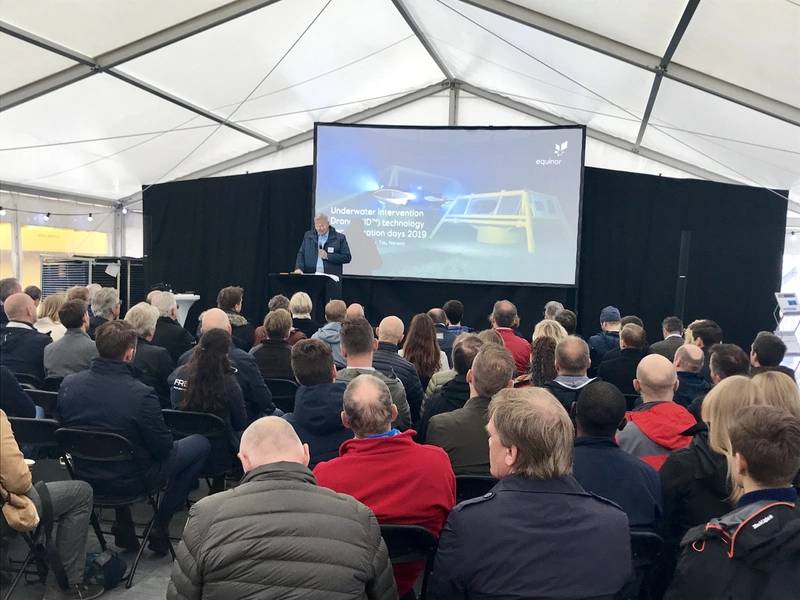 Rune Aase, VP, Equinor speaks at an event marking the largest gathering of resident robotic systems to date. (Photo: Elaine Maslin)
Equinor VP Rune Aase told the event: "This technology is an enabler. It's an enabler for unlocking new ways of working, transforming the way we're working and, not least, reducing CO2 footprint and increasing competitiveness on the Norwegian Continental Shelf and internationally. With drones, we can move more of the task onshore, move people onshore closer to their homes."
Equinor has set out to be a front runner in this area, pushing hard on developing a model that could work across different assets, to get the critical mass needed to introduce new business models where drones can be permanently based subsea. This has seen them develop, through suppliers, a subsea docking station that it's also been working with on with the likes of Deepstar and the Subsea Wireless Group (SWiG), in order to standardise the docking station and interfaces. A submission to the API is due to be made that would set out new standards that could be used internationally, the event was told.
The first contract to Saipem, which recently started the first offshore testing of its Hydrone R vehicle, offshore Italy, has meant that, initially, not all are rewarded for the efforts in developing their drones. But, Gro Stakkestad told the event, "This is just the start. It's the start of a radical change and technology innovation. But we need more of it and need you helping us on this journey." The next big decision for this space is set to be made on the Snorre Expansion Project, for which the required power and communications capability to support drones has been designed in.
A docking station, which had previously been used in a demonstration with Saab Seaeye in Norway, will be taken offshore to the Åsgard field, where an Eelume 'snake' robot will be tested on a tether, now next year. Meanwhile, after the tests with the Freedom vehicle, the Tau docking station will be transported to Trieste, Italy, where Saipem's Hydrone R will use it for trails. A third docking station was donated for use as a research center in Trondheim fjord, where the Eelume robot has been used on it.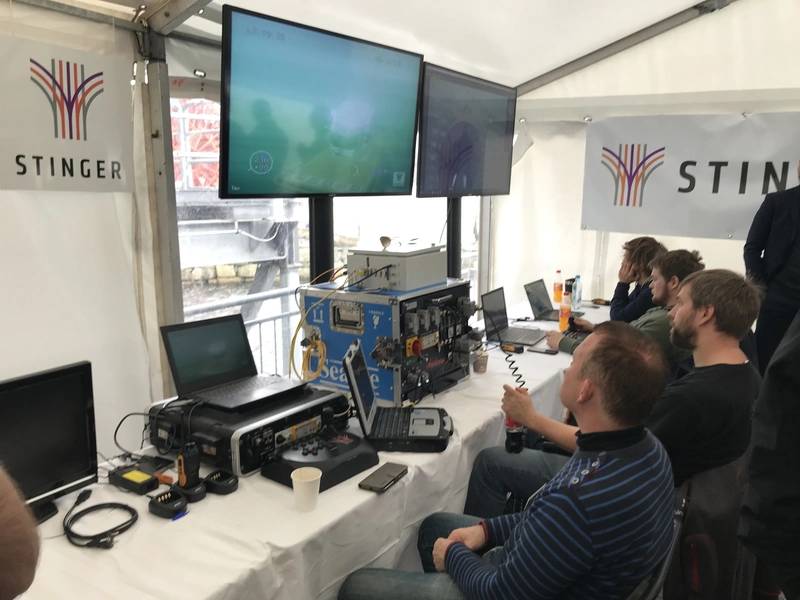 Stinger AS' resident ROV concept being overseen in the demonstration area (Photo: Elaine Maslin)
Other technologies demonstrated at the event, organised by Stinger AS with support from Equinor, included: Stinger AS ROVs; Blue Logic inductive connectors; Kawasaki Subsea's AUV (a model of); Water Linked's subsea position and modem technologies; Wisub's inductive connectors; Birdview's drone that can deploy an echosounder into water; IKM Testing with aerial drones; NOV Seabox with its subsea water treatment technology (tested at the same site); Saipem's Hydrone R and FlatFish (models of), Saab Seaeye's Sabertooth, owned by Modus Seabed Intervention; i-Tech7's AIV (a model of); Innova and Sonardyne, with BlueComm, positioning and navigation technologies; Eelume; Unitech's Zefyros offshore test station; Grip Offshore, with a new design electric manipulator; and Hydromea, with an optical modem.
The Tau test site is set to be turned into a test and training center for autonomous air and sea drones. With a safety training facility already on site (which makes use of the former North East Frigg facility), but with spare capacity, it was perfect for Oceaneering's Living Lab – a test site for work on its Freedom vehicle. Their testing will continue, but Arnfinn Nergaard, who is helping to set up an aerial and underwater drone test area at the site, hopes more will come. The site will cover 2 square kilometers of water, with easy to access from a quayside. The water depth nearby is 25 meters with 240 meters water depth just 60 metes away, and areas where it's 300 meters.
Oliver Skisland, CEO at Water Linked (Photo: Elaine Maslin)