A subsea space race is now officially underway in the offshore oil and gas industry following successful trials of docking and inspection operations using a commercially available underwater vehicle and Norwegian energy firm Equinor's open-standard subsea docking station (SDS).
The trials, witnessed by a crowd of leading players in the subsea resident remotely operated vehicle (ROV) or autonomous underwater vehicle (AUV) and hybrid space, were carried out in Lake Vattern, at Motala, Sweden on Tuesday.
The SDS, the second built for Equinor, was transported to Saab Dynamic's Sweden facility for the trials. During the event, Saab Seaeye's Sabertooth AUV performed autonomous transits, docking, using an advanced control system, an inspection of a subsea infrastructure mock-up, re-charging and video data download using Blue Logic inductive connectors, and a live video control using Sonardyne's BlueComm free-space optical modem.
Instead of using joystick control, the majority of the operation was run with preprogrammed route plans or using advanced motion controls, enabling operators to move the vehicle from its automatically held position by set amounts using a touchscreen user interface.

(Photo from Saab Seaeye)

(Photo from Saab Seaeye)
Representatives from major operators were at the event, including Equinor, which has driven the open-standard SDS and is working with industry via the SWIG (subsea wireless interest group) and a Deepstar project to standardize docking station interfaces, as well as other companies who may sooner or later be using the SDS, including Saipem, Oceaneeering, IKM Subsea and Eelume; those who could supply power to these vehicles, such as Ocean Power Technologies; and service suppliers like iTech, Rovop and DeepOcean.
Jon Robertson, managing director of Saab Seaeye, said, "For us, this has been a core part of our business for 30 years. It's brilliant to see the industry starting to talk about these things. With Sonardyne's BlueComm and Blue Logic's connectors, the Sabertooth is augmented and with the SDS from Equinor, we have the technology available today to do this. Using a Sabertooth and a subsea dockable tooling or skids, you can start reducing the cost of opex, remove humans from offshore and environmental impact."
Gro Stakkestad, manager of R&T, diving and pipeline repair, at Equinor, told the event, "We need to do things more radically. This thing we are talking about today is really a radical step for us. Subsea drones can be an enabler for some field developments and enhance the business case on already existing and new fields.
"A core concept for us is the remote offshore factory and autonomous inspection is key in reaching that goal. The future is here today. Why robots? You have to be able to see inspection and sometimes manipulate to maintain our assets and get information we can analyse to predict the future."
Marianne Bryhni Asla, lead engineer at Equinor, told the group, "As an engineer this is extremely exciting to work with." But, she says, there's also a business case covering safe operations, value and low carbon, by reducing the need for humans and vessels offshore. "We can design fields in different ways then as could increase production efficiency. It's profitable in remote areas."
Saab Seaeye's Sabertooth can operate as an AUV but is also able to hold station to use tooling. In fact, an electric torque tool was fitted on the vehicle during the trials and Saab Seaeye is testing an electric T4 equivalent manipulator. Autonomous docking to the SDS would also be possible, said Saab Seaeye, just as it does with its own docking station.
(Photo from Saab Seaeye)
Following the trials, the SDS is going to be transported back to Norway, where later this year it will be then installed on the Åsgard field later and used for trials with Trondheim-based robotics firm Eelume's snake-robot on a tether.
Another SDS – the first built – is now installed in 365 meters water depth offshore Trondheim, following trials in the DORA facility there, as part of the autonomous underwater technology laboratory test facility run by the Norwegian University of Science and Technology (NTNU).
During the demonstration event at Motala, Helge Sverre Eide, business manager, Blue Logic, said, "To maximize use of drones, we need to change the way we work and the way we think. If you have made that investment, the work it does is then free."
Ioseba Tena, global business manager for robotics at Sonardyne, also presented at the event. He said that a combination of acoustics, for multi-kilometer communications and ranging to base stations, and optical communications, for high bandwidth live video and control, would give operators full control and flexibility over their vehicles. "BlueComm gives you docking with wireless control.
A key focus for Equinor is making the SDS and open standard. Eide agrees. "This is open innovation. If we are going to move forward quickly, we need open innovation and we need standard interfaces," he says. Blue Logic's connector is providing 230 kbps and 100 Mbps to the Sabertooth during the trials. A Wisub pinless connector is also being used on the docking station. Eide says the design is still evolving but that the goal is for a standard so different vehicles and vendors can use it.
"This is the first generation (SDS) and we have learned a lot," he says. "We're also looking at how a tooling garage would fit in and last week we tested a new generation connector that's proposed to be included in the SWIG standard." It would work with a DC fiber optic umbilical design, which Equinor is starting to use, he says.
Plenty more is yet to come. The sea space race is just starting.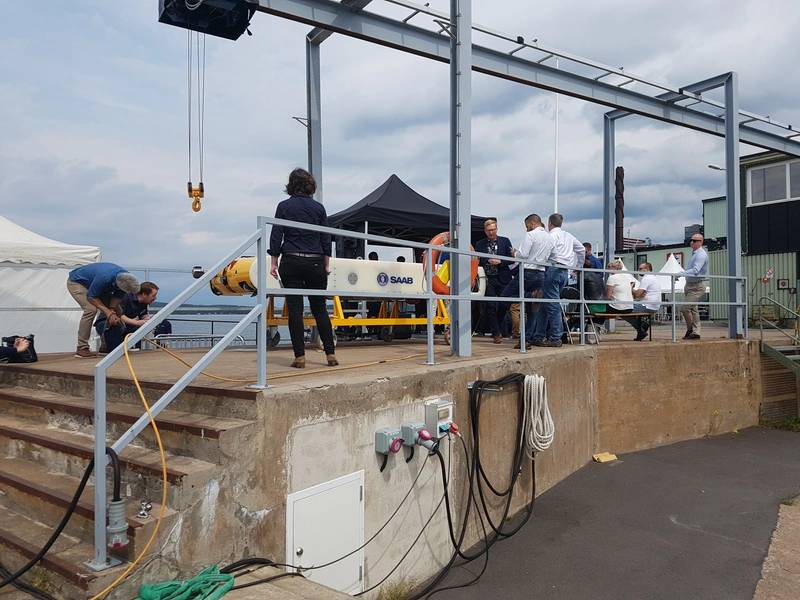 (Photo from Saab Seaeye)