A project that achieved a world first in subsea vehicle deepwater residency capability, proving the potential for marine autonomous systems to take a greater role in underwater inspection, repair and maintenance methodologies, is the winner of the annual UTC Subsea Award.
The UTC Subsea Award, presented by the Underwater Technology Foundation (UTF), is designed to recognize the many outstanding achievements within the subsea industry. The 2019 award was presented to Saab Seaeye's Jan Siesjö, Chief Engineer, and Peter Erkers, sales director, for the Saab eRobotic Spring Campaign 2019, tonight at the Underwater Technology Conference annual dinner, held in Bergen.
Siesjö has played a central role in the development of Saab Seaeye's underwater robotics, including the development of a field resident system for offshore oil and gas fields, using the company's 3,000-meter-rated Sabertooth autonomous underwater vehicle (AUV). Development of the concept dates back more than 10 years, to when Saab started investigating opportunities to work in the Norwegian market. Back then, the idea was ahead of its time.
Now, thanks development projects with Italian operator Eni, as well as parallel developments in inductive underwater charging and data transmission technology, 4G connectivity across the North Sea and other basins, and the development of standardized docking stations, the market is catching up with the concept.
Earlier this year, during its eRobotics Spring Campaign, Saab Seaeye demonstrated the vehicle's ability to dock in a safe and controlled manner at a remote sub-resident docking station, where it could access tooling packages, be recharged and transfer data, including new mission plans, using Blue Logic inductive connectors.
"It has been a long journey," says Siesjö. "Ten years ago, no one was listening and the market was not mature enough. One of the biggest drivers has been Eni, who have been pursuing technologies with autonomous behavior characteristics around subsea infrastructure on the seafloor with wireless communication."
Having a subsea vehicle based at a subsea docking station, ready to be launched on pre-programmed or man-controlled missions, including inspection, repair and maintenance, research tasks and environmental monitoring, no matter what the weather and without the need for surface vessel support, reduces costs, carbon emissions and risk to humans and increases operational availability.
"The advance is only possible because of the advanced technological capability of the Sabertooth and its maneuverability, stability and ability to work in tough and challenging environments," says Erkers. "It is the only hovering autonomous system that can operate in both AUV and ROV [remotely operated underwater vehicle] modes and handle connections in both the horizontal and vertical plane. And it is the only vehicle currently on the market capable of undertaking long-term residency in difficult to access locations."
Separately, Saab Seaeye is working with Ocean Power Technologies (OPT) to jointly develop and market solutions for AUV and ROV charging and communications systems, using a buoy-based wave energy generator for power and communications. Its Sabertooth is also being used by Eni, which is trialing a wave power buoy to demonstrate the ability to charge subsea vehicles. Later this year, a Sabertooth, adapted by Modus Seabed Intervention, based in England, will also be demonstrated as a resident vehicle on a UK offshore wind farm.
"Subsea resident vehicles able to remain on the seabed for long periods, available for inspection and maintenance operations 24/7, aligns with industry efforts to reduce costs, risk and carbon emissions," says Hans-Erik Berge, chair of the UTF board. "We congratulate Saab Seaeye for its achievement and we also recognize the work being done by Equinor and NTNU, to create a vehicle agnostic standardized docking stations available at a test facility for all vehicle vendors to use for testing."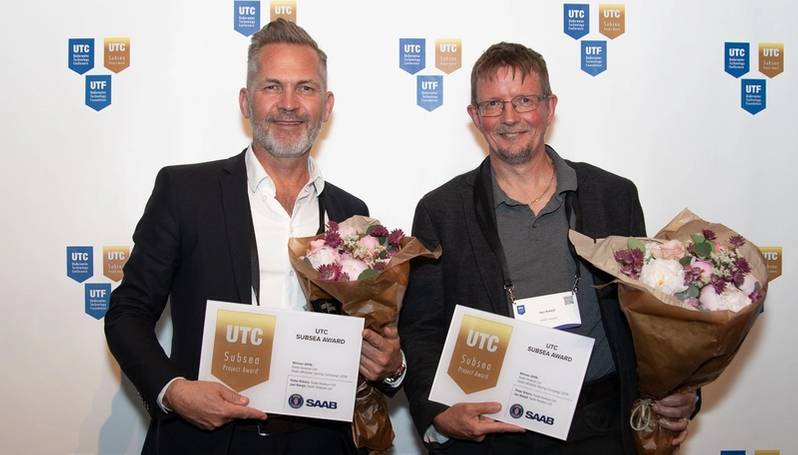 Peter Erkers, Sales Director and Jan Siesjö, Chief Engineer, receiving the UTC Award on behalf of Saab Seaeye. (Photo: Saab Seaeye)