Subsea Cables Installed for NASR Phase 2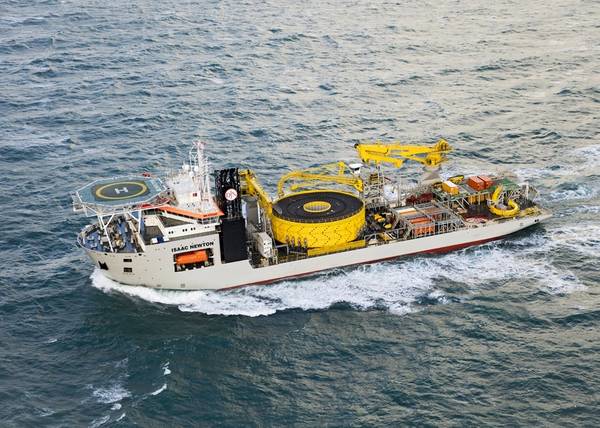 Jan De Nul Group said it has completed the cable installation scope for the Phase II Full Field Development of the NASR offshore oil field approximately 130 kilometers northwest of Abu Dhabi.
The dutch services company said it was subcontracted by South Korea's Hyundai Heavy Industries for the cable loading, transport, laying and protection of three 132-kilovolt subsea power cables (total length 147 kilometers) and 10 11-kilovolt subsea power cables (total length 57 kilometers) for the NASR oil field project, part of the ADNOC strategic development program to increase the field's capacity to 65,000 barrels per day.
A total of 204 kilometers of cable was loaded in Norway, and transported and installed at the project site in two separate trips with the cable laying vessel Isaac Newton. The vessel's carrying capacity allowed the longest and heaviest of all 13 cables, being the 71 kilometers long and almost 6,000 tons heavy, to be installed in a single length between Das Island and the NASR field.
The vessel capability was further demonstrated with the accurate installation of these subsea cables between multiple platforms and well head towers within the congested seabed of the oil field, Jan De Nul noted.
Furthermore, the company's multipurpose vessel Daniel Bernoulli on its maiden project executed the full cable protection scope, including 53 kilometers of post-lay trenching, the installation of 671 concrete mattresses as well as 8 kilometers of rock berm installation. Being at a significant distance offshore and by careful deck management, the vessel was equipped to carry out both mattress installation activities and subsea trenching activities sequentially maximizing vessel efficiency. In addition, a rock berm protection for subsea cable was designed and incorporated for the first time in the ADNOC offshore fields thanks to in-house engineering from Jan De Nul Group.