Forewarned is forearmed, an adage that is particularly true when it comes to deepwater drilling. Offshore drillers are increasingly relying on existing and new downhole data technologies to make real-time decisions and keep operations safe.
Complex wells and reservoirs combined with the high cost and risk of offshore operations all drive the need for access to extensive downhole data, and service companies are answering the call.
One of the newest technologies for obtaining downhole information minimizes the use of rig time for wireline operations to help operators increase operating efficiency while decreasing the cost of well construction.
Ron Balliet, Halliburton's global product champion for magnetic resonance, said the Xaminer Magnetic Resonance (XMR) service represents a "revolution in formation resolution."
The XMR service uses a downhole sensor rated to 35,000 psi and 350 degrees Fahrenheit to provide nuclear magnetic resonance (NMR) measurements and deliver formation data including 2D and 3D fluid characterization, carbonate pore-size classification, unconventional analysis and permeability. According to the service company, XMR can acquire about eight times more data with less than half the power of traditional sensors and can be deployed in nearly every openhole logging environment.
Some reservoirs are composed of thin beds, so operators want a sharp vertical resolution, and extremely small pore sizes are not uncommon, so it is necessary to take measurements quickly. Reducing the antennae aperture and shortening the inter-echo spacing are design features employed to improve small pore size resolution and improve the vertical resolution.
Balliet said the magnetic resonance helps highlight the reservoirs that will best produce and are most commercial by showing not just the reservoir delineation but also differentiating oil, gas and water.
A single sensor is suitable for all applications and hole sizes from 5 7/8 inches to 17 1/2 inches, Balliet said. It can log three times faster than Halliburton's existing technology, he added.
XMR acquires reservoir information in a single pass, and it can log up and down a well. Operators can acquire a large amount of NMR information in one trip.
Halliburton's XMR service can acquire about eight times more data with less than half the power of traditional sensors and can be deployed in nearly every openhole logging environment. (Source: Halliburton)
The software that runs and controls the sensor, as well as NMR Studio, Halliburton's analysis software for nuclear magnetic resonance data, were developed in parallel with the tool. Balliet said the algorithms are all new.
"This is a unique platform that fits this sensor and is designed for this purpose. The analysis software provides quality control and multiple types of NMR analyses," he said.
Inversion products provide details on oil volume, gas volume and oil viscosity, he said. Together, the software sets the stage to feed all the data into various integrated analysis platforms, he said.
The Xaminer was over five years in the making and has been used to log several 9,000-meter deep wells in the Gulf of Mexico. One of the challenges unveiled during field testing was how to best deploy the sensor to keep it against the wellbore wall.
Another difficulty in developing the sensor was "taming the inter-sensor interference," Balliet said. The solution came in the form of a series of filters that keeps other wireline sensors from interfering with this one and vice versa, he added.
Halliburton commercialized the service in 3Q 2018.
The service company deployed the sensor in a 25,700 psi and 31,860 ft MD Gulf of Mexico well with temperatures of 340 degrees Fahrenheit in 2,100 meters of water. An NMR log of such a well with existing technology might take 24 to 30 hours, Balliet said, but even logging on the way down and performing an insurance log on the way out, the Xaminer cut that time in half.
"The operator feels this is about the best NMR data they've ever had," he said.
Halliburton will deploy the sensor globally in 1Q 2019.
Continuous pressure monitoring
With the complexity of reservoirs and well construction, combined with the high costs of working offshore and regulatory requirements, operators are seeking ways to continuously monitor each well's barrier integrity.
The conventional method has been to verify the integrity at specified intervals by shutting in the well, thereby deferring production. An alternative to periodic monitoring is a continuous method with a life of well solution like the Roxar Wireless PT (WiPT) from Emerson Automation Solutions. WiPT is an online system that monitors the annular b pressure. It is powered from the surface with an inductive coupler, rather than batteries, which extends the lifetime of the tool.
WiPT is rated for operations to 400 degrees Fahrenheit and 10,000 psi. Terje Baustad, principle technology advisor for flow measurement at Emerson, said from the outset the company designed the product for high-pressure, high-temperature (HPHT) applications.
"Going that route is more expensive and takes a longer time. You're later to market doing it that way, but when you get there you have a better product," Baustad said.
Such systems can provide dynamic data about a well as the field evolves, ensuring continuous monitoring of barrier status and helping guide future well placements and production plans, Baustad said.
To date, Baustad said, Emerson has only run WiPT offshore Norway, where regulatory requirements and customer focus on maximizing production drive annulus B monitoring, but the company is "engaged with Gulf of Mexico and Middle East customers."
The WiPT system uses two tool joints, each about 2 meters long, with an outside diameter (OD) not more than the equivalent of the standard collar OD.
"We minimized the number of components to eliminate as many of the failure-causing mechanisms as we could," Baustad said.
The WiPT sensor is coupled to an antenna system and the first casing joint is hermetically sealed with electron beam welding.
The casing joint is run and placed in the well, but no sensor data is sent at this point. When the reservoir section is drilled and completion is complete, a wired node is placed on the production tubing, along with a reader system and antenna. The reader is placed at the same depth in the well as the previously installed casing antenna. Once the antenna on the production tubing powers up, it powers up the sensor on the outside the casing via electromagnetic induction. From that point on, WiPT can read the pressure and temperature on the outside of the casing every second for the life of the well.
The system is connected to a network card in a subsea control module, which exchanges HPHT data with the sensors and surface.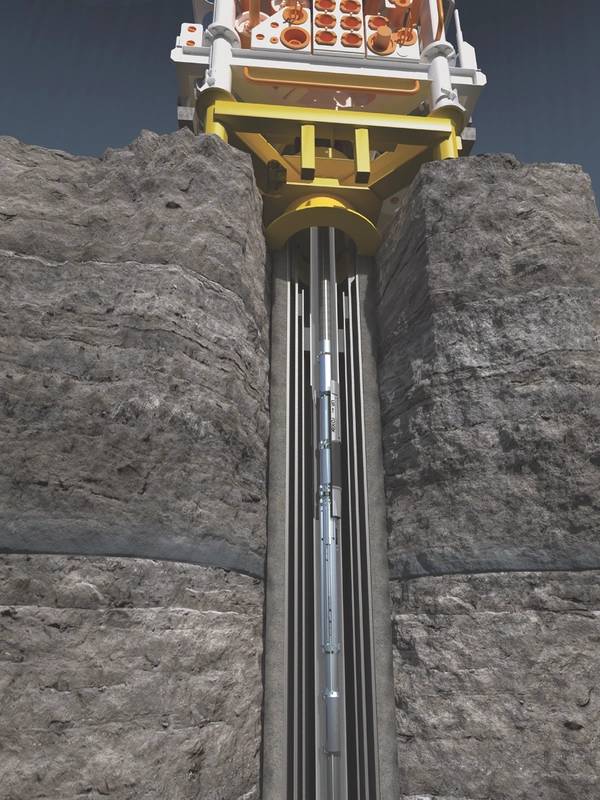 The Roxar Wireless PT from Emerson Automation Solutions is an online system that monitors the annular b pressure. (Source: Emerson)
The first was installed in late 2013 and early 2014 for Equinor – then Statoil – in 340 meters of water in the Norwegian North Sea.
Baustad sees a new use of the sensors as a means to bridge the upper and lower completions and handle the gauges without the need for electric so-called "wet connect" systems. The first run for that application is expected to occur in 2019 and would make it possible for the operator to monitor the pressure and temperature in both the upper and lower completion through one tool and one interface.
Drilling with the lights on
Because of the risk profile for offshore drilling operations, drillers seek more and better data about the wellbore to help ensure safety and mitigate risk. Offshore, faster wells are always welcome, noted Stephen Berkman, NOV's director of global sales support for wellbore technologies, but the speed of drilling itself is not the highest priority.
"They want accurate information about the condition of the wellbore, and the ability to know what's going on so they can take steps to prevent a wellbore incident," Berkman said.
Wired pipe – specifically NOV's IntelliServ offering – can help drive drilling optimization by providing the information drillers need to make good decisions based on what is actually going on downhole, he added.
"It's drilling with the lights on," he said, something that is "irresistible to a number of offshore operators."
IntelliServ can send data at rates up to 57,600 bps straight to the surface to detail what's going on in the wellbore, he said. The sheer volume of data would overwhelm the drilling engineer, so the data feeds into the rig's control system, and proprietary software at the surface presents the data visually so the drilling engineer can see what's going on and make real-time decisions, Berkman said.
In conjunction with wired pipe, the service companies offer interfaces that allow their MWD and LWD suites to plug into NOV's wired pipe network, allowing the data to go to the surface at 57,600 bps, instead of at the normal rate offered by mud pulse telemetry of 4 bps to 12 bps. When using mud pulse telemetry, it is necessary to alternate the type of data streams being sent, so one stream might be directional data, followed by pressure data, then weight data, he said. Wired pipe is not bandwidth constrained, he added, so all data streams can flow simultaneously.
Because drillers using IntelliServ don't have to wait to receive LWD details, which is necessary with mud pulse, they can drill faster, he said. The IntelliServ data stream – which might include downhole weight on bit, torque and annular pressure – also helps drillers see vibration along the drillstring, pressure windows, general wellbore conditions and hole cleanliness.
"That's where a lot of the benefit has been seen, what they can see in real time so they can take mitigating steps," Berkman said.
IntelliServ's first commercial job was in 2006, and in 2015, based on numerous field trials, NOV introduced an upgraded version of the system, with each major system component improved.
"Version two has proven to be extremely reliable telemetry methodology," Berkman said. "We're seeing in the 95% to 98% range for uptime offshore."
Seeing and intervening
Effectively intervening in longer and more complex laterals means having access at the surface to downhole data such as weight on bit, torque, borehole pressure, annular pressure and the casing collar location, to name a few.
"But surface equipment doesn't tell you what is going on downhole," said Ashton Dorsett, product champion for xSight smart intervention services at Baker Hughes, a GE company.
BHGE introduced the xSight platform to address those challenges. xSight gathers data from downhole sensors and sends it to the surface to help intervention specialists "reduce the time spent trying to figure out what's going on downhole," Dorsett said.
In the past, if a bottomhole assembly is left in the hole, an expert fishing hand would watch the monitor for a blip in the weight on bit, but it was necessary to pull all the way out of hole to determine if the fish was indeed on the line. Sometimes multiple trips were necessary.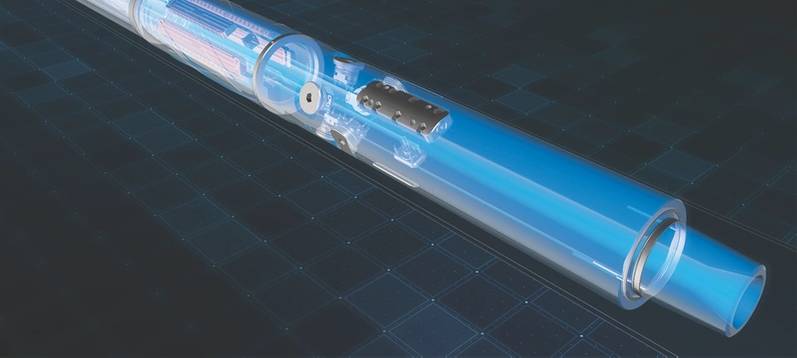 xSight gathers data from downhole sensors and sends it to the surface to help intervention specialists. (Source: BHGE)
"With xSight, you can see weight [changes] as small as 300 pounds, which offers significantly higher resolution compared to surface equipment that typically has a resolution of about 1,000 pounds," Dorsett said. "You know right then and there that you have it, and can confirm you have it. It takes the guess work out of it."
The service relies on a variety of sensors, including magnetometers, accelerometers and strain gauges in the xSight tool to send data uphole in real-time via mud pulse telemetry, where different surface equipment decodes the information to "see" what is happening downhole.
Services like xSight can provide downhole data for remote monitoring and decision making, he said.
The service also helps optimize milling operations.
"If you see a lot of vibration, you can make adjustments to your operations. You can mill faster," Dorsett said. Operators have seen reduction in milling "by 50% by making adjustments based on downhole data."
As the service evolves, it is likely xSight will incorporate different methods of transmitting data such as acoustic telemetry within the string – not clamped onto the pipe as some competitors do – and other sensors to measure different things of interest, he said. In addition, a strong focus will be put on advancing the ability to extract value from the data by incorporating machine learning and artificial intelligence techniques, he added.