While the offshore industry is showing signs of recovery, it may still be some time before the supply chain starts to feel a sense of relief.
"The offshore and deepwater are coming back," said Caitlin Shaw, director of upstream supply chain research at Wood Mackenzie. "We're just at the beginning of that recovery cycle now, and it's too early to tell how that's going to play out for operators and the supply chain. Things are in flux."
Feeling the impact of the downturn, operators delayed moving forward on many high-cost projects, choosing to redesign and rework the project or wait for more favorable contract terms. The move particularly affected offshore and deepwater developments.
Operators are continuing to trend to subsea tieback and life of field projects and scrutinize greenfield developments in a bid to maximize efficiencies, Shaw said.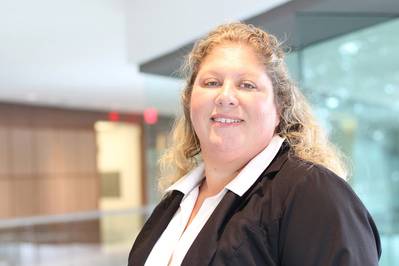 Caitlin Shaw, director of upstream supply chain research at Wood Mackenzie
"Demand is back up. It's not up to its historic high, and we don't expect it to be," she said. "But we are entering a new chapter of deepwater development. We're up from the basement... With the depth and breadth of the downturn, it will be another year before the supply chain starts to feel the effects."
Part of the reason is that backlogs and margins are both thin, she said.
"The potential for capacity cuts across the supply chain still exists as the industry gets a grip on what the demand profile will look like going forward," Shaw said. "2018 as a whole has been pretty telling. It was a continuation of the growth momentum we saw in 2017 in the deepwater space."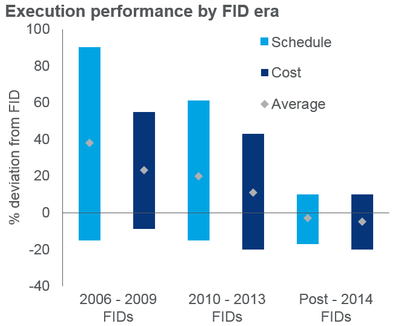 Prior to the downturn, many projects faced rampant overruns on schedules and costs, but deviated less from both in the post-downturn area. (Source: Wood Mackenzie)
2017 and 2018 have mostly seen projects that were shelved during the downturn move forward, Shaw said, and she expects additional backlogged projects to shuffle out in 2019 and 2020.
These reworked projects, she said, are giving an indication of the type of project profiles that operators are comfortable with following the downturn.
"These projects have been reworked, but after that, we don't understand what the new generation of projects that have been discovered will look like," she said.
Subsea tiebacks will also continue to be a driving force, she said. In terms of full-field development plans operators are moving more cautiously.
"They don't want lead times and costs to get out of hand," she said.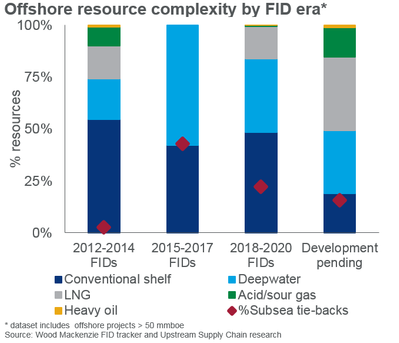 During the downturn, operators sanctioned projects that to develop less complex resources, such as conventional and deepwater reserves and moved away from more difficult projects involving heavy oil and sour gas. Subsea tieback went from a blip on the project roster in the boom to a preferred development method. (Source: Wood Mackenzie)