Three years after Tower Resources and its partners relinquished their assets in Namibia, the company has returned after signing a new Petroleum Agreement it previously promised shareholders and which gives it an 80 percent operated interest in three offshore blocks in the under-explored Walvis Basin and Dolphin Graben.
The new agreement for Blocks 1910A, 1911 and 1912B is a key achievement for Africa-focused Tower Resources, which had placed the deal top on its 2018 key targets alongside backing the search for a farm-in partner by its operator partner in South Africa's Algoa-Gamtoos Block, NewAge Energy Algoa (Pty) Ltd.
Tower is back into a familiar territory, which it opted out of in 2014 together with partners Repsol and Arcadia Petroleum after the drillship Rowan Renaissance hit a dry well in PEL 0010 off Northern Namibia which was subsequently plugged and abandoned.
Despite the dashed hopes of a commercial find in the Welwitschia-1A well, this time around Tower is returning to Namibia optimistic about the future of oil and gas exploration in the country, with the company chairman and chief executive Jeremy Asher saying, "The wells drilled in the Walvis Basin during the past few years have provided a much greater level of understanding of the regional geology."
Previous drilling for oil and gas in Namibia, irrespective of the outcome, has placed the country, and particularly the Walvis Basin and Dolphin Graben, in a vantage position that cannot be ignored as they "are now attracting great attention from well-respected explorers, both large and small, and are also once more attracting considerable farm-in interest and investment."
Asher said Tower Resources is "very excited about our new Petroleum Agreement in Namibia" which has an initial exploration period of four years, a work commitment of US$5 million and with an option to extend it for an additional year and if necessary enter into first and second renewal period of two years each. Namibia's National Petroleum Corporation and ZM Fourteen Investment CC will each have a 10 percent stake in the 23,297 kilometer square blocks which are part of the original PEL 0010.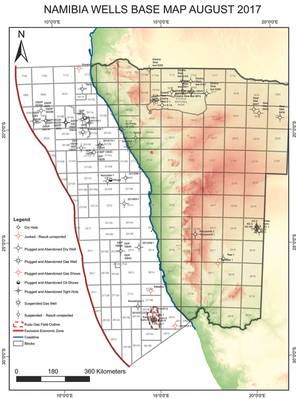 (Credit: Namibia Ministry of Mines & Energy)
For Tower Resources, the Namibian agreement this week is more of a morale booster in its Africa investment plans, especially at this time when the company is grappling with a "frustrating" experience in Zambia where the authorities have delayed the passage the new petroleum laws. But it is also a step forward toward achieving its new strategy of pursuing a growth path that is largely driven by a focus on "lower risk exploration and development and earlier reward opportunities."
"Our financial strategy remains to explore asset-level financing even for assets that we could also finance with our own equity, to achieve the most economically attractive financing for each asset and best value for shareholders," Asher told shareholders earlier.
With the signing of the petroleum agreement out of the way, Tower Resources now has its sights trained on the acquisition of the required license subject to finalization of a joint operating agreement with its partners and completion of other ancillary paper work.
The AIM-listed company, which reported an increase in its cash balance to US$2.2 million in 2017 from the previous year's US$790,000, expects to commence soon on regional play fairway evaluation, 2D and 3D data base building and acreage high-grading operations in readiness for the initial exploration work, which the company sets aside US$5 million with a bank guarantee of US$500,000.
"If the company elects to enter the subsequent exploration periods, these would each comprise a single exploration well commitment and a minimum financial commitment of US$20 million," Tower Resources said in a statement on Wednesday.
There is an emerging enthusiasm for Namibia's hydrocarbons assets that is partly driven by the huge government interest in oil and gas exploration and production investments by large and small investors.
Buoyed by the annual petroleum exploration and production rental fees, which rose to US$2 million in 2017, Namibia's Ministry of Mines and Energy says it is keen on selling the country's hydrocarbons potential to prospective investors and has recently set aside US$865K for the marketing of development of its petroleum resources "to attract more investments in exploration of oil and gas on Namibian continental margin."
For Tower Resources, the attraction of the Walvis Basin and Dolphin Graben area is based on the company's belief that the region is "under-explored" although "drilling results have proven presence of working oil-prone petroleum system and good quality turbidite and carbonate reservoirs."
With the high expectations on the part of Tower Resources' top management and a conducive investment environment created and supported by the Namibian authorities, the London-based oil and gas exploration and production company might score a more positive outcome on its second return to Namibia this time around.