Offshore installation firm Jan De Nul said Tuesday that its latest jack-up installation vessel, Voltaire, had recently installed its first offshore wind turbine at the Dogger Bank offshore wind farm, the world's largest offshore wind project under construction.
Soon after installation, this first turbine produced its first power. The 3.6 GW offshore wind farm will consist of 277 wind turbines.
"The installation and first power of the first GE Haliade-X turbine at Dogger Bank A were confirmed today. The precision exercise to install the turbine was undertaken by engineers and technicians using Jan De Nul Group's ultra-low emission vessel Voltaire, which has a crane lifting capacity of 3,200 tons," Jan De Nul said.
The turbine blade tips reach 260 meters above sea level, the same height as New York's iconic Rockefeller Center. Each blade is 107 meters long. Each rotation of the 107m long blades on Dogger Bank's first operational turbine can produce enough electricity to power an average British home for two days. Also, this is the first time Haliade-X units have been energised offshore anywhere in the world.
Each of 277 turbines will be progressively commissioned between now and full commercial operation in 2026.
The first turbines have been installed around 130 km from the Yorkshire coast, and connected via inter-array cables to the UK's first unmanned HVDC offshore substation, which was set in place earlier in 2023.
Dogger Bank will be the first High Voltage Direct Current (HVDC) connected wind farm in the UK due to its distance from shore, introducing new transmission systems to the UK and paving the way for other large offshore wind farms.
This first phase of the joint venture project between SSE Renewables, Equinor, and Vårgrønn is scheduled to be fully operational in summer 2024. When complete, all three phases – Dogger Bank A, B and C will power the equivalent of 6 million UK households, or about 5% of the UK's electricity demand.
The Voltaire
Voltaire, named after the pioneering European Enlightenment philosopher, has a lifting capacity of 3,200 metric tons and is equipped with a Huisman Leg Encircling Crane.
The vessel is fitted with a highly advanced exhaust filtering system by means of a Selective Catalytic Reduction system and a Diesel Particulate Filter, making her the very first seagoing installation vessel of her kind to be a European Stage V-certified Ultra-Low Emission vessel (ULEv).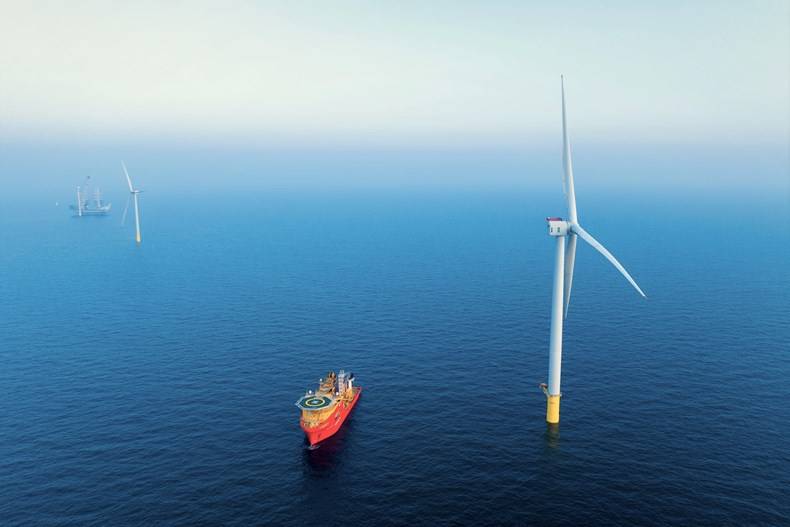 Credit: SSE Renewables
---