Offshore wind turbines are reaching new heights both literally (meters), and figuratively (megawatts). As the demand for larger turbines surges, so do the challenges faced by offshore installation contractors, which need to come up with bigger vessels, and, consequentially, bigger cranes for those vessels.
---
When I took on the assignment to produce a piece focusing on heavy-lifting cranes and deck machinery for OE, I immediately thought of Huisman as a company best suited for coverage in this space, especially for its LECs (Leg Encircling Cranes).
If you type in "Huisman" in the search box of OEDigital.com, you'll get about 172 articles, and in recent years, most of them have been about Huisman securing orders for Leg Encircling Cranes for jack-up offshore wind installation vessels. These orders have come, amongst others, from Van Oord, Cadeler, Havfram, Eneti, Dominion, DEME Offshore, Jan De Nul, and Fred. Olsen Windcarrier – basically, creme-de-la-creme of offshore wind installation service providers.
To learn more about these offshore cranes, we turned to Huisman's Cees van Veluw.
With a background in structural engineering and mechanical engineering, Cees van Veluw's journey at Huisman began in 2005. Over the years, he has climbed the ranks to his current role as the Product Director of Cranes, a role he's held since July 2022. His responsibilities include supporting the sales team by providing proposals and driving new technical developments for offshore cranes.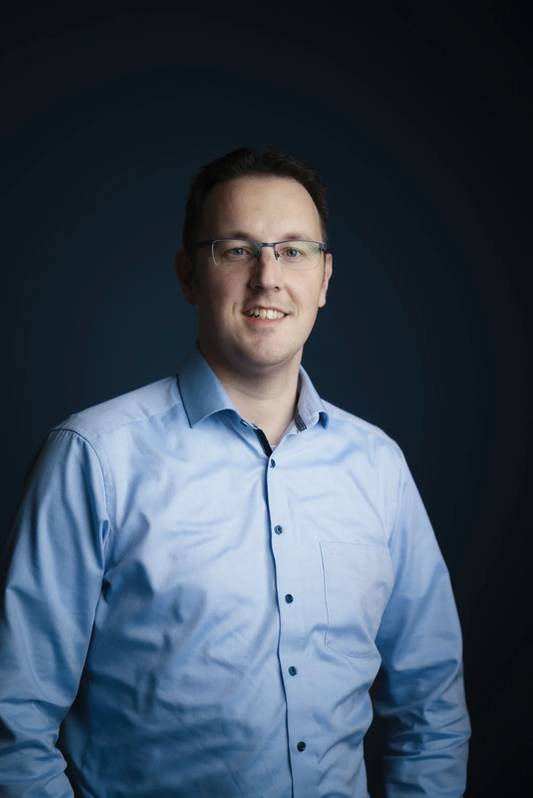 "What they generally need, or looking for these days, is bigger. And bigger not only in safe working load, but also bigger in hook height. And that's typically represented by the length of the boom of the crane. So, a 140-meter boom used to be a very long boom in 2020, but these days people are contracting us for booms of 155-meter boom length, and they're looking at more,"
Cees van Veluw, Product Director of Cranes, Huisman
Credit: HuismanWhat is a Leg Encircling Crane?
Van Veluw says that the name itself explains what a leg-encircling crane is. These cranes are installed on jack-up vessels – self-elevating units with legs - and the crane circles around one of these legs.
"A jack-up vessel is lifted out of the water, legs are put on the seabed. The jacking system pushes up the vessel, and this way, the vessel has turned into a stable platform for installing wind turbines," Van Veluw explains.
"When you put the crane on, there's always a battle for space on the vessel," Van Veluw explains. But, if you circle the crane around the leg, so you have the leg in the center line of the crane, this saves valuable operational space.
So this is the reason why the company came up with this design some years ago, and has since produced quite a few of them.
Basically, Van Veluw says, the whole idea started with a, "Hey, can we put a ringer crane like the PTC-35 we supplied to Mammoet? Can we put a crane like that on a jack-up vessel?"
"Well, it started that way, and then we moved on and on and on with that one. And it has been fine-tuned with many models, and this is where we are right now. And it has been quite a popular model for installation of turbines mainly, but also for installation of foundations," Van Veluw said.
All Huisman's LECs are fully electric, which, Van Veluw says, provides operational accuracy, and reliability, are less noisy, and there's no threat of hose bursting.

Customization & Installation
Huisman's LECs are not an off-the-shelf product but are tailored to meet the specific requirements of each client, an offshore wind installation firm, or a shipyard building a WTIV.
"Customization is basically done by almost all of our customers," Van Veluw says, adding that this depends on hook configurations, boom lengths, features, speeds, paint systems, operator cabin layouts, etc.
According to Van Veluw, it takes between two and two and a half years to deliver an LEC, depending on the features, the moment in time, the supply chain situation, and the level of customization.
The other aspect is installation, he says.
"It's a big crane that needs to come on a big vessel. So, the exact integration has to be discussed with the owner, and if there's a yard involved, also with the yard," Van Veluw says.
To facilitate easier installation, Huisman invested in a big Skyhook crane in its facility in China, where the company builds the LECs – it builds them in Europe, too - and, when convenient, it can install the crane on a vessel there.

Vessel Owners Want it Bigger
What do offshore wind turbine installation vessel operators call for these days, when it comes to Huisman's LECS?
"What they generally need, or looking for these days, is bigger. And bigger not only in safe working load, but also bigger in hook height. And that's typically represented by the length of the boom of the crane. So, a 140-meter boom used to be a very long boom in 2020, but these days people are contracting us for booms of 155-meter boom length, and they're looking at more," Van Veluw says.
For example, the OEDigital.com archive shows that in November 2015, jack-up owner Seajacks, today owned by Eneti, took delivery of the Seajacks Scylla jack-up installation vessel, at the time dubbed "the world's largest and most capable installation jackup vessel to date." The vessel featured a Huisman 1540-tonne leg-encircling crane, and Seajacks said at the time, "it can handle XL monopiles, jacket foundations, and is able to transport an impressive number of the 7 and 8MW turbines that are currently [in 2015] available in the wind market."
Since those times, turbines have grown bigger, and with them, the need for bigger cranes and vessels.
In 2020, Fred. Olsen Windcarrier ordered a 1,600mt Leg Encircling Crane, capable of installing foundations and a "1.600mt Leg Encircling Crane, capable of installing foundations and all known next-generation offshore wind turbines," with an illustration shared showing that the vessel could install a 12MW wind turbine "of the future." This crane was installed on an existing vessel, extending its lifetime.
But how things have changed since then, and how quickly, show the recent LEC orders Huisman has received, with LECs ranging from 2200t to over 3000t lifting capability.
Earlier this year, Huisman shipped the 2,200mt leg encircling crane to the Keppel AmFELS shipyard in Brownsville, Texas, for integration on the Charybdis, the first Jones-Act compliant WTIV.
Last year, Huisman's LEC 3200t crane was installed on Jan De Nul's Voltaire jack-up, breaking the record for the world's largest installed LEC. Jan De Nul's spec sheet of the vessel claim's a maximum crane lifting capacity of 3,200 t, with a maximum lifting height above deck of 162.5 meters.
The Voltaire has been designed to install the offshore wind turbines of the future, with turbines over 270 meters high and blades 120 meters long. The vessel will soon start installing giant 14MW turbines at the Dogger Bank wind farm offshore the UK, which will, once fully completed, be the world's largest at 3.6GW.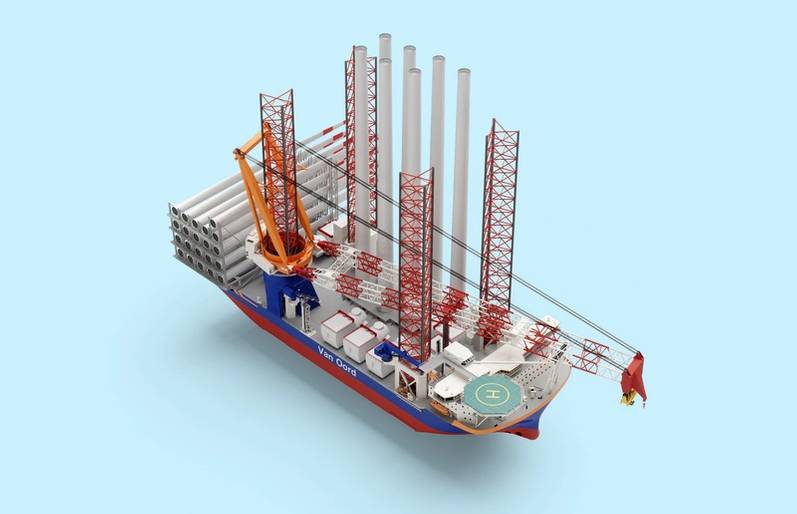 Van Oord's Boreas.
Credit: Van Oord (File Image)
Also, Dutch firm Van Oord, in November 2021, ordered a 3,200t Huisman LEC, designed to be able to install turbines of up to 20MW, for its also newly ordered, 175-meter, methanol-power jack-up vessel Boreas.
"This crane will be the largest Leg Encircling Crane that Huisman has developed to date in terms of lifting capacity, boom length, installed power, and technical features," Huisman said at the time. The Boreas is expected to be delivered in 2024.
In April 2023, Huisman won a contract from offshore wind installation contractor Havfram Wind for the delivery of a 3,000mt+ Leg Encircling Crane for its second NG-20000X Wind Turbine Installation Vessel.
The LEC will be outfitted with a 155-meter boom and will have a lifting height of approximately 180 meters above deck.
We asked Van Veluw if these cranes could go even bigger, and if there was a limit somewhere.
"We are indeed looking at an even bigger version [of an LEC]," Van Veluw says, adding that the company has a model ready for a 5000t LEC version.
"It has to be seen in conjunction with the total vessel. So one of the tricky things with the vessel is the jacking system. We've also started looking into jacking systems ourselves. We have a full-scale demonstrator in our facility in Schiedam, which is open for evaluation by our clients as well. And we have seen that bigger cranes need bigger jacking systems."

"10MW is easy"
Global energy industry intelligence group Rystad said late in November 2020 that the offshore wind industry would, as early as 2024, face a shortage of WTIVs capable of installing 10MW+ turbines, and that, at the time of that report, there had only been four WTIVs capable of installing 12MW+ turbines.
"[Today,] the 10MW one is easy," Van Veluw said, adding that most of the Huisman recent LEC orders we mentioned earlier were capable of installing 15MW turbines at least, and some of them even bigger than that.
"So people have learned from the past that you shouldn't order a crane too small. And still, turbines keep on growing and growing, and there will be another moment in time when some cranes are too small. It will happen. "
As for any limits on how big these cranes could get, Van Veluw says: "Well, probably there is a limit somewhere, but the limit is not at the 5,000 ton and the boom length of, let's say, 170, 175 meters we're facing today. It can be bigger, and from the crane perspective, it can be longer."
---
---
Watch the full interview with Huisman's Cees van Veluw on Offshore Engineer TV, as we also discussed:
Van Veluw's crane project he's most proud of (spoiler alert, it is not an LEC, but it is 5,000 tons);
The role of the AI in the future of crane development and operation
How the offshore crane order book has changed over the years from oil and gas to renewables
Benefits of upgrading cranes on older vessels, and
Different approaches to installing cranes based on whether a vessel is a newbuild or retrofit.

As published in the July/August 2023 edition of Offshore Engineer.