The UK government has approved BP's proposed development of the Murlach oil and gas field in the UK North Sea.
The Murlach Field Development will be a redevelopment of the Murlach Field (part of Marnock-Skua), located in the Central North Sea, approximately 203 km from the Aberdeenshire coastline and 27 km from the UK/Norway median line.
The field is in water depths ranging between 93 to 95 m.
The Murlach field development proposal consists of two production wells and a subsea tieback to the Eastern Trough Area Project (ETAP) installation.
The Murlach project will share existing infrastructure already present around the Murlach Field, including the Heron A production pipeline to transport production fluids, the Heron wash water pipeline and the Seagull control umbilical. The project also includes the installation of a new manifold, together with tie-ins and a new gas lift pipeline from the ETAP platform.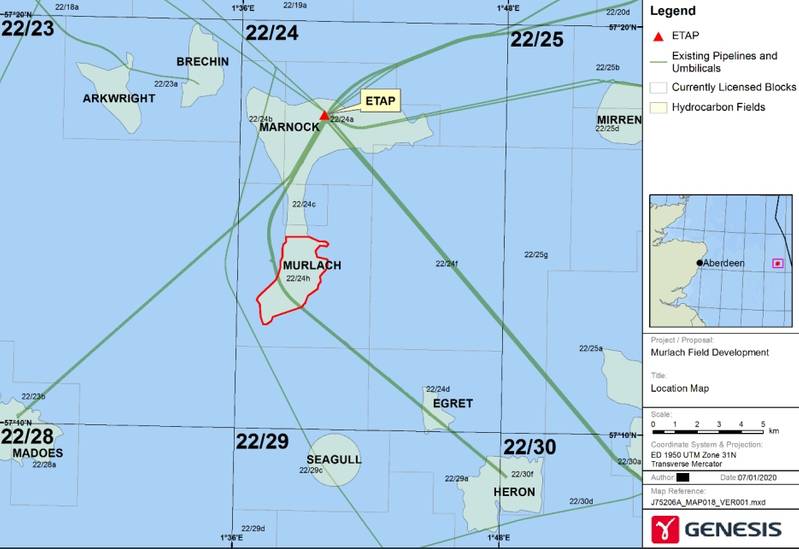 Credit: GOV.UK
Modifications will be required to the ETAP topside arrival facilities and separation for overpressure and temperature protection together with metering/instrumentation requirements. The reception and separation facilities have been out of service, and a fit for service assessment will be undertaken to determine the requirements to replace or refurbish existing equipment and instrumentation. Gas and oil will be comingled with existing ETAP fluids and gas will be exported via the Central Area Transmission System (CATS) and oil exported via Forties Pipeline System. Activities are due to commence in Q3 2023, with the ETAP topside modifications and first oil is expected in Q2 2025.
Doris Reiter, Senior Vice President North Sea at BP said in a social media post:"Delighted to share we have received Department for Energy Security and Net Zero, North Sea Transition Authority approval to progress the Murlach field, which demonstrates BP's strategy in action – investing in today's energy systems and – not or – investing in the energy transition.
"We've been in the North Sea for close to six decades, and I'm extremely passionate about its remaining oil and gas potential now, and well into the future. We're supporting energy security by focusing on oil and gas opportunities around our portfolio that can be developed through established production facilities, with lower operational emissions."
"Murlach is a great example of that. It will be connected to the ETAP (Eastern Trough Area Project) hub that's been operating in the central North Sea for 25 years. In fact, Murlach is a redevelopment of a field that was previously in production in the early 2000s and this project will benefit from the reuse of some existing subsea infrastructure in the area."
"The fantastic BP team behind this project looks forward to working with our joint venture partner and the supply chain, to bring this field into production."
OEUK sustainability and policy director, Mike Tholen, said: "The approval of Murlach is good news for the UK's economy. Every new project approved in UK waters will help us manage our reliance on imported energy as North Sea production declines and renewables ramp up - providing a strong basis for us to build a homegrown energy future in the UK, for the UK.
"As we build that future, there's no simple choice between oil and gas or renewables, the reality is we will need both. By the mid-2030s oil and gas will still provide for 50% of our energy needs, so it's far better for British jobs, the economy, and our energy security if we meet these needs through our own resources."