Salamander, a floating offshore wind joint venture between Ørsted, Simply Blue Group, and Subsea7, looking to develop a 100 MW floating wind farm in Scotland, has appointed Hugh Yendole as development director.
Yendole has more than 25 years of experience in the wind industry, and has played a crucial role in delivering and managing multiple ground-breaking offshore and onshore developments across the UK, Europe and the US.
Most notable examples include Ørsted's London Array, Burbo and Walney Extensions, and Hornsea 1. His expertise spans senior positions in project development, engineering, asset, and technology management.
Yendole joins the project from within Ørsted, where he remains employed, and has spent 12 years across various key roles, most recently as director and asset manager for Ørsted's west coast UK offshore wind farms.
Starting at the end of summer, Yendole will be responsible for the overarching delivery of the project, managing commercial negotiations and developing stakeholder relationships.
Hugh said: "I'm really looking forward to heading Salamander. It is a pioneering stepping-stone project ushering in an exciting new era of possibilities for green energy generation. It's a privilege to be joining the talented team already supporting this revolutionary project.
"Salamander provides a fantastic opportunity to show that floating offshore wind can significantly contribute to the UK's energy mix, help us meet the net zero targets set by the Scottish and UK governments, and build a UK-focused supply chain. The ongoing efforts from the Ørsted, Simply Blue Group and Subsea7 teams prove that collaboration is essential to successfully driving windfarm projects from start to finish."
Before Hugh Yendole's appointment, Salamander was led by Huw Bell, who acted as a caretaker for the project and will remain on board to oversee its delivery.
To be located 35km off the coast of Peterhead, the 100 MW Salamander floating offshore wind farm will generate enough green energy to power 100,000 Scottish households. The Scottish Government's offshore wind target of has been set at 11GW by 2030.
Salamander is also expected to provide vital insights and help establish best practices for future commercial-scale developments in Scottish waters, ahead of the larger-scale ScotWind buildout.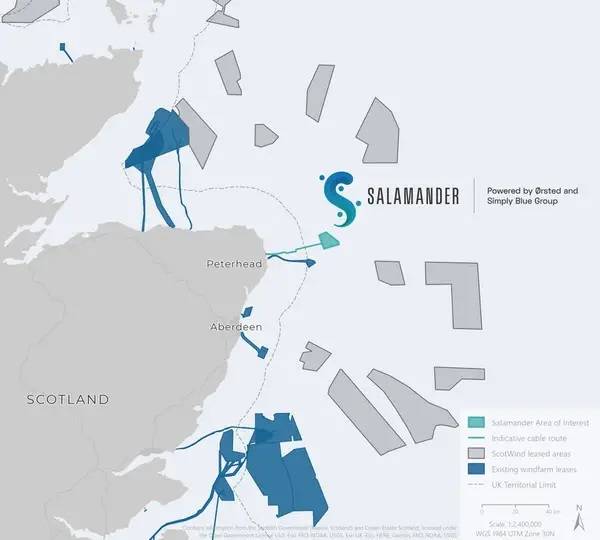 Credit: Salamander
---