WTIVs have always been fuel-hungry. Now they are being tasked with installations that are further, deeper and heavier.
Offshore wind farms continue their march into deeper water, further from shore, with turbines that can now reach more than 270 meters high with blades 120 meters long. Designers and OEMs are pushing efficiency to new levels to contain OPEX on the new-generation jack-up WTIVs taking them up there.
Danish ship design firm Knud E. Hansen has chosen specialization for its Atlas A-class WTIV, a smaller derivation of its massive C-class design. This smaller vessel will assemble turbines on pre-installed foundations. The expectation is that the expanding industry footprint can support this more specialized vessel.
Texas-based Bleutec Industries has taken the idea further by delegating tasks to both a piling installation vessel and service operation vessels – which will provide accommodation that would otherwise have added to the WTIV's payload. The company's WTIV-Light is focused solely on installing turbines of up to 22MW.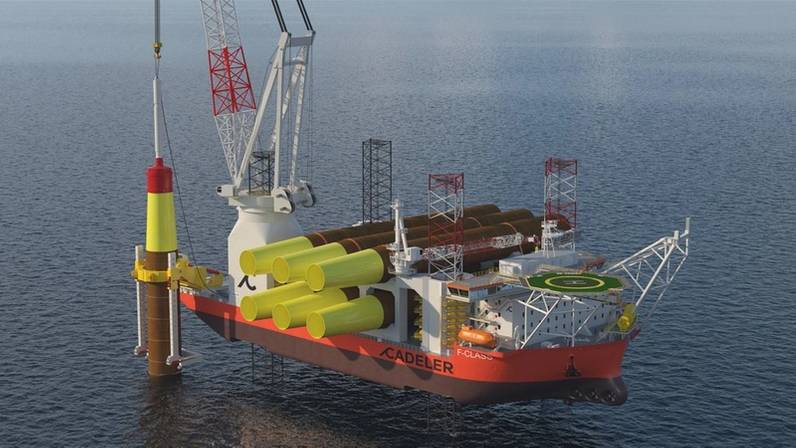 Cadeler has two X-class and two F-class WTIVs currently under construction. (Image source Cadeler A/S)
In contrast, Danish installation firm Cadeler is creating economies of scale with larger vessels that will make fewer transits out to installation sites. Its two X-class and two F-class WTIVs, currently under construction, will be able to transport and install seven complete 15MW turbine sets or five sets of 20+MW turbines.
To reduce weight, and, therefore the power required for propulsion and jacking, the Cadeler vessels will feature a mixed medium and high-speed engine concept from MAN Energy Solutions that optimizes the power/weight ratio, minimizes engine room and funnel footprint, and achieves a total weight of around 200 tons, a significant reduction. The mix includes a frameless version of its medium-speed 32/44CR engine.
WTIVs have distinctly different operating modes (loading, sailing, DP, jacking, and installation), and Halvor Økland, Offshore Sales, Global Sales & Marketing, at Kongsberg Maritime, says integrated systems, including winches, electrical systems, and control systems on the bridge, save space and reduce weight.
He says: "WTIVs need to lift the complete weight of the vessel for every installation sequence, so it's crucial to optimize the weight and balance it forward and aft while at the same time ensuring DP, sailing, and maneuvering capability is kept to the highest standard."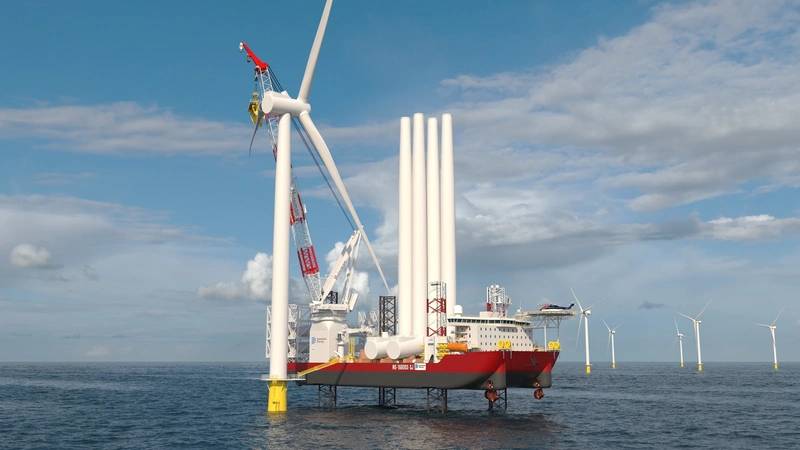 Kongsberg Maritime is delivering electrical packages to Dominion Energy's Charybdis. (Image courtesy Dominion Energy)
Kongsberg Maritime is delivering electrical packages to the four Cadeler vessels, Dominion Energy's Charybdis, and Maersk Supply Service's Maersk Sturgeon.
Kongsberg Maritime's integrated control and electrical system delivers synthesized data from both consumers and power producers, including feed forward signals from DP control, to reduce fuel consumption. For Maersk Sturgeon, Kongsberg Maritime is also delivering its EcoAdvisor system that uses that data and machine learning to advise the operational crew on optimization in real-time.
The Cadeler and Bleutec vessels will feature energy storage systems, and designer Knud E. Hansen has added hybridization to the industry's traditional diesel-electric power system design for Van Oord's Boreas, currently under construction.
Four 126-meter legs will allow this 175-meter vessel to work at depths of up to 70 meters, and Knud E. Hansen designed the vessel to include energy recovery from the jacking systems and a 5,000kWh battery pack.
Mechanical engineer Frederik Jonassen says it is possible to recover more than 50% of the energy used when the jacking units are reversed. The batteries provide instant power, avoiding the use of gensets to provide spinning reserve. "It's possible now to get an equivalent amount of energy in the battery package as you can from a generator, so we can remove one or more gensets from the equation."
Subsea 7 claims a 20% reduction in emissions compared to similar vessels with its newbuilding Seaway Ventus. The hybrid GustoMSC NG-14000XL-G design includes energy recovery, waste heat recovery, and shore power capability.
ABB Ability Marine Pilot Control controls WTIVs during all operations. (Image courtesy ABB)
With transits to deeper water comes the potential for more adverse conditions, and ABB's Ability Marine Pilot Control system optimizes all operational modes, including maneuvering, transit and position-keeping using models of the vessel, the thrusters and the environmental forces to estimate and anticipate the vessel's state and the required thrust. Combining it with ABB Ability Marine Advisory System OCTOPUS allows vessel safety and availability to be optimized while providing for broader analysis by shoreside specialists.
These two systems can deliver a significant increase in operational efficiency and reduction in fuel consumption, says Jostein Thue, Vessel Type Responsible, Offshore Wind Vessels at ABB Marine & Ports.
"For WTIVs, this means everything from exact position keeping, to normal voyage maneuvering that would be previously handled by the auto-pilot is done in the same system, using the same controls," Thue says. "ABB Ability Marine Pilot Control supports consistency in operations, reducing the impact of varying operator skill levels on complex maneuvers. This will be measured in greater time efficiency in operations and in improved energy efficiency."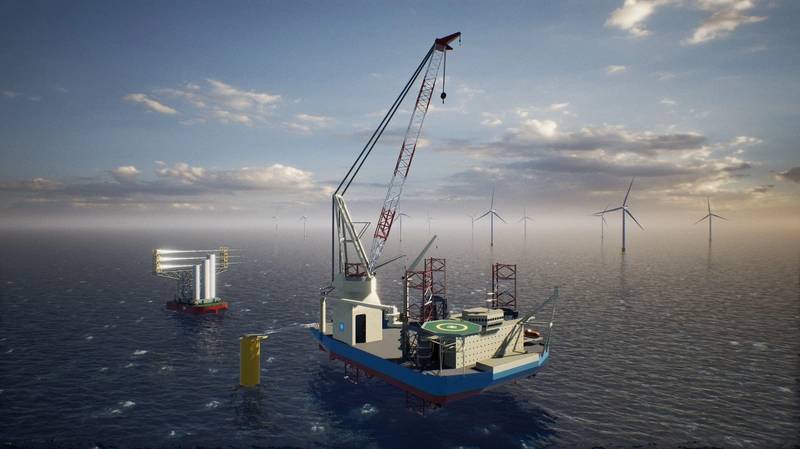 Kongsberg Maritime is delivering electrical packages to the Maersk Sturgeon. (Image courtesy Maersk Supply Service)
A key part of operational efficiency is finding a combination of thrusters that achieve high performance in transit and for dynamic positioning, combined with light weight. Wärtsilä is supplying such a package to Eneti's Nessie and Siren WTIVs, seven units each.
The thruster solution includes 8° tilted retractable thrusters to achieve high thrust with limited power. The propeller shaft tilt reduces the interference between the thruster wake and the flat-bottomed hull, increasing the bollard pull by up to 20% and reducing fuel consumption. Wärtsilä can further minimize the vessel's environmental impact with retractable thrusters that have full electrical retraction and steering systems. Wärtsilä's references also include supplying thrusters for two WTIVs being built for the China Three Gorges Corporation.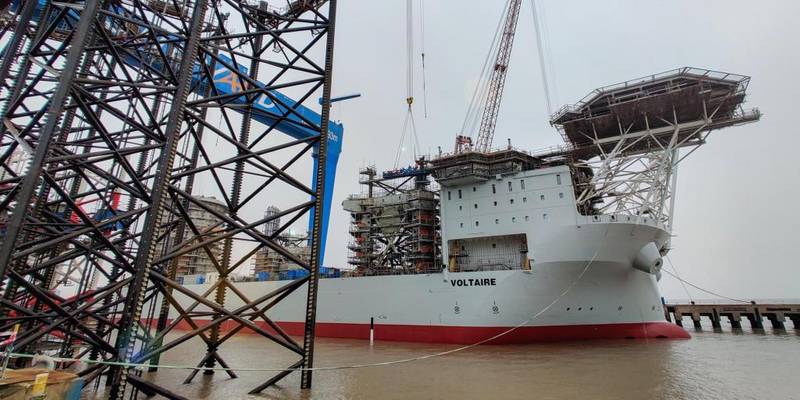 Jan De Nul's newest wind turbine installation vessel, Voltaire, has legs 130 meters tall and can work at unsurpassed water depths up to 80 meters. (Image courtesy Jan De Nul)
There are currently 11 WTIV active or under construction able to work in 70m water, plus Jan De Nul's newest wind turbine installation vessel, Voltaire, which has legs 130 meters tall and can work at unsurpassed water depths up to 80 meters.
However, Philip Lewis, Director Research at Intelatus Global Partners, says: "There are a multitude of factors other than water depth to consider, including the appetite of vessel owners to invest in new vessels, given the speed of technical change in turbine sizes and foundations and their ability to pay-back the investments before having to upgrade."
New-generation WTIVs will help meet growing demand in core European/Taiwan markets, new European markets (Mediterranean and Baltics), South Korea, Japan, US, and Australia, says Lewis. Demand in these markets is set to grow strongly after the middle of the decade.
Even so, water depth will ultimately limit the outward march of fixed turbines and, with them, jack-up WTIVs.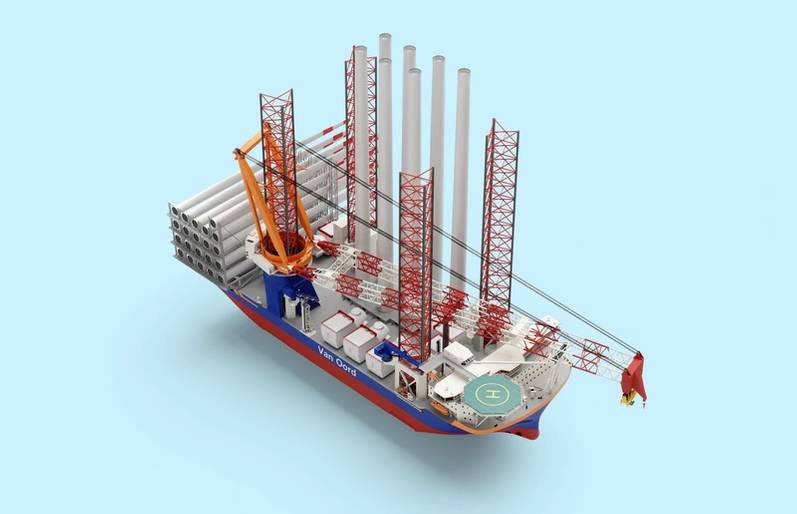 Van Oord's Boreas, currently under construction, will have four 126-meter legs that will allow this 175-meter vessel to work at depths of up to 70 meters. (Image courtesy Van Oord)