Construction of two ships for the Northern Lights carbon storage project in Norway started Thursday with a keel laying ceremony at the Dalian Shipbuilding Industry Co. (DSIC) yard in Dalian, China.
Keel laying is a ceremonial recognition of the shipbuilding start in the construction dock at the shipyard. First steel for the ships was cut in November 2022.
"The keel laying is a major milestone in building the world's first large-scale LCO2 transport ships. In 2024, the ships will be launched from the dock at the shipyard in China and will sail to the Northern Lights facilities in Norway, ready for operations", says Børre Jacobsen, Managing Director for Northern Lights.
The CO2-carrying ships will have a cargo capacity of 7,500 m3, a length of 130 m, and will be operated by "K" LINE on behalf of Northern Lights.
The ships are specifically designed to transport liquefied CO2 in purpose-built cargo tanks from industrial emitters in Norway and Europe to the onshore receiving facilities in Øygarden, Norway.
The CO2 will be transported from the terminal by pipeline for permanent storage in a geological reservoir 2,600 metres under the seabed. The Northern Lights JV DA is a company owned by Equinor, Shell, and TotalEnergies.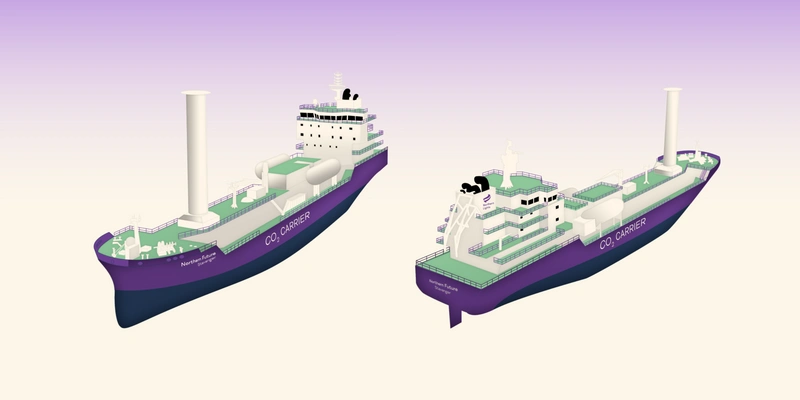 Illustration of the Northern Lights 7,500 m3 CO2 ships. ©Northern Lights
Related:
"K" Line to Operate Northern Lights' Liquefied CO2 Ships
Northern Lights JV in Yara CO2 Subsea Storage Deal
Equinor and Fluxys Plan 1000-km European Pipeline to Norwegian Offshore CO2 Storage Sites
EU Approves Funding for Northern Lights CCS Project Expansion
Drilling Completed at Northern Lights CO2 Storage Project Offshore Norway