German energy group EnBW has reached a final investment decision for He Dreiht offshore wind farm in Germany, clearing the way for the start of construction of EnBW's largest offshore wind farm to date, with an installed capacity of 960 megawatts (MW).
EnBW CFO Thomas Kusterer said: "In He Dreiht, we are building one of Germany's largest offshore wind farms. We succeeded in the first German offshore tender in 2017 with a zero-cent bid and made an important contribution to the further development of the offshore market."
Kusterer said that the final investment decision was the reward for more than six years of outstanding teamwork.
"A combination of factors made the zero-cent bid possible. These include the installation of the latest wind turbine technology, synergies with existing sites, and long-term power purchase agreements with industrial customers, which have a stabilizing effect on wind farm revenues," EnBW said.
EnBW said that the subsidy-free offshore wind farm is currently one of the largest energy transition projects in Europe. The investment cost for He Dreiht is around €2.4 billion. It is expected to be operational by the end of 2025. He Dreiht will then generate green electricity for the equivalent of 1.1 million households.
EnBW has agreed to sell a 49.9% stake in the project to a consortium consisting of Allianz Capital Partners, AIP and Norges Bank.
"With the sale of a 49.9% minority stake to a consortium consisting of Allianz Capital Partners on behalf of Allianz insurance companies, AIP and Norges Bank, we have succeeded in bringing highly professional and experienced partners on board even before construction begins," said CFO Thomas Kusterer.
EnBW has so far signed several long-term power purchase agreements (PPAs) for He Dreiht with Fraport, Evonik, Salzgitter, and Bosch, covering a total volume of 335 MW. Talks with other companies are underway, the company said.
"In the expansion of renewables, PPAs are an important means of underpinning and financing unsubsidized projects in the market. At the same time, more and more companies are striving to become carbon-neutral, creating growing demand for green, carbon-free power. By entering into PPAs, companies and municipal utilities gain access to green power to meet their own climate targets and serve their customers," EnBW explained.
To finance this major project, EnBW has secured an additional €600 million in long-term funding from the European Investment Bank.
He Dreiht to Sport Powerful 15MW Turbines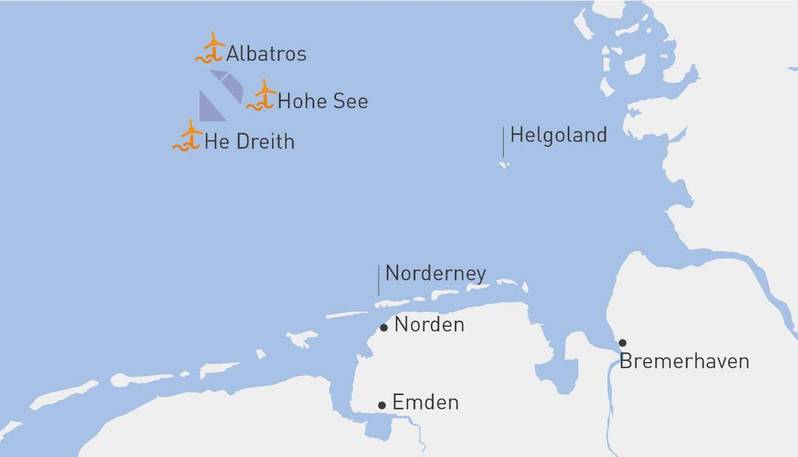 Located approximately 85 kilometers northwest of the island of Borkum and approximately 110 kilometers west of Heligoland, the He Dreiht wind farm is expected to be operational by the end of 2025.
Upon completion, EnBW will be responsible for technical and commercial management as well as maintenance and repair.
EnBW's existing offshore wind farms Hohe See and Albatros are located nearby. He Dreiht will benefit from this proximity and from the service hub already established in the coastal town of Emden, the company said.
The plan is for the installation of 64 latest-generation Vestas wind turbines. Introduced to the market as the first 15 MW wind turbine, these are among the most powerful in operation today. They give He Dreiht a total installed generating capacity of 960 MW.
This means that the 900 MW grid connection capacity guaranteed for He Dreiht can be fully utilized. EnBW received the plan approval decision and thus the permit for the He Dreiht offshore wind farm from the German Federal Maritime and Hydrographic Agency (BSH) in December 2022.