After a disappointing well-drilling venture offshore Namibia in the fourth quarter of 2018, Guernsey-registered hydrocarbons exploration and production company Chariot Oil & Gas has no immediate plans for additional exploration wells in this driest country in Sub-Saharan Africa, but the company says it will support Namibian oil and gas company NAMCOR in marketing some of the country's offshore blocks.
The Atlantic margins focused oil and gas company has in this week's update of its operations in Africa said it is currently on the drawing board carrying out a "post-well analysis of logs, samples and cuttings for failure analysis" in relation to the drilling of the deep-water well on Prospect S, which turned out dry after encountering stacked water-bearing turbidite reservoirs.
Completion of the post-well analysis is likely to influence how the prospectivity of the remaining hydrocarbons exploration drilling plans proceeds, the company said.
"The prospect that this well targeted had the potential to be transformational for the Company in the success case and was also closely watched by the industry," Chariot said in a previous statement.
It attributed the unsuccessful well, which was drilled to 4,165 meters total measured depth in 1,650 meters water depth, to the fact the "Cretaceous clastic targets were water bearing."
"Clearly it has been very disappointing not to have delivered a transformational discovery from the two deepwater wells that we have participated in this year," said company CEO Larry Bottomley when commenting on the outcome of the unsuccessful well.
The consolation for Chariot, however, was that "one of these wells was delivered at zero-cost, and the other was drilled significantly under-budget for what is likely to become a new benchmark for the sector". Chariot has put the estimated final gross cost of well drilling at $16 million, which is nearly $10 million below budget.
Chariot is the operator of the 16,800-square-kilometer Central Blocks PEL-71 licence area within the Walvis and Luderitz basin with a 65% stake while AziNam, NAMCOR and Ignitus hold a 20%, 10% and 5% share respectively.
The company had said previously that at least three third party wells will be drilled between 2020 to 2021 including one that is in the adjacent block to Chariot's asset and which is set for drilling next year.
Going forward, Chariot says it will focus on attracting industry partners "to drill our giant potential exploration prospects, with the aim of delivering transformational value" while maintaining "capital discipline throughout the business."
Meanwhile, Chariot has affirmed its commitment to supporting Namibia's State-owned oil and gas company NAMCOR in the marketing of the Southern Blocks in line with an earlier agreement that provided for the company to retain an option to back-in for 10% equity at no cost after an exploration drilling program in the blocks. In return, Chariot will facilitate the partnering program in the blocks led by NAMCOR.
Namibia, which discontinued bidding rounds system in favor of open licensing system, is, through NAMCOR, eager to woo upstream oil and gas investors as the government touts the existing fiscal and legislative policies that it says are investor-friendly.
"Namibia has one of the most favorable petroleum fiscal regime and incentives in Africa that encourage equitable sharing of economic benefits when a discovery is made," said Tom Alwendo, Minister of Mines and Energy during the Namibian international oil and gas conference in April.
He singled out Petroleum Income Tax of 35%, state royalty of 5% and negotiable Additional Profit Tax when the Internal Rate of Return is greater than 15%.
"Amongst the incentives that the sector offers includes the off road marine diesel fuel rebate, no capital gains tax, lowest royalty in the region, customs exemptions on importation of equipment and consumables and an ease of conducting business in Namibia as indicated by our high ranking in the Frazer Competitiveness index," he said.
NAMCOR is fronting these incentives to woo oil and gas exploration and production companies to its underexplored blocks oil and gas fields, many of them located in the northern part of Namibia's Orange Basin that analysts still consider an immature.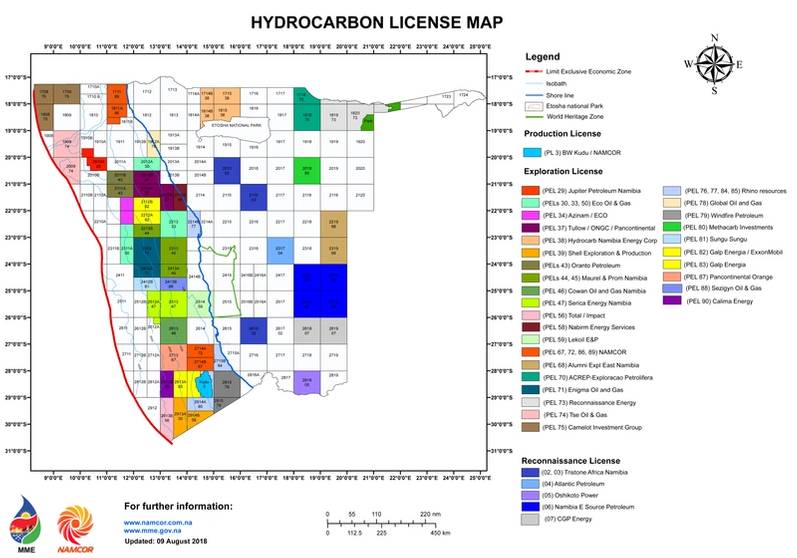 Namibia's hydrocarbons map (Image: NAMCOR)