Following a "Gulf of Mexico way" of project execution strategy, standardizing equipment, opting for subsea solutions where possible and focusing on efficient drilling methods is saving $1.3 billion on the Equinor-operated Peregrino Phase 2 heavy oil project offshore Brazil. The wellhead platform topsides are due to leave the Kiewit yard at Ingleside, Texas, later this year.
Peregrino Phase 2, in 120 meters water depth, is adding 273 million barrels of recoverable reserves to the Peregrino area and expected to achieve first oil at the end of 2020. The Peregrino field, originally known as Chinook when discovered in 2004, holds an estimated 2.3 billion barrels of oil in place and has been producing 14º API oil to the Peregrino floating production, storage and offloading unit (FPSO) since 2011.
Two fixed wellhead platforms and the FPSO currently serve the field. Phase 2 will see the installation of a third fixed wellhead platform, known as WHP-C, which will be tied back to the FPSO. It will drill a series of 15 production and seven injection wells in the southwest area of the field, which is not accessible from the existing WHP-A or WHP-B units.
The WHP-C includes components designed and manufactured in Texas, the Netherlands and Norway and brought together at the field in Brazil. While much of the topsides will be joined together onshore, some of it will be taken apart prior to sailaway for Brazil. The main support frame is slated to leave Kiewit in late autumn on a barge while the drilling modules are to depart in November on a heavy transport vessel.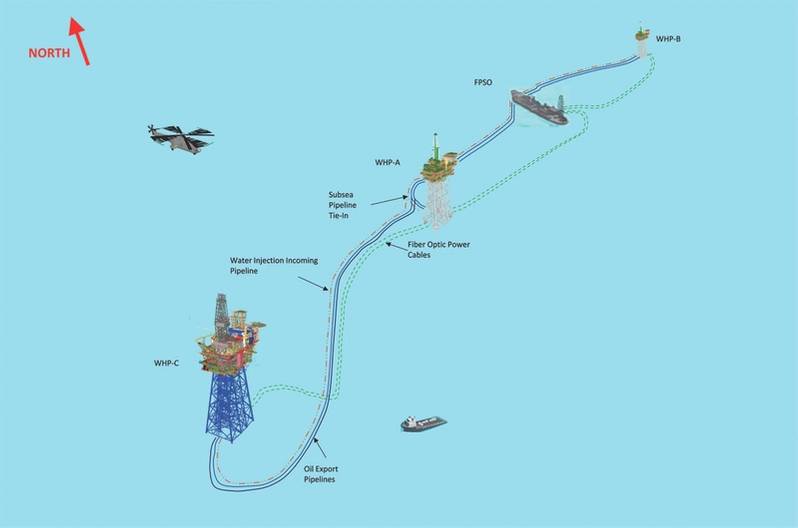 Peregrino Phase 2 opens up the southwest extension of the Peregrino field and makes it possible to recover an additional 273 million barrels. The WHP-C platform, which will drill a series of production and injection wells, will send the production stream to the Peregrino FPSO and will receive treated water for injection. (Image: Equinor)

"At the moment, we are testing the different equipment parts and the systems," Frode Haldorsen, Equinor's facility manager for Peregrino Phase 2, said in late June. "All is working as planned."
Heerema Fabrication Group in the Netherlands is fabricating the eight-legged jacket. Leirvik in Norway is manufacturing the 120-person living quarters. Cameron and Nymo in Norway provided the drilling facilities. The WHP-C also includes utilities and a helideck as well as standalone power generation, which will be able to export power to WHP-A.
Phase 2 features horizontal production wells with subsurface downhole electric submersible pumps (ESP) providing artificial lift. Three multiphase export booster pumps will be installed to pump oil, gas and water that will be carried by export pipelines to the Peregrino FPSO, which has a production capacity of 100,000 b/d, while produced water will be separated out and returned to WHP-C for reinjection.
Haldorsen said Equinor is leveraging lessons learned from the original Peregrino project along with understandings from how projects are executed in the Gulf of Mexico and other regions.
"We're taking learnings from Peregrino and from this yard and how they construct and execute here in the Gulf of Mexico and mixing that together," he says. "It's a big element in how we were able to reduce costs on the project."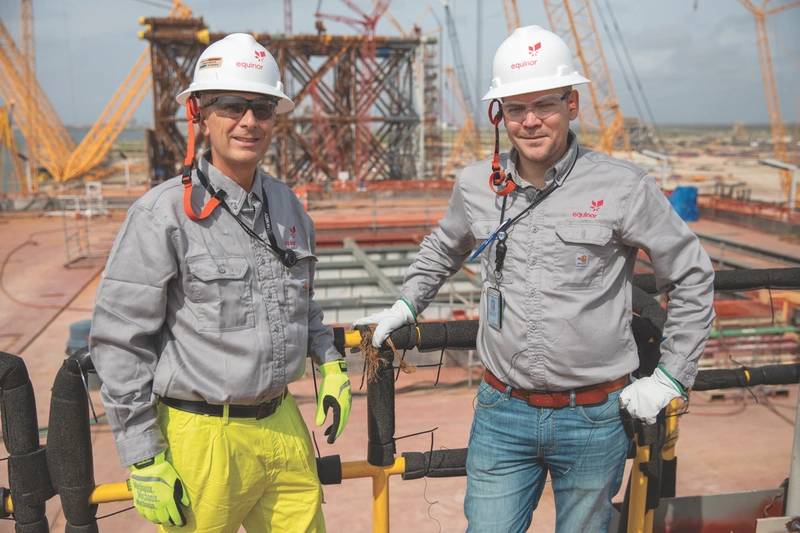 Frode Haldorsen (left), Equinor's facility manager for Peregrino Phase 2, and John Erling Nordbø, construction & completion manager Peregrino Phase 2 project. (Photo: Roar Lindefjeld/Equinor)

As originally designed, Peregrino Phase 2 was projected to cost $4.3 billion. But by applying strategies that included embracing the "Gulf of Mexico way" of executing projects, including standardization of equipment, using tie-in concepts to existing Peregrino facilities and subsea solutions causing fewer topside modifications, and efficient drilling methods and new contracts for drilling and management services in Brazil, the team was able to shear $1.3 billion off the project, resulting in project sanction in February 2016.
Haldorsen says the ability to "adapt to the yard" and understand the local work processes is necessary for succeeding with a big project. "Whether we go east or west, that's what we need to know. What is the Gulf of Mexico way of doing things? And that way you can succeed," he says.
One sign of success is weight control, and by avoiding weight increases, the project was able to move offshore lifts onshore to minimize the number of offshore lifts required, the company said.
"When we reduce the offshore scope, we reduce the offshore work, as well as the potential for things that could be an HSE trigger," Haldorsen says.
As a result, two of the drilling modules will be lifted onto the topsides onshore at the Kiewit facility, rather than as offshore lifts. Onshore lifts will place a 377-metric-ton module and a 228-metric-ton module on the topsides.
"We tried to maximize the things we could do here at Kiewit," Haldorsen says.
The topsides itself is 95 meters long, 57 meters wide, and 49 meters high. The main support frame for the WHP-C topsides weighs 10,500 metric tons while the completed topsides gross operating weight is 23,000 metric tons.
It is always critical to keep the weight of the topsides from creeping up, he notes.
"A benchmark of a lot of projects is you see weight going up and up. You have to buy more steel and fabricate that steel and move that steel," he says.
Controlling the weight was one method of keeping costs down, he adds.
"We are in the last phase of our schedule, and the good news is we are on track to milestones and the budget," he says, noting a focus on health, safety and environment (HSE) has been a cornerstone of the development. As of late June, the job in Kiewit had tallied 3.5 million manhours with no lost time incidents. Another part of the focus has remained on using new as well as proven technology and adapting digital solutions to keep operational and maintenance costs down once the unit is operational, he says. As such, the designers looked at how to reduce the number of people required for operations without compromising HSE.
Part of keeping maintenance costs down includes high-quality painting to protect the steel and decrease the required re-applications of coatings because Peregrino is in a very corrosive environment, Haldorsen says, noting the paint expert was consulted to ensure the right specifications for the paint job and that it was done in accordance with those specifications.
TechnipFMC Brazil won the subsea umbilicals, risers and flowlines (SURF) engineering, procurement, construction and installation (EPCI) contract. Schlumberger Brazil has the contract for drilling (Total Well Delivery). Gran Energia (Brazil) is handling hook up and supplying the floatel.
Even though the platform has been built in Texas, Norway and the Netherlands, the project also creates jobs in Brazil. In operations, WHP-C creates about 200 long-term offshore jobs.
The Peregrino oil field is located in licenses BM-C-7 and BM-C-47 in the Campos basin. Equinor operates the field with 60% interest on behalf of partner Sinochem.