The inherent risk associated with working in an offshore environment for oil, gas and wind energy production means transfer methods must fully consider and overcome challenges such as wind speed, sea state, visibility, temperature and vessel movement to achieve the safe and smooth transfer of personnel. In particular, operators and vessel owners are realizing the crucial safety and efficiency benefits that gangway systems, which connect a vessel to an asset, provide. When compared to conventional methods such as rope swings, it can deliver significantly better safety, operating and cost benefits, says offshore access solutions provider Ampelmann.
For the past decade, the Netherlands-based company has helped to enable the walk-to-work (W2W) movement through its fully motion-compensated gangway systems. Inspired by aerospace technology, the unique hexapod technology was conceived based on the idea of a flight simulator turned upside down. This is capable of measuring and compensating all six degrees of freedom of a moving vessel: surge, sway, heave, roll, pitch and yaw.
Confronting extreme environments
Gangway systems are now widely used offshore in regions including the North Sea, West Africa, Gulf of Mexico and the Middle East. This is due to their cost-effectiveness, wider operating window, and generally higher safety standards. In April, the Dutch offshore service provider announced it had enabled the safe transfer of five million people and 10 million kilograms of cargo worldwide.
The gangway technology employs six hydraulic cylinders on a hexapod to measure and compensate for any vessel motion. It then quickly corrects mobility to ensure the system has zero movement meaning smooth and comfortable journey to and from the workplace.
High sea states and extreme weather conditions and environments can often cause costly delays for offshore personnel traveling by helicopter or rope and basket methods. The innovative motion compensation means the systems can be used in the harshest of environments.
The original A-type gangway can compensate up to 3 meters significant wave height and transfer 20 people in under five minutes from a vessel to a fixed or floating object. It is suited to a wide range of applications and was recently mobilized on a Micoperi multipurpose support vessel (MPSV) Ocean Star, to enable the hook-up and commissioning of an oil and gas platform. The project, which marked Ampelmann's first contract in Mexico, enabled the safe transfer of more than 9,000 people over the duration of 110 days. The campaign experienced no technical downtime, resulting in maximum efficiency of operations.
The E-type gangway system is 1.5 times larger than the A-type. Its robust design is able to withstand harsh weather conditions which other W2W methods cannot. It can operate in 4.5 meters significant wave height and transfer a full shift of up to 40 people in 15 to 20 minutes.
The system was installed last year on the Olympic Orion vessel in the North Sea to support a decommissioning campaign for end client Spirit Energy. An E-type was also mobilized in Norway this year for DeepOcean to support the hook-up and commissioning of the Valhall Flank West (VFW) project, operated by Aker BP. This marked the company's first project in Norway. It is currently supporting the Normand Jarstein vessel enabling the transfer of key personnel to the normally unmanned installation. Around 100 workers have been safely transferred from the vessel to the platform, with more than 1,300 crossing successfully completed during the first hook-up phase, which lasted nine days.
Driving efficiencies
While safety remains the highest priority, efficiency gains are continuously sought as operators aim to reduce operational time and risk, and improve flexibility. The E1000, which can transform from a gangway into a crane boom for cargo transportation, employs remote-controlled hydraulic pin pushers to fixate the gangway booms in less than one minute with a single button and can operate in wave heights up to 4.5 meters.
The W2W market steps up
At a time when the oil and gas industry is being pushed to find new and innovative ways of working, Ampelmann's W2W solutions continue to create greater cost and safety benefits for operators which can then be passed down the supply chain. The hexapod technology has unlocked the full freedom in motion compensation to ensure the safe transfer of personnel and cargo anywhere in the world.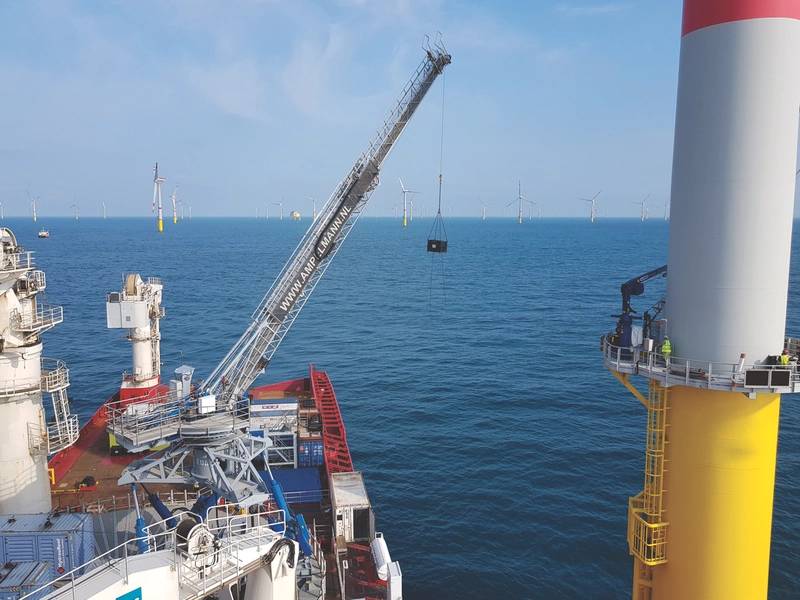 The E1000 system in cargo transfer mode (Photo: Ampelmann)