South Africa continues to make progress in its endeavor to woo increased investment in the country's highly under-developed offshore oil and gas market as the government's slow and delayed plan to make cuts on crude oil imports begins to take shape.
Newly reelected President Cyril Ramaphosa's government has announced the approval of an application by Azinam Ltd, an independent Southern Africa Atlantic margin-focused oil and gas exploration firm, to farm into Block 3B/4B permits in the Orange basin, 120 to 250km offshore South Africa.
The approval has paved way for Azinam to acquire 40% participating interest in the license from Ricocure (Pty) Ltd, which remains with 60% share.
Azinam now has eight permits in both South Africa and Namibia with the acquisition of these two blocks, which lie in water depths ranging from 300 to 2,500 meters.
Last year, Azinam signed agreements to acquire a stake in the two permits, which now expands its acreage to 80,530 sq km from the previous 62,000 sq km and making the company the "largest direct acreage holder in the region on a gross basis."
Azinam sounds optimistic largely buoyed by what it says is the findings of "historical drilling on the shelf and modern 3D seismic surveys of the Orange Basin that indicate the potential for both regionally significant shallow-water oil and gas projects and world-class deepwater discoveries."
Furthermore, in February of this year, French oil major Total SA announced the 3,633-meter deep Brulpadda well discovery, which despite having been drilled in "in challenging deepwater environment" appears to reaffirm Azinam's confidence the under-explored South Africa offshore basins have "significant hydrocarbon potential."
Total confirmed early this year it has "opened a new world-class gas and oil play" with the gas-condensate discovery in the Outeniqua basin and now plans to acquire 3D seismic as South Africa waits in anticipation the commercialization of the discovery and other subsequent ones in a country where crude oil imports make up more than 70% of its liquid fuels demand with an estimated 192,000 bbl/d coming from local production of
synfuels derived from coal and gas according to the country's Department of Energy.
"Azinam is delighted to complete this transaction with Ricocure, marking our official country entry into South Africa," said Daniel McKeown, Managing Director of Azinam.
"To continue to build our acreage footprint in an area now dominated by Majors and Independents is proof of Azinam's offering as a competent operator and focused explorer, keen to move forward at pace," the company said in a statement.
Over the next 36 months, Azinam says it plans to drill eight "high-impact, multi-billion barrels of oil potential wells offshore Namibia and South Africa, thoroughly testing the margin's potential and exploiting low drilling costs."
The expansion of Azinam's foothold in offshore South Africa and Namibia heightens the competition for the deepwater oil and gas resources as more exploration and production companies have already set up camp in the region including ExxonMobil, Kosmos Energy, Total SA, and the Lundin group through investments in Eco (Atlantic) Oil & Gas, Impact Oil & Gas and Africa Energy.
"This area is gaining increasing attention from the international hydrocarbon exploration industry," said Azinam.
"A combination of heightened industry interest in the country and wells planned in 2019 and 2020, coupled with recent licensing and exploration activity in geologically analogous regions within the South Atlantic margins, including the Falkland Islands, Brazil, South Africa and Angola, has made the region one of the most attractive potential hydrocarbon provinces the globally," it adds.
But for South Africa the increasing interest in the country's offshore oil and gas market is likely to complement government effort to expand the country's energy mix for sustainable economic growth according to Energy Minister Jeff Radebe.
"South Africa has a history of developing unconventional energy resources in its bid for greater self-sufficiency and the country has shown its ability and determination to invest and employ technology to diversify its fuel mix," said Radebe at an oil and gas forum last year.
He said the appreciating global oil prices is "supportive of greater investment in the exploration and production of oil and gas."
South Africa is pushing for the fine-tuning of the country's oil and gas regulations for what Radebe says is the need for "clarity on acreage both offshore and onshore as an alternative proposition for oil and gas exploration companies."
At a time when South Africa is re-aligning its energy sector with the recently approved Integrated Resource Plan, which elevates utilization of natural gas resource not only for the generation of electricity but as leverage to cut back on energy imports, it might be prudent for oil and gas exploration investors to bet their money on such under-explored offshore areas.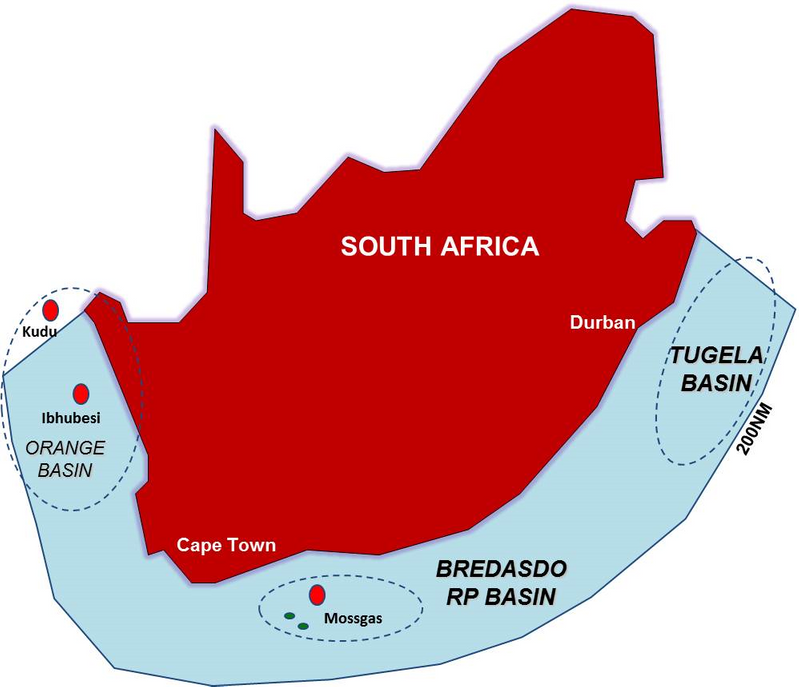 South Africa offshore exploration area (Image: SAOGA)