While the offshore market is starting to show some positive signs, some vessel owners and operators in the sector continue to suffer.
Utilization and rates for offshore supply vessels (OSV) have improved in 2019, particularly in the North Sea where 89% of assets are now working compared to a global average today of 77%, according to VesselsValue, who measures utilization by recency of automatic identification system (AIS) signal, with anything that has not signaled for eight weeks or more deemed as laid up or inactive.
Offshore vessel owners in the US continue to lead the way in terms of restructuring, consolidation and removals, VesselsValue said, noting they of course have protection via the US bankruptcy code Chapter 11.
Outside of the US, owners with larger, higher specification assets are the ones who are currently most negatively impacted by present market conditions, VesselsValue said.
Norwegian owner DOF, for example, has today released its quarterly financials announcing it will likely breach terms of its loan agreements in the near future.
Havilla Shipping also in Norway has recently entered into a new round of negotiations with lenders amid talk of selling off a dozen vessels.
VesselsValue has compiled a list of the top five Norwegian owned OSV and offshore construction vessel (OCV) fleets in terms of fleet size and value.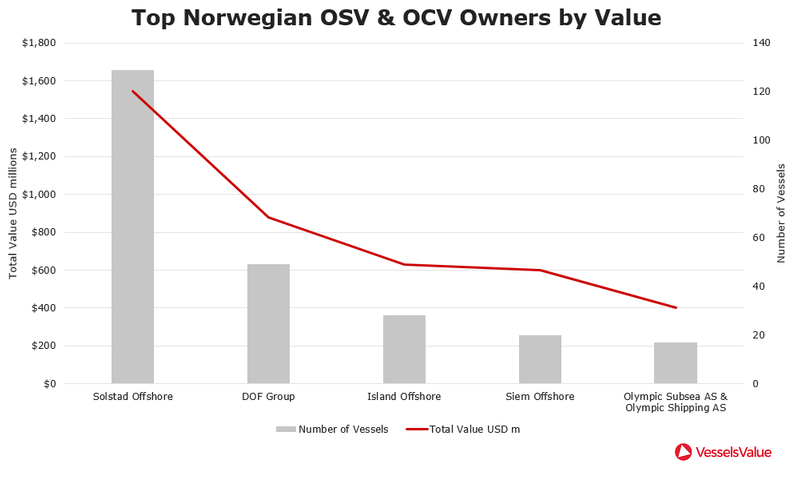 The graph shows Solstad Offshore with the largest fleet size and valued at $1.5 billion, followed by DOF with $773 million.
Top Norwegian OSV and OCV owners by value
Company
Number of vessels
Total value (USD millions)
Solstad Offshore
126
$1,546
DOF Group
57
$773
Island Offshore
28
$629
Siem Offshore
20
$600
Olympic Subsea AS
17
$401
VesselsValue Head of Offshore Robert Day points out that values for construction vessels have fallen significantly due to the impact of the Toisa bankruptcy sales over the past 12 months. Day says the value of a 10 year old multipurpose support vessel (MPSV) has fallen 30% over the last 12 months, citing the Seven Pegasus as a good example. "Our valuation of the vessel 12 months ago was $56.4 million compared to $39.6 today," Day says, comparing this to the vessel's sale price in November 2018 of $38.95 million.
He highlights that although values for OCV vessels are at all time lows, there remains opportunity and workscope available. "We track and monitor the workscope of over 600 high specification OCVs," he says. "Although our data shows that fleet values have suffered, it is not all doom and gloom and we have seen the larger construction companies able to secure new projects and forward coverage."
Day says Solstad has 29 OCVs and coverage until January 1, 2024 with the Normand Subsea. DOF has 25 OCVs, and the vessel with the longest commitment is the Skandi Olinda working for Petrobras until the February 15, 2027.