Two service companies known for point-the-bit rotary steerable systems (RSS) each decided in 2016 to create their own push-the-bit tools. Their offerings are aimed at increased tool reliability, utilization, smoother wellbores and higher levels of drilling performance consistency from well to well, the companies say.
Halliburton's Geopilot point-the-bit RSS was a "workhorse" but the company sought to develop a push-the-bit system that could handle complex wells, be reliable and provide consistent results. Because of a variety of factors involved in drilling, says Paul Bond, Halliburton RSS product manager, drilling performances for multiple wells in the same field may not match up.
"You can drill one well in an offshore field, and it's a record, but the next well may not go so well," he says.
Halliburton decided to harness the leaps in technology – electronics packaging, sophisticated algorithms and high speed processor – that had come since previous systems had been developed.
"We took advantage of that technology to put into the tool to drive some of those improvements in reliability and steerability, and to be able to drill fast with the tool," he says.
The result was iCruise, which launched in the third quarter of 2018. The "i" in iCruise is for intelligence, Bond explains. The exterior of the tool "looks simple and robust," but the interior has the ability to capture large amounts of data in real time and transmit it to the operator.
Three pads come out of the tool once per rotation, so at 400 revolutions per minute, each pad will come out at the same point six times per second to push the bit in the direction the driller wants to steer the wellbore. A complex control system takes into account 1,000 measurements of the tool face per second to determine when to send the pad out.
"That's the type of intelligence we put in it," Bond says. "We store a lot of information in the tools, and we use the information to improve overall reliability."
Those measurements of the tool's voltages, temperatures and vibrations are also taken per second, and stored in the system's memory, allowing for real-time smart diagnostics. The massive amount of data generated from every run can be used to "work out when to retire certain components of the tool before they fail based on the history of those components," Bond says. "This takes diagnostics to a new level."
Halliburton's design process incorporated the use of digital twin modeling. "It gives us a good idea of how it would work in the digital space before we even drill the well."
The digital twin can be used with well plans to help make drilling more predictable, repeatable and consistent than when using a manual directional driller alone, he says.
"We could put models into a surface computer and well plan and criteria around avoiding other wells, and develop an automation platform where the surface system generates commands to the tool for the tool to follow the well plan," Bond says.
Halliburton ran that trial on a test rig, with a computer generating commands directly to the iCruise tool in November 2018 in Texas.
"We planned it with a build and an 11-degree turn, and it followed the plan precisely," he says, adding confidence in this technology could reduce the requirements for having so many directional drillers on location.
The system itself can handle doglegs of 18 degrees. iCruise is available in 4 3/4 inch, 6 3/4 inch, 8 inch and 9 1/2 inch.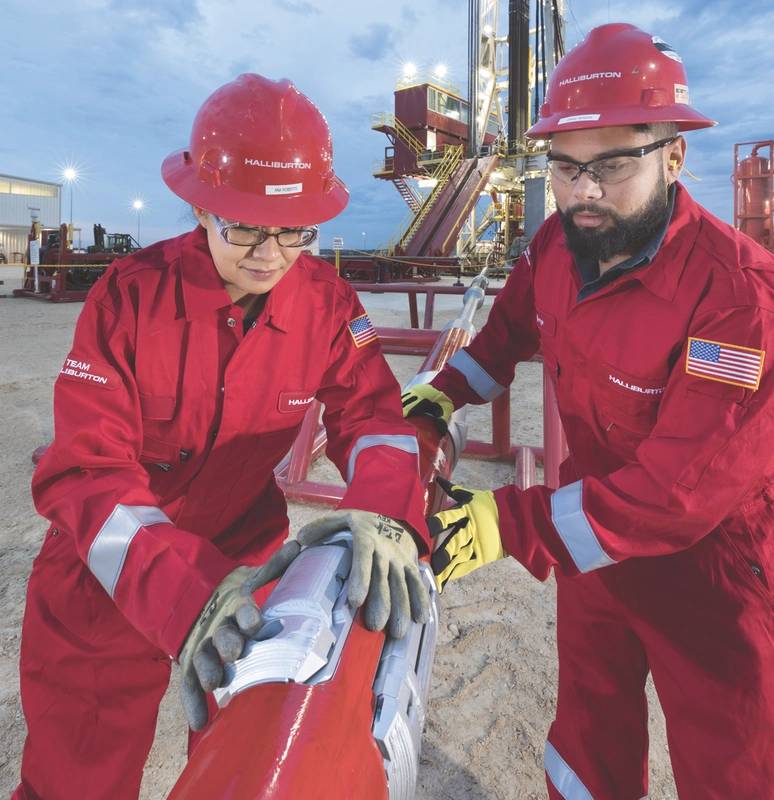 Halliburton engineers prepare the iCruise Intelligent Rotary Steerable System for a run on a test rig (Image: Halliburton)
According to Halliburton, the modularity of the iCruise BHA and its precise steering capabilities have delivered smooth wellbores with less tortuosity, which has resulted in faster tripping speeds after drilling laterals in excess of 2 miles long.
To date, Halliburton has drilled 250,000 feet with iCruise in multiple basins across North America, the Middle East and Argentina. It is slated for deployment in the Gulf of Mexico and offshore Norway later this year.
"This will be our workhorse going forward," Bond says.
Magnus
When Weatherford set its sights on creating a push-the-bit offering, the service company moved rapidly through the development process by bringing on engineers familiar with push-the-bit systems, carrying out information sessions with customers to fully understand their needs and wants in a push-the-bit RSS, and concurrently designing and manufacturing a tool.
Less than a year later, in April 2017, Weatherford had a fully functional tool on a test rig in Oklahoma, and in April 2018, Weatherford commercialized its Magnus push-the-bit RSS with a 6 3/4 inch collar. As of February, the company had drilled more than 200,000 feet with Magnus across the US, Mexico and the Middle East.
Etienne Roux, Weatherford's president of drilling and evaluation, says the company invested in developing a push-the-bit system for a number of reasons, including that Magnus opens up the offshore market for the service company while driving greater tool utilization efficiency due to the inherent design difference between point- and push-the-bit systems.
"All rotary steerable systems are complex," he says. "Push-the-bit systems are less complex, though."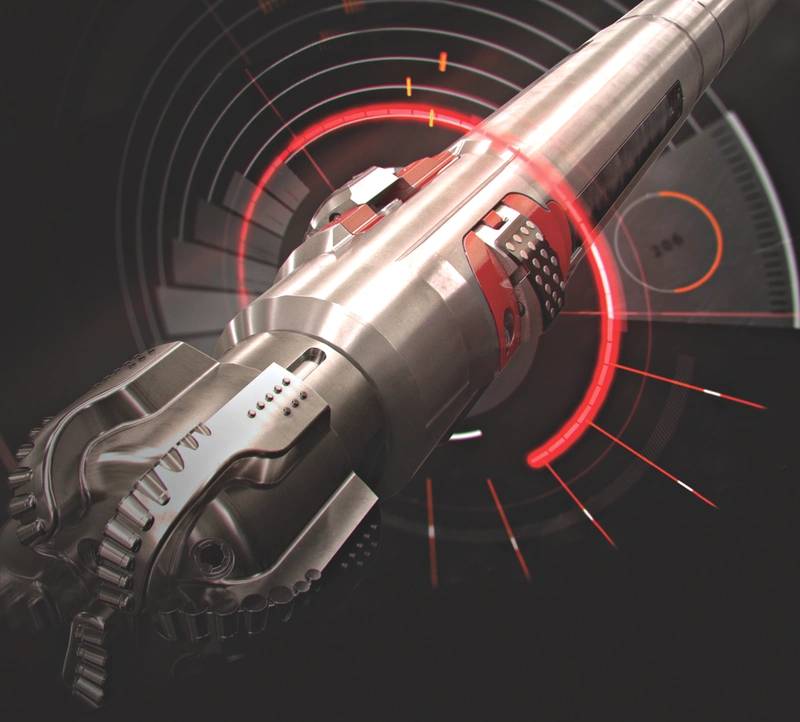 Weatherford's Magnus push-the-bit RSS (Image: Weatherford)
Part of the driving challenge for the push-the-bit system design, he says, is that customers want costs to come down on well construction. For years prices hadn't decreased for push-the-bit RSS operations, he says, largely due to a duopoly in the push-the-bit space. Additionally, when a system failed, it often had to be sent far away for repairs causing capital inefficiency and costly availability constraints. Customers wanted a streamlined system to minimize chances for stuck pipe, and they wanted a system that delivered a smooth wellbore which could be maintained and turned as close to operations as possible.
Magnus is intended to reduce overall well construction costs, Roux says. The tool itself is able to drill further, longer and deeper with fewer maintenance requirements compared to other systems, he says.
Magnus is a robust tool, and its streamlined design minimizes stuck pipe issues, according to the company.
One of the key design features of Magnus is its trio of independent pads, which Weatherford developed in response to customer pleas for a method of RSS that would result in a smoother wellbore, he adds. The pads come out at predetermined intervals to move the bit in the required direction. All three pads can be switched off on demand, allowing, for the first time, true independent pad control driving smoother wellbores and allowing for more efficient casing exits, he says.
"Magnus eliminates microdoglegs and tortuosity, the things the completion guys hate that cost a lot of money over the life of the well and which can solve long-term production problems," Roux says.
The system has a dogleg capability of 10-plus degrees when needed to build a curve, according to the company, while high-speed sampling verifies toolface position. Weatherford has commercialized its 950 tools size for 12 1/4 inch hole sections and an 11 inch collar version of Magnus will be available later this year.
Weatherford ran Magnus in the Mexican sector of the Gulf of Mexico shelf in November 2018 for a client. In that application, Magnus was replacing a competitor's push-the-bit RSS tool for a well in 161 feet water depth.
"We managed to exceed the competitor's delivery in rate of penetration and time to total depth," Roux says.
Client KPIs called for an ROP at or above 9 m/hr through the section, and Magnus delivered more than 16 m/hr, according to Weatherford. In addition, the company says, it was critical that the buildup rate was maintained at less than 3.75 DLS, which Magus delivered on, maintaining at 3.67 DLS.
Looking forward, Weatherford aims to more fully automate Magnus. For example, Weatherford is fine-tuning software that makes it possible to automatically measure the direction and azimuth in a similar fashion that inclination is being controlled, allowing for real-time adjustments to be made to stay on a predefined well trajectory and azimuth.
"We're doing a lot of work to make it possible to run Magnus autonomously," Roux says.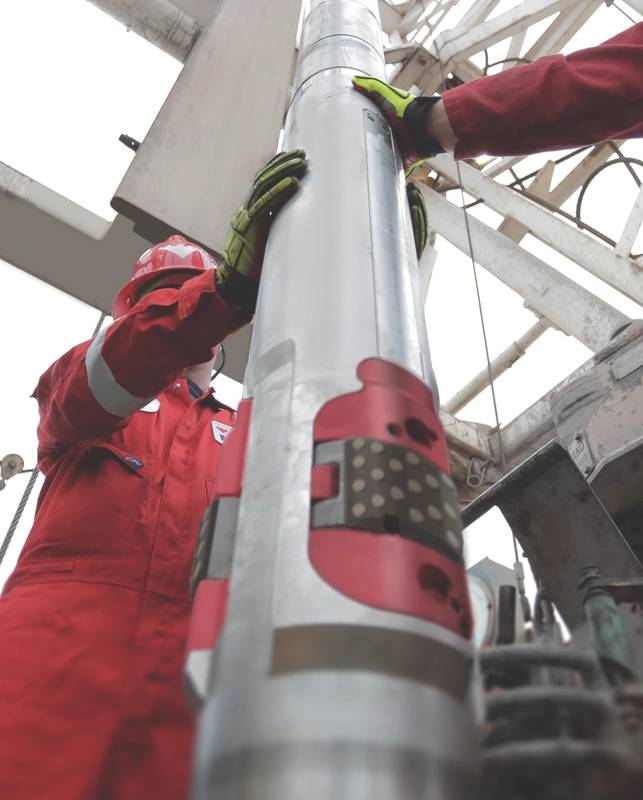 Weatherford engineers deploy the Magnus push-the-bit RSS (Image: Weatherford)