Upwing Energy, a technology firm in California, has developed a Magnetic Drive System (MDS) that aims to transform the century-old topology for electric submersible pumps (ESP).
Upwing Energy is a spinoff of Calentix Technologies, a company in the field of permanent magnet (PM) technology for rotating equipment. The Upwing subsidiary was created by Calnetix with backing from Equinor Technology Ventures to tackle both the reliability and retrievability of subsurface rotating equipment.
"We have spent over six years studying and understanding the downhole applications, environment, operators' concerns, challenges and economics with regards to operating ESPs both onshore and offshore," said Herman Artinian, president and CEO of Upwing Energy. "We've also been following the ongoing sustaining improvements within the industry. And we've come to the conclusion that the existing topology of ESPs and the incremental component improvements being made will not be enough to improve their overall reliability to a level where offshore and subsea operators are comfortable making them their primary artificial lift solution."
According to Artinian, an ESP system that is both reliable and cost effective can enable operators to achieve 40% incremental recovery in many fields.
"It seems that the industry has accepted limited reliability and availability in ESPs and is focusing on reducing the time and cost of deployment instead of engineering a comprehensive redesign of system topology," Artinian said. "For instance, some companies are working on coil tubing and wireline deployments. These may help somewhat, but the reliability of the tool itself remains unchanged, or is even sacrificed further."
Upwing Energy's strategy is to adapt the existing proven technologies and solutions that are now being used by its parent company Calnetix in aerospace, defense, automotive, marine, topside oil and gas and other applications for downhole rotating equipment.
The Upwing MDS leverages the unique characteristics of permanent magnet (PM) motors in terms of higher efficiency and power density, Artinian explained. In the MDS topology, the PM motor is used as a magnetic coupling. The stationary part, the "motor stator," is integrated within the completion of the well, where it is hermetically sealed together with all other electrical components, including the least reliable components - connectors and cables. The "motor rotor" is part of the retractable component and deployed via slickline together with all the other mechanical rotating components like the axial bearing and pump section. This approach provides complete wellbore access and eliminates any vulnerable electrical or mechanical connections.
The new topology offers the best of both worlds -- reliability through hermetically sealed electrical components, which are isolated from the production fluids, and quick retrievability via slick line of the rotating components, according to Artinian. It also eliminates one of the most unreliable ESP components, which is the protector and its associated seals, pressure compensation, dielectric fluids and other "band-aid" auxiliary components.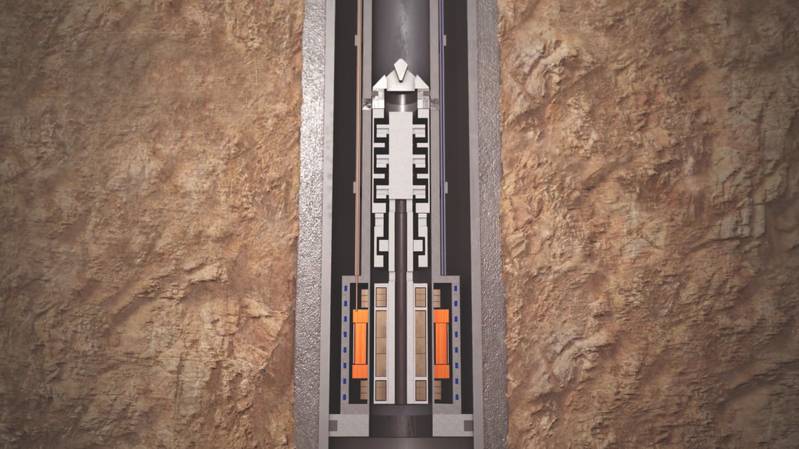 Slickline retrieval of mechanical string in the tubing (Image: Upwing Energy)
"The concept of improving or adding on auxiliary components, especially beneath the surface where they are not easily accessible, makes no sense from a design point of view," Artinian said. "The MDS directly addresses the root cause of the problem and removes all auxiliary life-limiting components with a single design and elegant approach."
Upwing also is working to integrate magnetic bearings into the system, replacing traditional contact bearings, so that the rotating shaft is completely levitated and has no contact with the main housing. Artinian said that this will increase the speed of the pump by two times, reduce the tool length and increase ease of deployment with a single slickline, all of which will significantly decrease upfront and operational costs for the operator.
"The technologies we are integrating and introducing to downhole rotating tools have been well proven on the topside, and also have proven their reliability and availability in subsea applications, such as the Åsgard subsea gas compressor," Artinian said. "The expectation of a 10-year life and a one-day intervention for an ESP system is no longer wishful thinking."
Upwing is also launching its Subsurface Compressor System (SCS) for gas wells at this year's Offshore Technology Conference. The SCS is a high-speed downhole artificial lift system driven by a magnetically levitated permanent magnet (PM) motor that increases gas production and recoverable reserves from conventional and unconventional formations.
When asked about the current status of the MDS product, Artinian said, "We are currently getting ready to deploy our first commercial SCS tool for conventional and unconventional gas wells after multiple prototype field trials. We will move into the next phase of the MDS design efforts with the support of the E&P majors during the second half of this year, and all the technologies associated with the SCS will be leveraged for the MDS."