Offshore renewable energy is gaining investment support in the United States, particularly on the east coast. While the U.S. is a full generation behind its European counterparts in tapping the wind as an energy source, if current plans come to fruition it could gain ground quickly. Recently we spoke with Astrid Skarheim Onsum, SVP, Head of Wind Aker Solutions, for her view on the path ahead and the growing role and promising future of 'floating wind.'
Please give an overview of your responsibilities as SVP, Head of Wind, Aker Solutions?

Within my responsibilities fall the development of Aker Solutions' strategic position in the global wind industry, business and subsequent project development as well as wind engineering and technologies. It is an exciting time for offshore wind and especially for an emerging floating wind industry. We are looking at all ways we can help accelerate commercialization of floating wind through our experience, capabilities and technologies.

Aker Solutions is obviously large and diverse. Put in perspective the shape and size of the "Offshore Wind Energy" offering compared to traditional offshore energy segments.
We go back to 1841 with industrial and maritime transformation as a part of our DNA. Our origins are in understanding the oceans and managing the dynamics of water and the maritime environment. Shipbuilding and hydropower turbines are parts of our history. In the past four to five decades Aker Solutions has focused on solutions for the offshore oil and gas industry. The global energy sector is undergoing massive change and sustainability is front and center of the change agenda. We believe we are talking about a transition in the energy mix over some time. However, we see a world where renewables will play an ever-bigger role, and we have value to add. We have innovated and developed proven deepwater technologies that are now becoming highly relevant for the wind industry.
Through ongoing collaborative innovation projects, we are also seeing that floating wind power can help unleash a greater blue economy, including offshore aquaculture - where we have our own concepts - and green shipping.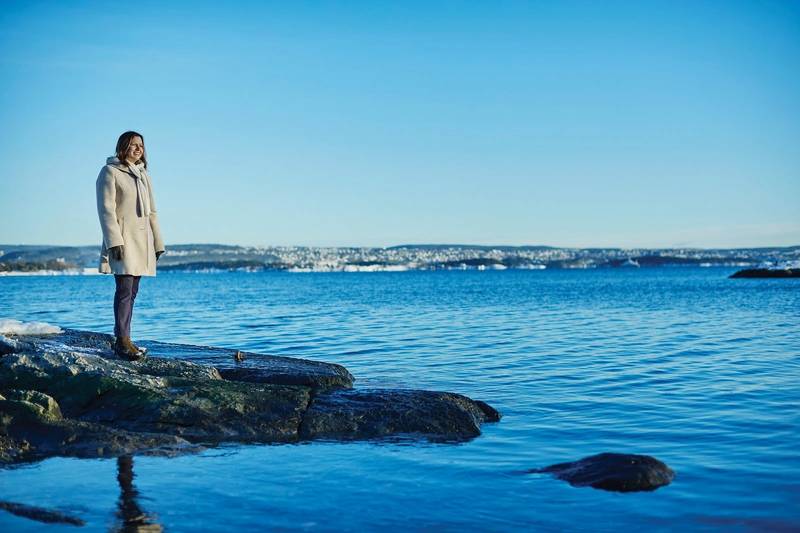 "We need scale to bring down the costs of floating wind energy. That means that we have to recognize that the time of pilot equipment and demos are now behind us. We have proven technologies ready to go commercial – and need to plan accordingly."Astrid Skarheim Onsum, SVP, Head of Wind Aker Solutions. Image: Aker Solutions.To start, please share your 'big picture' view on Offshore Wind today as an industry. Specifically, where do you see the brightest opportunities for growth in the coming 1 to 5 years?
Over the last 20 years, there has been tremendous growth in bottom fixed offshore wind. The shallow water and good winds of the North Sea have created a test bed and industrial training center for what is now becoming a global industry. When we look at the fundamentals and large potential for offshore wind in the U.S., Europe and Asia, it is easy to be inspired by the IRENA projection of 500 GW by 2050.
We realize that floating is currently a smaller segment in offshore wind. However, we see floating wind energy as an emerging industry that has all the right characteristics to grow exponentially. Bernstein Research analysis recently quoted 7040 GW potential floating wind capacity across Europe, USA, Japan and Taiwan! At the moment we are engaging across the board and bringing our system integration capabilities to the table from technology development to project development. In five years we believe we will see a lot of projects being developed and perhaps the first commercial farm already in operation.
We also believe there is potential for utilizing wind power to electrify oil and gas facilities, and are engaging in this particularly in the North Sea and Brazil, to bring down the carbon footprint of production.

When we met in San Diego you said "our big bet right now is on offshore floating wind". Can you please explain what you meant.

We believe that offshore floating wind makes industrial, commercial and environmental sense. With the larger turbines being developed now, capacity goes up and economy of scale can be effectively realized. For Aker Solutions, the synergies between offshore floating wind farms and our capabilities from the offshore oil and gas industry are obvious.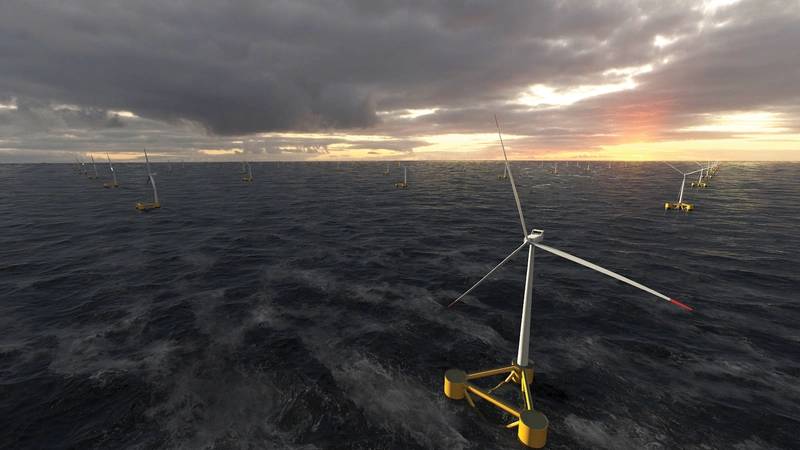 Floating wind is the future in the offshore sector. Image: Aker Solutions
Over five decades, we have designed more than a 160 floaters (including spar buoys, TLPs, barges and 60% of the world's semi-submersible floaters) for all kinds of conditions across the globe; we understand and deliver power systems (cables and substations) that can take the dynamic forces that floating wind entails; we have relevant technologies qualified for installation on the sea bed and have a strong track record in unmanned offshore facilities. Offshore project execution as well as digital operations and maintenance services are core capabilities of our organization.
We think we can add significant value in floating wind – the growth of the industry is our big bet. Should we see that our solutions can add value in fixed bottom offshore wind as well, then we will of course address that market as well. As an example, we were awarded maintenance contracts for TenneT's onshore and offshore converter stations in 2018.

Fixed versus Floating: I've read a lot about the evolution of Floating Offshore Wind installations. From Aker Solutions perspective, how do you see the market evolving? What are the pros and cons of each Solution?
While we certainly recognize the impressive learning curve fixed bottom wind has achieved and how that industry has now reached a point of commercialization which includes the world's first subsidy free farms, we believe there are obvious benefits of floating wind for the longer term.
The fundamentals of floating allow for placement of farms where the wind resource is best. As the turbines rapidly grow in capacity, the structures get taller. Floating wind also offers the benefit of placing wind farms with structures almost as tall as the Eiffel tower outside of the field of vision from shore, while staying in proximity to the larger population centers and off take needs. The near shore conflicts with other stakeholders are reduced and we leave coveted near shore acreage available for other industrial and recreational use.
While the cost of floating currently is higher, there are significant cost benefits. The obvious one is the removal of costly offshore heavy lift operations with a tow from shore solution. With scale and better capacity factors, we believe the cost curve for floating wind will see the same development as the cost curve for fixed bottom.

What ONE technology do you see as having the biggest impact on making offshore wind a more efficient and cost-effective solution. Why?

The obvious one short term: A tow-to-field semi-submersible floater with major repairs at quay side, due to the removal of the heavy lift offshore operations. We currently believe the semi-submersible floater is the fastest and most cost-effective way to harness reliable wind resource. You may have seen that we have invested in Principle Power Inc. (PPI) and currently hold an 11.8% stake in the company.

In your opinion, what remains the greatest challenge to the offshore wind energy solution?

We need scale to bring down the costs of floating wind energy. That means that we have to recognize that the time of pilot equipment and demos are now behind us. We have proven technologies ready to go commercial – and need to plan accordingly.

Can you share specifics ona recently completed or ongoing offshore wind projects that you think best exemplifies the Aker Solutions offering to the market. Please be specific.
We are looking to de-risk the commercial scale projects and bring them forward faster. A concrete example of this is our ongoing participation in the consortium for the development of a wind farm outside of Humboldt Bay, California. Together with EDPR and Principle Power Inc. we were selected by the local utility company, Redwood Coast Energy Authority, to collaborate on this potential flagship project for California.
And we are supporting the learning in demo projects like the Kincardine and WindFloat Atlantic by providing our experience in offshore project management as well as planning and execution of marine operations.

Meet: Astrid Skarheim Onsum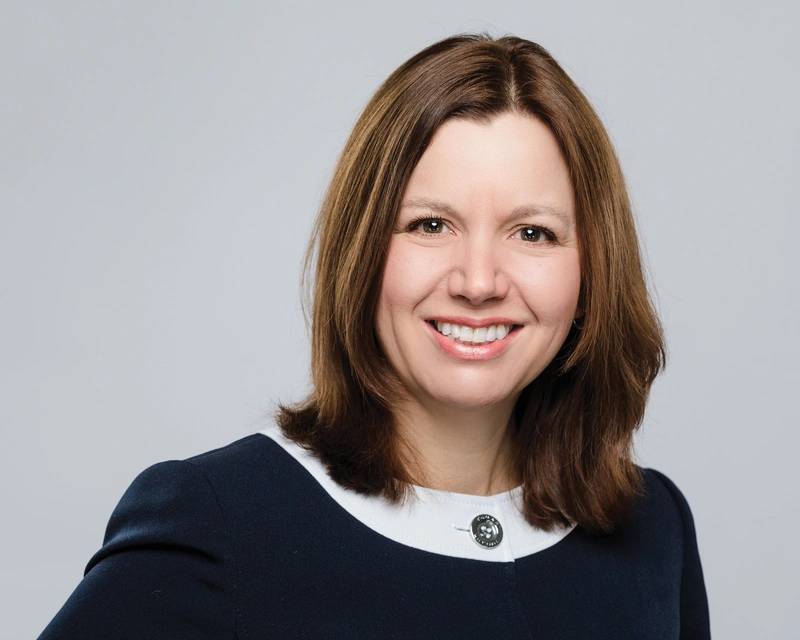 Image: Aker SolutionsAstrid Skarheim Onsum, SVP, Head of Wind Aker Solutions is responsible for developing Aker Solutions' floating wind business under an ambitious growth strategy. She has more than 20 years of experience from the energy sector, including a range of technical and leadership roles, at onshore as well as offshore sites. As the managing director of Aker Solutions' engineering business in Norway for 5 years she oversaw delivery of some of the most complex offshore projects in the world. Ms. Onsum has also held the role of Chief Digital Officer for Aker Solutions for 2 years. She holds a MSc in Mechanical Engineering from the University of Trondheim (NTNU) in Norway.