Western Gas announced Wednesday it has signed a Memorandum of Understanding (MOU) with oil and gas service and technology providers McDermott International and Baker Hughes, a GE company (BHGE), for the development of the Equus Gas Project offshore Western Australia.
As part of the initial contract, McDermott and BHGE will work with Western Gas to advance the pre-front end engineering design (pre-FEED) and front-end engineering design (FEED) to final investment decision (FID). McDermott and BHGE's joint venture, io Oil & Gas Consulting, will commence immediately with pre-FEED work, which is expected to complete by Q2 2019. The partners will continue with FEED work thereafter.
Upon FID, McDermott and BHGE are expected to undertake the engineering, procurement, construction, installation and commissioning (EPCIC) of the entire field development scope under a separate contract. The scope will cover reservoir evaluation, drilling and completions, subsea, production facilities, an export pipeline, a liquefied natural gas (LNG) facility and a domestic gas connection facility.
The integrated full-field plan, which McDermott's Senior Vice President for Asia Pacific Ian Prescott calls a "holistic approach to field development", aims to enhance project economics and provide delivery certainty.
"This project underscores the value of McDermott's vertically-integrated capabilities and our collaboration with BHGE, who will leverage their broad portfolio to support the project," Prescott said. "By more closely connecting each stage of the project, we aim to drive significant efficiencies and cost savings for Western Gas through the full life of the field."
Andrew Leibovitch, Executive Director, Western Gas, explained that the integrated design-to-install contracting approach was an Australian first for a project of this size and scale and would help deliver an efficient development plan, enhance project economics and reduce time to first gas.
"We ran a very successful and well-received Request for Proposal (RFP) process to identify a likeminded and collaborative service provider who could engage early and provide an integrated technical and project delivery solution," Leibovitch said.
"It was important to us to engage with partners that could offer a full field development and execution solution that would help deliver an efficient development plan, enhance project economics and reduce time to first gas," Leibovitch continued. "BHGE and McDermott bring a wealth of global expertise, products and services to help drive efficiencies across the life of the field."
Maria Sferruzza, President for Asia Pacific, BHGE, said, "We are increasingly seeing customers move away from the traditional vendor-supplier mindset and engage in a collaborative approach to project design in order to be more cost effective. This MoU with Western Gas is a great example that brings a flexible partnership model and closer collaboration together to help drive enhanced efficiencies and value over the full field development."
The Equus Gas Project, comprising 11 gas and condensate fields, is 100 percent privately-owned and operated by Western Gas. It is positioned in the heart of the Carnarvon Basin, Australia's premier production basin, about 200 kilometers northwest of the Western Australian town of Onslow and comprises an independently certified resource of two trillion cubic feet of gas and 42 million barrels of condensate. Water depths range from 1,000 meters to 1,200 meters.
The development-ready asset has an extensive history of exploration and appraisal activities and development studies. McDermott and BHGE have participated in the exploration appraisal drilling program and FEED studies with the previous owner Hess before Western Gas acquired the asset in November 2017. This includes BHGE's Gaffney, Cline & Associates having independently certified the contingent resource.
io has also performed a number of technical studies for Western Gas to assess development options. The MOU and the expected scope of work for the EPCIC were built on these past studies.
The Equus Basis-of-Design is for a phased development, with the initial development comprising three production wells linked by subsea infrastructure to a floating production storage and offloading (FPSO) unit. Facilities on board the FPSO will include gas dehydration, condensate stripping and gas compression.
Dry sales gas will be piped to a nearshore LNG production facility. Sales gas will also be piped on shore for Western Australian domestic gas supply. The Equus resource is sufficient to supply one quarter of Western Australian domestic gas demand or two million metric tons of liquefied natural gas a year for 20 years. Final Investment Decision is planned for late 2019/early 2020 with gas supply from late 2023/early 2024.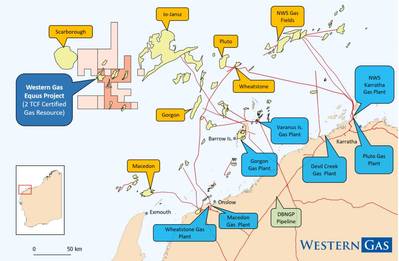 (Image: Western Gas)