As the Brazilian oil and gas market emerges from a four year crisis, with expanded oil block tenders including the high quality/high yield pre-salt plays desired by most major IOCs, new subsea solutions are required to increase operational efficiency while decreasing costs.
Remotely operated underwater vehicle (ROV) operations are vital to deepwater development and deployment costs tend to be major headaches to service providers and operators alike. In some cases, partnerships between high-end local and international equipment manufacturers bring simple solutions to big problems. The partnership between J2 Subsea and Brazil´s Palm Engenharia is at the forefront, offering important ROV leak-free tooling solutions that promise to simplify deepwater maintenance and repair operations.
Palm Engenharia is a pioneer in high pressure equipment manufacturing in Brazil, providing a state-of-the-art industrial structure for manufacture, assembly, application engineering, maintenance and technical assistance. Its equipment is installed in the main industries in the country, and it also has a significant footprint in the local subsea market. Palm Engenharia represents and sells equipment from some of the best global brands in the high pressure industry. Palm Engenharia claims to be capable of developing any subsea equipment manufacturing project, having a track record that has attracted foreign companies specialized in high pressure equipment for oil and gas projects looking to enter the Brazilian oil and gas market.
When it comes to offshore rigs and subsea systems, operational safety and a maintenance-free products are indispensable features. One of Palm Engenharia's partners, Walther Präzision, offer products such as quick couplings and coupling systems that combine the suitability of high pressure with the special chemical resistance required for the aggressive marine conditions found in deepwater production control, workover and interventional hydraulic circuits. Below is a list products that have been used for many years in some of the subsea applications mentioned:
Mono-couplings with self-locking closure such as:
Plug type couplings
Threaded couplings
Couplings operated by ROV
Couplings without auto locking for:
Plating
Mounting in cavities
Multi-couplings
Manually operated
Operated by ROV
Features:
Nominal diameter from 4 to 32 mm.
Working pressures up to 1,000 bar (14,500 psi).
Metal / metal seals for a service life of more than 30 years.
Constructions with balanced pressure and balanced without reaction forces in the connected position.
Can be connected at full operating pressure at differential pressure and can be connected with angular tolerance.
In addition to stainless steels, usually seawater resistant, nickel-chromium alloys, nickel-copper alloys, duplex stainless steels, titanium and hastelloy are also used as materials.
Field proven and standardized solutions are available for numerous applications for use in both shallow water and the deepwater sectors. Palm Engenharia also emphasizes that on request, adjustments can be made in projects based on proven technologies.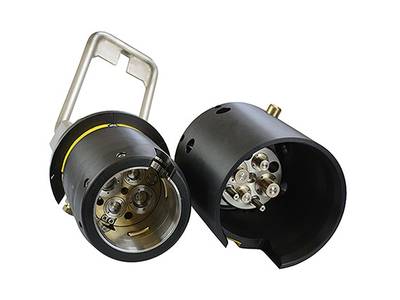 (Image: J2 Subsea)
Recently one of their partners, J2 Subsea, an Acteon company, ROV and survey tooling rental and sale specialist, was awarded a large order for its 4 Port Tool Changers for a MOBO (modulo de bomba or pump module) intervention campaign offshore Brazil planned for 2018. The tool changer enables ROVs to connect with tools subsea and in deep waters with zero leakages. Major cost and time savings are achieved because the ROV does not have to make multiple trips between the vessel and the seabed to replace each tool. Further savings in time and costs are generated through the compact dimensions and low weight of the 4 Port Tool Changer in air - ROV end 18.4kg and tool end 5.4kg. These factors make it economically viable to transport by helicopter leading to quick mobilization and demobilization. The tool changer has been tested and rated to water depths up to 5,000 meters to meet the standards of depth ratings for work-class ROVs. For the MOBO campaign, it was important that the combined weight and dimensions of the tool changers did not exceed those specified by the offshore operator, so the shipment could be transported by helicopter saving valuable hours compared to transit on a support vessel.
The tool changer, which has been designed, developed and manufactured by a partnership between Walther Präzision GmbH and J2 Subsea Ltd., consists of a ROV end plus a tool end. It meets the requirements of all work-class ROVs and enables connection or disconnection from tools and intervention panels requiring either high-flow or high-pressure applications. The tool changers are self-sealing, allowing mating and de-mating under pressure with zero leaks.
The objective of the Brazilian campaign is to replace eight subsea pumps weighing 150 tons from the manifold in water depths up to 2,000 meters utilizing a range of subsea tools. It will be the first deployment for the tool changers in a Brazilian MOBO campaign, the company noted.
With the increased subsea work forecast to take place offshore Brazil because of the resumption of shallow and deepwater oil tenders – in many cases involving major and super-major IOCs – ROV tooling solution such as these should pay significant dividends to companies involved, while at the same time expanding the high end subsea technology base in Brazil, and contributing to lower operating costs even in deepwater operations.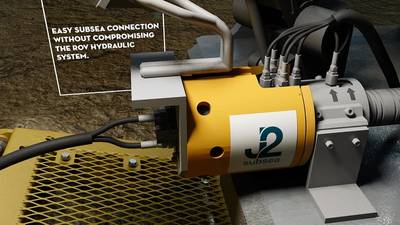 (Image: J2 Subsea)