Offshore Vessel Participates In Anti-terrorism Drill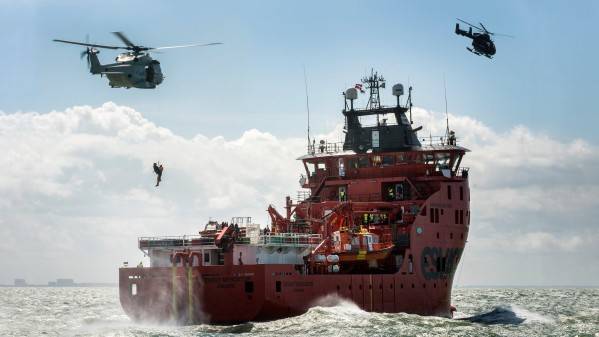 An offshore supply vessel left its work at an offshore wind farm to play the role of hijacked vessel in a Belgian anti-terror exercise last week.
The vessel Esvagt Mercator took a brief break from its operations in the Belgian Nobelwind and Belwind wind farms to assist the Belgian anti-terror corps in the security drill last Wednesday.
During the exercise, Esvagt Mercator was "hijacked" by soldiers on board outside the port of Ostend, after which units from the Belgian anti-terror corps boarded the vessel, freed the "hostages" and neutralized the "terrorists".
"It was very exciting to be part of the action," said Rasmus Carlsen, captain on the Esvagt Mercator. "A veritable sea of hands was raised when we were asked whether we would like to be hostages."
Carlsen, together with his chief officer, engineer and MHI Vestas' supervisor, were the only four on board who were not part of the exercise.
"A few people didn't participate and there were areas of the vessel that were cordoned off, but otherwise the rest of the vessel was available for the exercise," Carlsen said.
Danish shipowner ESVAGT noted it has participated in similar exercises before. Its vessel Esvagt Kappa took part in a training exercise with the Danish Frogman Corps in the North Sea in 2015.