MATCOR by BrandSafway Earns Patent for Linear Anode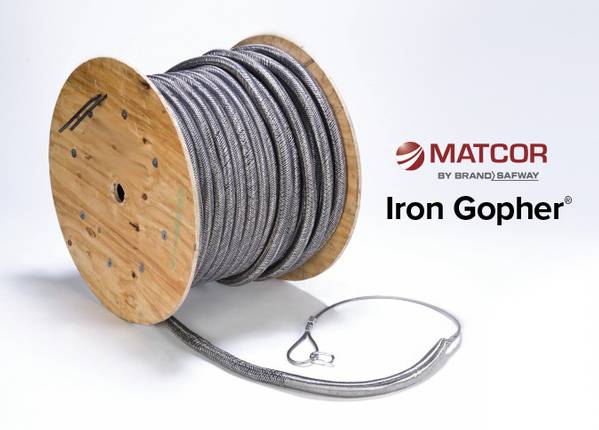 MATCOR, a BrandSafway company, recently earned a design patent for its Iron Gopher, a linear anode designed to prevent corrosion through cathodic protection in horizontal directional drilling (HDD) applications.
With a braided stainless steel jacket for linear anode protection during installation and a built-in pulling loop for connecting to the drilling head, the Iron Gopher provides approximately 200 percent more pulling strength than traditional anodes used in HDD applications.
It is available in standard and dual-end models, which can both be connected to a DC power source for active cathodic protection with a current. The standard model is used for most cathodic methods, such as roads, streams and property crossings, and the dual-end model is typically used under tank operations or anywhere it is not possible to connect both ends of the linear anode.
"We developed the Iron Gopher with installation costs and timelines at the forefront, focusing on strength to reduce the risks associated with the linear anode breaking during installation," said Ted Huck, one of the Iron Gopher inventors and vice president of technical sales for MATCOR. "It also makes job sites—and utilities and pipelines—safer by using cathodic protection to decrease the chance of failure due to corrosion that could cause gas leaks or other potentially catastrophic events."
The Iron Gopher was invented by Ted Huck; William Schutt, MATCOR founder; and Knut Fenner, former director of business development at MATCOR.