Norwegian oil and gas company Equinor and its UK-based partner Ithaca Energy said Wednedsay they had taken the final investment decision to progress Phase 1 of the Rosebank development on the UK Continental Shelf, together investing $3.8 billion in the development.
The North Sea Transition Authority ("NSTA") granted consent for the development of the field on September 27, 2023.
The Rosebank field, described as the largest undeveloped field in the UK, is located around 130 kilometers north-west of Shetland. Recoverable resources are estimated at around 300 million barrels of oil from phase 1 and 2, with Phase 1 targeting an estimated 245 million barrels of oil.
The field will be developed with subsea wells tied back to a redeployed Floating Production Storage and Offloading vessel ("FPSO"), with first production expected in 2026-2027. The Rosebank field will produce in excess of 21 MMSCF of natural gas every day, the equivalent to the daily use of Aberdeen City.
Equinor is the operator of the field with an 80% stake. Ithaca Energy owns the remaining 20% stake.
Geir Tungesvik, executive vice president Projects, Drilling and Procurement at Equinor: "Developing the Rosebank field will allow us to grow our position as a broad energy partner to the UK, while optimizing our oil and gas portfolio, and increasing energy supply in Europe. Rosebank provides an opportunity to develop a field within the UK Continental Shelf which will bring significant benefits to Scotland and the wider UK."
"The Rosebank development has been optimized to reduce carbon emissions, in line with the North Sea Transition Deal, with the FPSO designed to be electrification-ready. Ithaca Energy and Equinor continue to collaborate with government and industry stakeholders to pursue a regional solution for power from shore to Rosebank and nearby fields with the objective of minimising carbon emissions from production," Ithaca Energy siad.
With electrification, it is estimated that the Rosebank lifetime upstream CO2 intensity would decrease from 12kg to about 3kg CO2/boe, Equinor said.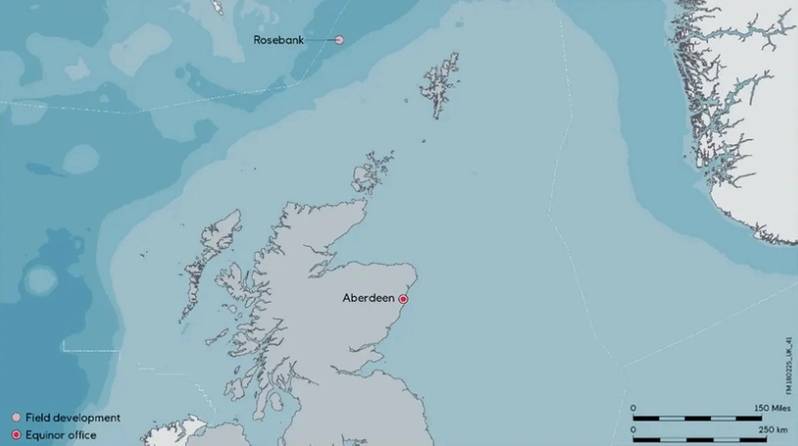 Credit: Equinor
The Rosebank development is expected to lead to £8.1 billion of total direct investment, of which 78% is likely to be invested in UK-based businesses. It is expected to support around 1,600 jobs during the height of the construction phase of the project, and it will continue to support approx. 450 UK-based jobs during the lifetime of the field, Ithaca Energy said in a statement.
As part of the Rosebank development, TechnipFMC has been awarded an integrated engineering, procurement, construction and installation (iEPCI) contract for subsea production systems, umbilicals, risers and flowlines with an estimated value of $500 million derived locally. TechnipFMC has estimated that more than half of the contract value will be generated from local activities across the UK, with a large portion in Scotland.
Project management and engineering activities will be performed mainly from Aberdeen and tree systems will be manufactured in Dunfermline. Umbilicals will be produced in Newcastle, pipelines will be fabricated in Evanton and the main vessel mobilization site will also be in the UK. In addition, several other fabrication sites in the UK will contribute to the project.
Odjfell Drilling has been awarded a rig contract, with an estimated value of $328 million including options, integrated services and other modifications. The Deepsea Atlantic semi-submersible drilling rig is scheduled to start a seven-well drilling campaign in the second quarter of 2025, and an additional four single well options are included.
Altera has been awarded a bareboat charter and an operations and maintenance contract related to the Petrojarl Knarr FPSO which is set to be deployed for Rosebank on a firm contract for nine years, with options up to a total of 25 years.
Gilad Myerson, Executive Chairman, Ithaca Energy, commented: "We are delighted to announce the decision to move forward with the Rosebank development alongside Equinor. Rosebank stands as the largest undeveloped field in the UK, and with the receipt of development consent from the NSTA, we are now poised to embark on a journey that will not only provide critically important domestic energy but also ignite substantial economic impact. The Rosebank project will create thousands of jobs and contribute significantly to securing the UK's energy needs for many years to come."
Equinor acquired the operatorship of Rosebank with the acquisition of Chevron's 40% stake in 2019. The field was discovered in 2004.
OEUK: Good News for Jobs, Economy, and Secure Energy Future
David Whitehouse, CEO of Offshore Energies UK, formerly known as Oil and Gas UK, a trade association for the United Kingdom offshore energies industry, said: "This is good news for our jobs, our economy, and our secure energy future. By promoting homegrown production, we avoid costlier, higher carbon imports while making more reliable supplies of energy in the UK, for the UK. We need more projects like Rosebank if we are serious about delivering a homegrown UK energy future.

"We have around 283 fields in the North Sea, but over 180 of those will stop producing within the next decade. If these are not replaced, we will import 80 percent of the oil and gas the UK will need at a higher cost to the consumer, our economy, and ultimately the climate.
"Imported energy cost the UK £117bn last year. That's a lot of money spent supporting the economies of other producing countries. Surely, with our industry committed to eliminating emissions, it makes sense to prioritise our own domestic production and jobs.
"This is a boost to UK offshore energy supply chain companies. The bulk of companies investing in opportunities like floating offshore wind, hydrogen, carbon capture and storage and decarbonising our economy require the cashflow from a stable and predictable oil and gas business to fund these opportunities.
"Our latest Economic Report found £35 billion could be spent in the next decade on offshore oil and gas projects, but businesses need renewed certainty to sign off. This announcement is a step in the right direction, but more needs to be done to secure the private investment that underpins the jobs for our homegrown energy future."