Digitalization in the maritime industry continues to grow. Technology is constantly evolving, providing organizations with new ways to transform and manage their operations with adoption of technology creating first-mover advantage and future relevancy, and positivity impacting margins.

The offshore services industry has been a major driver in the trend towards utilization of remote inspection and monitoring technology for Inspection, Repair, and Maintenance (IRM) of critical assets and infrastructure. In fact, the global offshore IRM market is estimated to top out at approximately $18.04 billion by 2028, according to Fortune Business Insights.
Yet, to date, vessels and people working in remote locations have largely been excluded from this digital transition due to cost, connectivity, technology barriers, and skills gap. Ranging in complexity, these are challenges businesses need to overcome to effectively digitalize their operations.
Nonetheless, changes in the availability of satellite bandwidth and the ability to use technology to better utilize available capacity is bringing with it the potential to use new applications, furthering the key adoption drivers for marine companies to manage operations remotely. Emerging technologies are designed to reduce operational and capital spend, improve operational efficiency and health and safety exposure, reduce environmental impact, and meet regulatory compliance requirements.
Real-time situational awareness is critical in remote operations. Situational awareness comes with its own innate challenges, such as technology, bandwidth, information, interfacing, video quality, training, implementation, and human error.
---
"Challenges & Opportunties of Remote Operations" is the topic of a free webinar scheduled for October 17, 2023. CLICK HERE to sign up.
---

Image courtesy Harvest Technology Group
Remote Inspection and Remote Operations
Remote operations offer a wide range of benefits over conventional in-person operations, assisting with everything from real-time collaboration, planned maintenance and continuity of operations, to ensuring operators can meet contractual obligations while adhering to environmental and local regulatory requirements.
Remote operations can take many forms – viewing offshore CCTV footage from any location worldwide or providing offshore workers with two-way communications and video-based support from expertise located onshore, through to completely removing personnel from offshore environments to manage and control projects from an onshore operations control room.
The key to successful remote operations is the ability to connect two or more locations securely and seamlessly in real time, anywhere, anytime. Seamless connection means adopting purpose-built streaming technology that enables the reliable and continuous flow of high-quality video, two-way communications, and robust data throughput.

Remote Inspection
Remote technology allows onshore personnel to guide shipboard personnel through inspections – a subset of remote operations. For example, Underwater Inspection in Lieu of Dry-Docking (UWILD) surveys can be carried out remotely in real-time, using Remotely Operated Vehicles (ROVs), with surveyors and stakeholders onshore having immediate and continual access to video, audio, and data through the inspection, ensuring compliance, efficiency, and safety.
Additionally, the technology enables an inspector to carry out remote audits and inspections on several vessels simultaneously, alongside stakeholders, rather than be seconded to an individual vessel for a period of time.
In the subsea sector, typically ROVs, or teams of divers, or sometimes both, would be deployed from a large vessel to complete specific IRM work scopes involving a series of visual status checks, supplemented by a range of different measurements as well as accessible repairs. Operational video is delivered to relevant parties on board where results are recorded for analysis and interpretation.
Seconding personnel to travel and spend time aboard a vessel can be costly, putting more personnel in harm's way, and adding time lag between survey completion due and data delivery, as well as the time and carbon contribution of travel.
Remote operations and communications technology exists to enable the transmission of video and data back to shore, with two-way communication between multiple workstations and stakeholders taking place 24/7 around the globe. This technology facilitates the very functionality required to enable organizations to remove people from austere environments and use of ROVs to conduct the same IRM activities with less people on the vessel, resulting in smaller vessels on the job.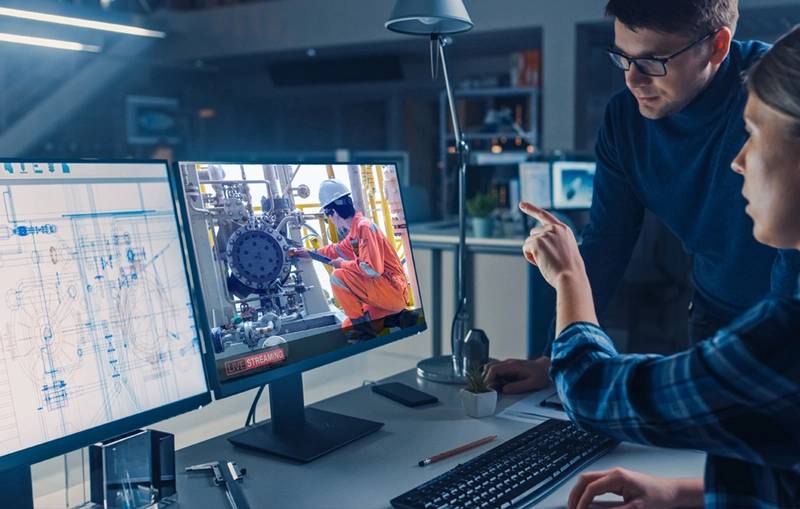 Image courtesy Harvest Technology Group

Remote Devices
In the field, there are many devices that enable remote technology applications. For example, wearables are devices that can be worn by a user onsite to capture and stream video, with two-way audio communication, with experts viewing the live feed in real time. These enable remote support by streaming audio and video data to operations centres or directly to the expert (regardless of location), using ultra-low bandwidth across existing networks. Wearables are hands-free and usually voice controlled, allowing personnel to focus on the task at hand and allowing the recipient to adjust settings remotely.
Mobile devices come with similar features, having cameras, microphones, audio, and display screens but with the added advantage of all parties having access and being highly familiar with how to use them. Specialist software applications can be installed on mobile devices to facilitate real-time live video and audio streaming over any network.

The Satellite Connection – Overcoming the Challenges
In its March 2023 report, Verified Market Research revealed that by 2028, the value of the global maritime satellite communication market could swell to an estimated $6.67B. While that figure is impressive, challenges are still prevalent today, such as limited bandwidth, access to services and comparatively high cost.
Until recently, satellite infrastructure has been engineered for users pulling data from the Internet and consuming it at remote sites, via email, applications, or Internet access. To facilitate remote operations, the focus is on uploading or transacting data from the site to decision makers anywhere for consumption, thus reversing the previous requirement.
The advent of Low Earth Orbit (LEO) services such as Starlink and OneWeb, together with Medium Earth Orbit (MEO) services, provide higher throughput and lower latency than existing Geostationary (GEO) VSAT satellite services, enabling a new layer of complex applications including media transfer, live communications, and monitoring.
For remote operations, the load on satellite communications is far higher due to the requirement for exchanging large volumes of data between sites, therefore bandwidth efficiency – no matter the network – will be key as global demand continues to grow.
The technology itself is relatively easy to adopt, but for some organizations, especially those running safety-critical operations or that are inherently risk-averse, adoption has started quite cautiously. Adopting new technology to automate workflows and streamline operations is imperative and can mean upskilling personnel who wish to work closer to home, resulting in retention of skills and experience within the workforce.

Getting Ahead of the Curve
Adopting new technology to stay competitive is critical in maritime, particularly with the advent of digitalization and the focus on operational efficiency. With advanced systems increasingly common, and with a deeper pool of technical experts onshore, more simultaneous work can be undertaken more efficiently and with greater control.
The next technology leap will usher in systems able to complete general assessments through Artificial Intelligence (AI) and machine learning (ML), with humans performing quality assurance and quality control functions to ensure computers are performing correctly. Disruption is occurring in every industry globally, and there is a fundamental change that must happen inside organizations to prepare for this. Nevertheless, the remote inspection and operations market is growing exponentially and will continue to do so as further advances in sophistication of equipment and technology are made.
Remote technology exists to help companies overcome many operational challenges. Those who become early adopters will reap the benefits of greater overall productivity, cost reductions, improved safety, simplified compliance, and gain first-mover advantage over their competitors.