Brazilian state-run oil firm Petrobras on Wednesday revealed projects to develop offshore wind farms, in a bid to become a top wind power developer.
Chief Executive Jean Paul Prates said during an event in Sao Paulo that this week the company issued a license request with Brazilian environmental protection agency Ibama for offshore wind projects in 10 areas totaling up to 23 gigawatts (GW) of capacity.
The firm is also testing generation solutions for offshore wind power such as floating wind plants, Prates added. The company also studies the purchase of a minority share of offshore wind farms outside Brazil.
The move follows the announcement of a partnership with motor maker WEG SA on Wednesday to develop the most powerful wind turbine made in the country.
Petrobras will invest 130 million reais ($26.8 million) over the next 25 months in a 7-megawatt (MW) onshore wind turbine, already under development by WEG, the motor maker said in a securities filing.
The investment underscores a fresh commitment at Petrobras to develop renewable energy even as it ramps up production from vast offshore oil fields.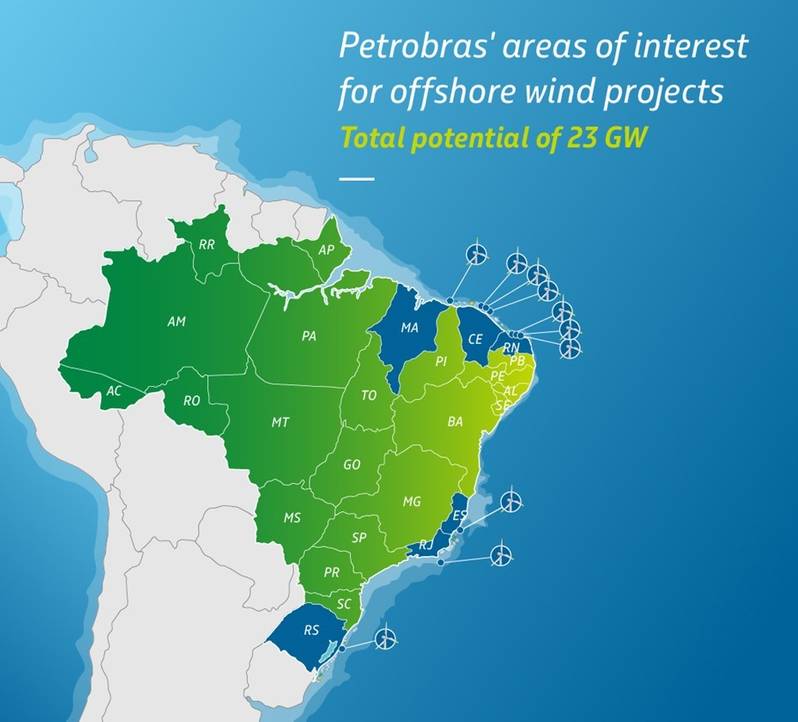 Credit: Petrobras
The Petrobras investment is a boost for Brazil's wind power industry, which has seen a drop in domestic turbine production as GE and Siemens Energy have suspended manufacturing in the country.
The partnership with WEG includes development of components for the turbine, expected to enter serial production in 2025. Petrobras will earn royalties for turbines sold, a Petrobras director said.
Petrobras called the deal an important milestone that will improve its grasp of wind power technology as the country prepares to develop its first offshore wind farms.
Citi analysts said in a note that the partnership will evaluate Brazil's offshore wind energy generation supply chain and logistics capabilities.
"Brazil's coastlines are deeper than Europe's, making the implementation of offshore wind power more difficult and costly," they said.
Offshore wind farms typically require larger turbines generating 10MW or more. This in turn requires a shift in a Brazilian supply chain now focused on production of onshore components.
On Tuesday, Petrobras' head of energy transition Mauricio Tolmasquim said the firm was evaluating partnerships for greenfield projects and possible mergers and acquisitions, as it looks to boost its green energy projects.
Later on Wednesday, Tolmasquim added that the firm is analyzing the acquisition of onshore wind farms in the short-term, and that such projects should enter its portfolio by next year.
(Reuters - Reporting by Peter Frontini and Leticia Fucuchima; Writing by Fabio Teixeira; Editing by Steven Grattan, Sharon Singleton, Timothy Gardner and David Gregorio)