FoWeLo System Tackles Floating Offshore Wind Farm Logistics Challenges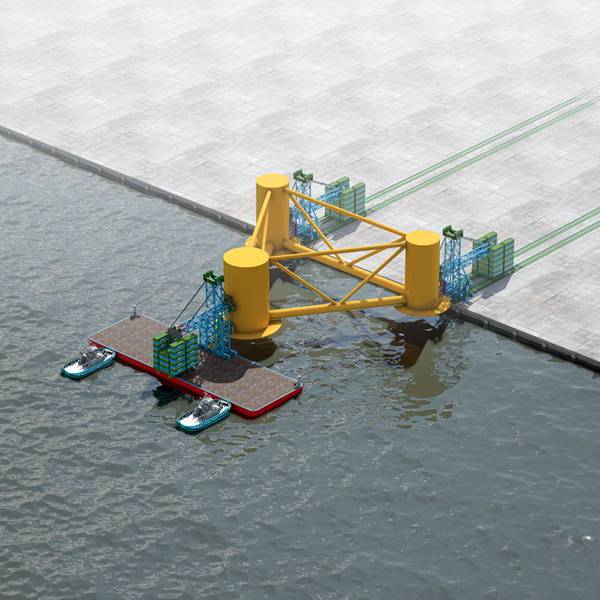 Strategic partners Roll Group & Hebetec Engineering AG announced their shared patented solution for offshore wind farm load-outs during the SPE Offshore exhibition in Aberdeen last week.
The solution was developed to provide efficient and cost-effective solutions to the logistical challenges of large and heavy offshore wind farm components.
According to the partnership, FoWeLo, as the solution is called, uses innovative equipment and technology to tackle a very real and current challenge: the high costs and high dependency for loading out offshore floating wind foundations.
The patented FoWeLo system was developed to solve two critical industry challenges: the high cost and port logistics constraints of launching floating offshore wind foundations.
The system offers a robust design using existing hydraulic equipment and temporary steel structures. It is designed to be fully containerized, with no restrictions due to tidal effects, which simplifies mobilization and ensures low CO2 emissions by using seawater as a counterweight, the companies say.
"We definitely believe that the FoWeLo system is an innovative solution for an industry that faces high transportation costs. As floating offshore foundations are the only option for offshore wind in many countries, we have a role to play and aim to develop innovative technical solutions. The FoWeLo system is a price competitive option and will increase the load out speed of the foundations" says Steven Dunnewijk, CEO Hebetec Engineering AG.
Roll Group CEO Peter Rondhuis adds: We are delighted that we have designed the FoWeLo system in cooperation with our partner Hebetec Engineering AG. Within this strategic alliance, we have complementary skills and competencies that lead to a great synergy between both companies. The FoWeLo solution uses existing gantry, mooring and ballasting equipment from Roll Group, whereas the strandjacks and APS skidding equipment are provided by Hebetec Engineering AG. This – together with our combined engineering skills and market know how – makes us the perfect partners for this invention."