It's a big deal when a U.S. president visits an American shipyard, and these trips always send a message. When President Obama spoke at HII's Newport News Shipbuilding in 2013, he warned of the consequences of sequestration. President Trump's 2020 speech at Fincantieri Marinette Marine touted a $5.5 billion naval contract that gave a welcome boost to the Wisconsin shipyard and its supply chain partners. Most recently, President Biden traveled to Philadelphia's Philly Shipyard in July to attend a steel cutting ceremony for Great Lakes Dredge & Dock Corporation's new offshore wind rock placement vessel, hyping his administration's clean energy agenda and job creation efforts as the U.S. builds up its offshore wind industry.
Offshore wind, and "clean" energy in general, have been a major focus area for the Biden administration, which early on set a target of 30 gigawatts of offshore wind energy deployed by 2030. This, along with a number of recent initiatives aiming to boost the efforts of offshore wind developers and their supply chains, has provided assurance to an industry that has taken quite a bit of time to get off the ground.
"Since I took office, we've seen more than $16 billion in new offshore wind investments, including 18 offshore wind vessels, 12 manufacturing facilities and 13 ports. Today, we announced the first-ever offshore wind sale in the Gulf of Mexico," Biden said at Philly shipyard on July 20. "Across the Delaware River in Paulsboro, N.J., workers are welding the steel foundation for another large-scale wind project. . . A project off the coast of New York will use a vessel built in the shipyards of Louisiana, Mississippi and Florida and rely on an electrical substation engineered in Kansas and made in Texas. The Inflation Reduction Act offers tax credits for projects using American-made iron, steel—manufactured products so our clean energy future will be made in America. . . All this investment means good-paying jobs here at home."
Certainly, challenges remain, but industry confidence is only heightened as more steel enters the water at projects in the U.S. Northeast. Groundwork for projects off the coast of California continue to advance, and the Department of Interior recently announced the first offshore wind power development rights sale in the Gulf of Mexico will take place at the end of August.
Welcomed by the U.S. maritime industry, including shipyards, is President Biden's firm support of the Jones Act. "There are some content to rely on ships built overseas without American crews to operate them. . . Not on my watch," he said during his recent speech in Philadelphia. "We're strengthening American shipbuilding, supporting good union jobs and bringing offshore wind supply chains back home."
Today, American shipyards have already started to build the fleet of specialized vessels that will support this nation's offshore wind farms for years to come. Ships like the subsea rock installation vessels (SRIV) being built at Philly Shipyard for GLDD and others such as crew transfer vessels (CTV), service operation vessels (SOV), wind turbine installation vessel (WTIV), and countless tugs, barges survey craft and other workboats will help to build, operate and eventually decommission wind farms in U.S. waters.
Crew transfer vessels
Among the Jones Act-compliant vessels that will be needed are CTVs—typically aluminum catamarans—used to ferry personnel and light equipment to and from offshore wind farms. To date, three newbuild CTVs are operating in support of U.S. offshore wind projects: Atlantic Pioneer and Atlantic Endeavor delivered by Warren, R.I. shipbuilder Blount Boats for Atlantic Wind Transfers (AWT) in 2016 and 2020 respectively, and WindServe Odyssey, built by Senesco Marine in North Kingstown, R.I. for fellow Reinauer Group company WindServe Marine, handed over in 2020. Atlantic Pioneer is on long-term charter to Ørsted supporting operations and maintenance (O&M) at the Block Island Wind Farm. AWT has long-term contract to support O&M for Dominion Energy and Siemens Gamesa, and the Atlantic Endeavor and has been onsite supporting the Coastal Virginia Offshore Wind (CVOW) project since 2020.
The country's fourth newbuild CTV, WindServe Genisis, was launched in July by Senesco, which will build two more CTVs—WindServe Journey and WindServe Explorer—for the same customer. WindServe Genisis will initially provide crew transfer support during the construction phase at Ørsted's Southfork Wind project off the coast of Long Island before going on to work at the developer's Revolution Wind project off Rhode Island and Connecticut, and Sunrise Wind off New York.
Blount Boats, which built AWT's existing vessels, is also building four CTVs for American Offshore Services, a joint venture owned by SEA O.G Offshore and Northern Offshore Services. Two of the CTVs are booked to support construction at the Ørsted Northeast cluster and one will go on charter to Vineyard Wind on the Vineyard Wind 1 wind farm.
In 2022, AWT looked outside of the Northeast to continue building up its fleet, ordering a series of up to six CTVs from St. Johns Ship Building in Palatka, Fla. The first is scheduled to be delivered this year, followed by the second in 2024. St. Johns is also building two CTVs for WINDEA CTV, a joint venture between MidOcean Wind and the Hornblower Group, which has a third CTV on order at Gulf Craft in Franklin, La. Initially, the WINDEA vessels will support GE on turbine commissioning works on Vineyard Wind.
Gladding-Hearn Shipbuilding is known to be building a CTV for Patriot Offshore Maritime Services, which will be chartered for work at Vinyard Wind. The Somerset, Mass. shipbuilder has also signed a memorandum of understanding to potentially build a CTV for the Mayflower Wind project. Louisiana-based Metal Shark is believed to have firm orders for three CTVs, with options for three additional vessels. Port Angeles, Wash. shipyard Platypus Marine is building a CTV on spec.
Going forward, CTV ordering is expected to accelerate as more offshore wind projects advance to development and operational stages. Based on the sheer volume of projects in the pipeline, analysts predict a large fleet—potentially several hundred CTVs—by the middle of next decade. To help meet this demand, a handful of vessels—including oil and gas crew boats and fishing vessels—have already been converted to CTVs, with more to come.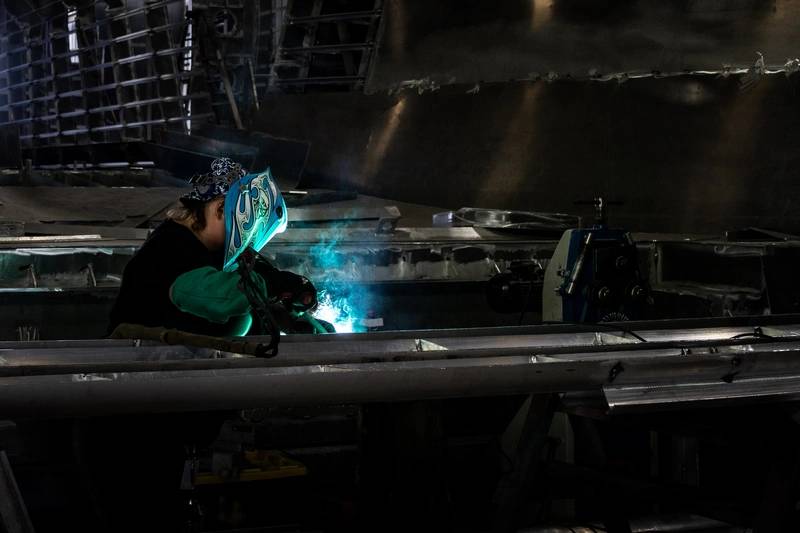 St Johns Ship Building is among a number of U.S. shipyards currently building CTVs for the U.S. offshore wind industry. (Photo: St Johns Ship Building)
Service operation vessels
SOVs, used during the operation and maintenance (O&M) phases of wind farm projects, serve as an at-sea base of operations to accommodate and transfer technicians, tools and equipment to and from the individual turbines. Whereas smaller aluminum CTVs are used for shorter daytrips, larger SOVs are often made of steel and used for farther, sometimes weeks-long treks offshore. Like CTVs, SOVs must be Jones-Act-compliant. At present, there are three SOVs known to be under construction at U.S. shipyards: ECO Edison and a to-be-named SOV being built for Edison Chouest Offshore (ECO) at its Gulf Coast yards, and an SOV for Crest Wind, a Crowley-ESVAGT joint venture, at Fincantieri Bay Shipbuilding in Sturgeon Bay, Wis. ECO is also building a mini-CTV, which will serve as a daughter craft deployed from ECO Edison.
Scheduled for delivery in 2024, ECO Edison will be chartered by Ørsted at its South Fork, Sunrise, Revolution and Block Island wind farms. ECO's second SOV will be chartered by Equinor for work at the Empire Wind 1&2 projects. Slated to enter service in 2026, the Crest Wind vessel will serve the Dominion Energy CVOW project under long-term charter to Siemens Gamesa.
It's anticipated that many more SOVs will be ordered in the coming years as additional offshore wind projects advance. It is anticipated that a few dozen Jones Act SOVs will be needed by 2035.
It is worth noting that SOV conversions are also seen as an option in addition to newbuilds. Several existing U.S. vessels from the Gulf of Mexico are in the process of being converted to perform as SOVs. Otto Candies is converting two of its offshore supply vessels (OSV) from the oil and gas market to operate as SOVs for wind projects in waters off the U.S. Northeast coast. Hornbeck Offshore Services recently revealed it has contracted Eastern Shipbuilding Group to convert one of its OSVs to a SOV as well.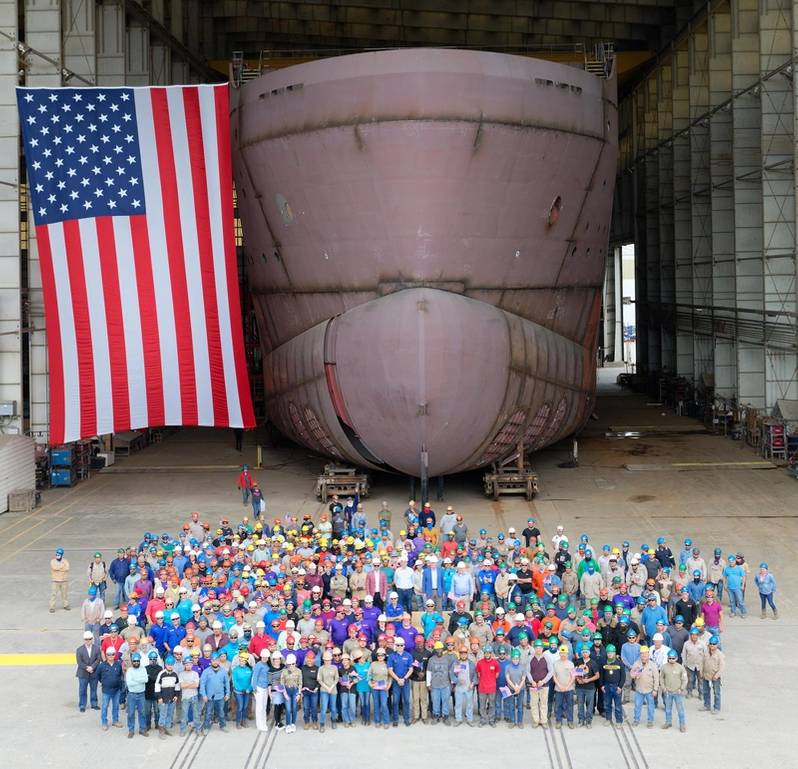 An event was held to mark the 50% building completion milestone of the SOV ECO Edison at LaShip in Houma, La. (Photo: Edison Chouest Offshore)
Subsea rock installation vessels
At the moment, Philly shipyard is the only U.S. yard building SRIVs, which are used for the transport and strategic placement of rocks on the seafloor as a foundation for offshore wind turbine monopiles. Great Lakes Dredge & Dock's Acadia is currently under construction and scheduled to enter service by the end of 2024, when it will be used to install monopile scour protection on the Vineyard Wind project. GLDD has also formed a consortium with Van Oord to perform subsea rock installation on the Empire 1 & 2 projects. Originally estimated to cost around $197 million, Acadia is being built for around $246.7 million. GLDD has an option to acquire a second SRIV from Philly Shipyard at a later date.
It is worth noting that foreign-flagged vessels can be used to carry scour from a U.S. port and to install the initial layer of scour on the "pristine" seabed, according to recent rulings by U.S. Customs and Border Protection (CBP). However, once the first layer is installed, a coastwise point is created and a Jones Act compliant vessel like GLDD's Acadia must be used for subsequent layers of scour.
Wind turbine installation vessels
WTIVs are most often self-elevating jackups equipped with high-powered cranes for the installation of offshore wind turbines. These are the largest and most complex—and therefore most expensive—vessels required for offshore wind. To date, only one WTIV has been ordered in the United States: Dominion Energy's Charybdis currently under construction at the Keppel AmFELS shipyard in Brownsville, Texas. The vessel, which is scheduled to be delivered in 2024, is booked for the installation of Siemens Gamesa turbines on Dominion's Coastal Virginia commercial project and Ørsted's Sunrise 1 and Revolution Wind farms. In addition, the charter terms allow the vessel to support the construction of Dominion Energy's 2.6-gigawatt CVOW project, which is expected to be completed in 2026.
Because U.S.-built WTIVs come with a significantly higher sticker price, most, if not all, going forward will likely be built overseas and supported by Jones Act tug and barge feeder spreads. For example, Maersk Supply Services and Kirby Corporation have been awarded a contract for the transportation and installation of the wind turbines for Equinor/BP's Empire Wind I and II. Maersk is building installation vessel for the project at SembCorp Marine Singapore for delivery in 2025.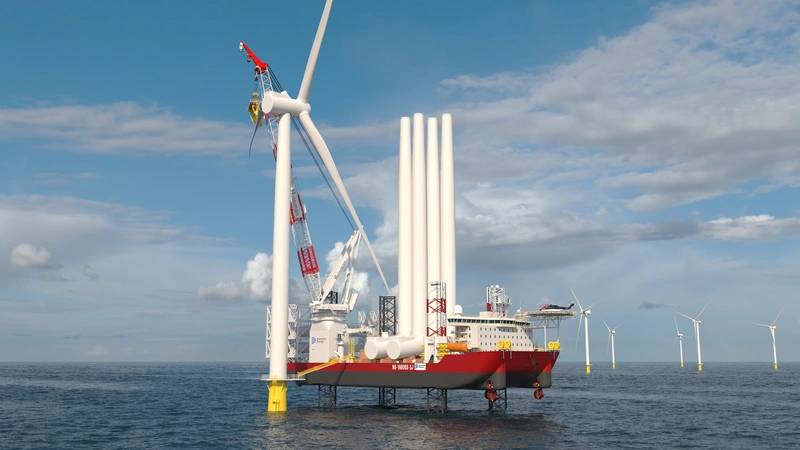 Charybdis will be the first WTIV ever built in the United States and one of the largest globally. The vessel's main crane will have a boom length of 426 feet and an expected lifting capacity of 2,200 tons. (Image: Dominion Energy)