First Jacket Installed at Zhong Neng Offshore Wind Farm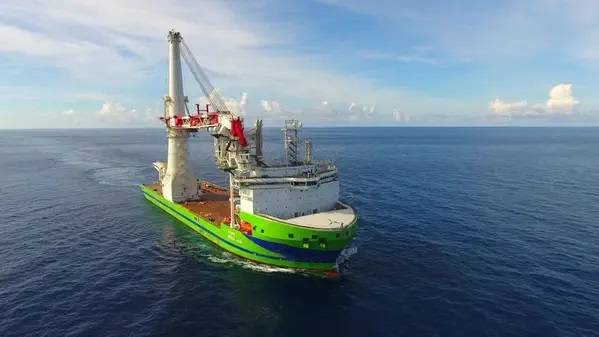 CDWE has completed the installation of the first jacket of the Zhong Neng offshore wind farm in Taiwan.
The Zhong Neng Offshore Wind Project is a 300MW project located off the western coast of Changhua.
It is co-owned by China Steel Corporation, Taiwan's state-owned and largest integrated steel maker, and a renewable energy infrastructure fund managed by Copenhagen Infrastructure Partners.
The project reached a financial close in December 2021, and is expected to start commercial operations in 2024.
CDWE, a consortium of Belgium's DEME Offshore and Taiwan's CSBC, used the recently delivered "Green Jade" DP3 heavy lift and installation vessel, the first such vessel built in Taiwan, to install the first jacket at Zhong Neng.
The 1,100 tonnes and 60 m high jacket foundation was installed with the vessel's 4,000 tonnes main crane.
'Green Jade' installed the foundation into the pin piles, which have been put in place in the seabed by Deme's jack-up installation vessel 'Apollo'.
The offshore installation vessel can transport multiple jackets and foundation components for the new giant wind turbines in a single shipment.
The vessel is 216.5 meters long and can accommodate a crew of up to 160 people.

The 'Green Jade' has dual-fuel engines and a Green Passport and Clean Design notation.