Dutch offshore crane maker Huisman has won another contract from Havfram Wind, an offshore wind turbine installation contractor, for the delivery of two packages of Auxiliary Cranes for both of the company's NG-20000X-HF Wind Turbine Installation Vessels, currently under construction at CIMC Raffles Shipyard in China.
The Auxiliary Crane packages include a 40mt full electric Huisman Pedestal Mounted Offshore Crane to be installed on the vessel's port side.
"This offshore crane is designed according to the latest energy-efficient technology on variable frequency drives for crane applications. With this type of crane, Havfram Wind can perform operations on the vessel itself, as well as offboard operations, such as lifts to the turbine foundations, to supply vessels, or to the quayside when in port," Huisman said.
Using such a lightweight and robust setup offers further operational optimisation on Havfram Wind`s offshore wind installation projects.
Havfram Wind has ordered the Auxiliary Cranes packages in addition to the 3,000+mt main Leg Encircling Crane orders that the company recently awarded to Huisman.
With these packages, Huisman has six cranes on order to be delivered for Havfram Wind`s vessels. These cranes will be produced at Huisman's production facility in Zhangzhou, China.
Cees van Veluw, Product Director Cranes of Huisman says: "We are highly appreciative of the trust that CIMC Raffles and Havfram Wind have put in Huisman for selecting us as the manufacturer of the Auxiliary Cranes for their innovative newbuild jack-up vessels. With these auxiliary cranes included in the package, we can further integrate our lifetime service offering to these vessels, thus improving their efficiency and effectiveness."
Havfram Wind's GustoMSC-design NG20000X vessels will be able to install offshore wind turbines with a rotor diameter of more than 300 meters and XXL monopiles weighing up to 3,000 tons at water depths of up to 70 meters.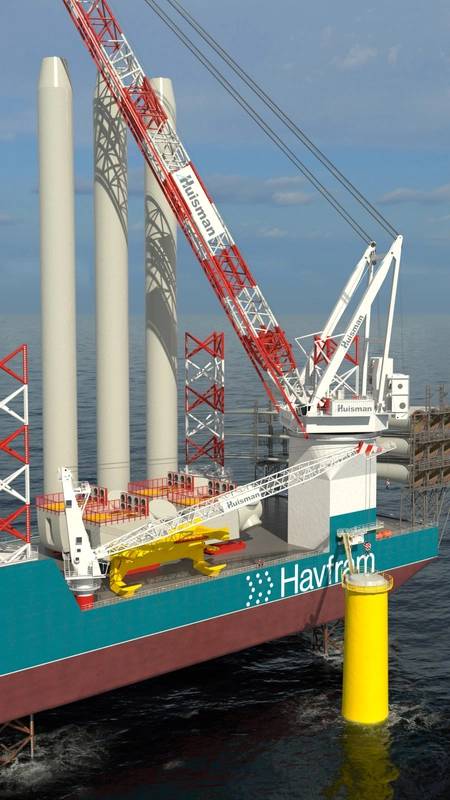 Credit: Huisman