Huisman to Deliver 3,000mt+ Crane for Havfram Wind's New WTIV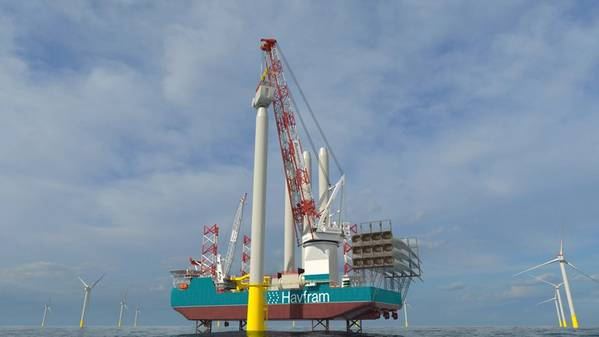 Dutch crane maker Huisman has won a contract from offshore wind installation contractor Havfram Wind for the delivery of a 3,000mt+ Leg Encircling Crane for its second NG-20000X Wind Turbine Installation Vessel.
The crane contract news comes just a day after Havfram Wind said it had ordered the WTIV from China's CIMC Raffles.
Also, Huisman's contract follows an earlier order in December 2022 for an identical crane to be installed on the first vessel.
The full electric LEC will be outfitted with a 155-meter boom and will have a lifting height of approximately 180 meters above deck.
"The crane features preparations for the next generation of tagline systems, with improved capabilities to install next generations of wind turbines in more challenging conditions. Furthermore, it has been optimized for the installation of bottom fixed foundations in combination with Huisman's portfolio of Monopile Grippers and Pre-Piling Templates," Huisman said.
The crane will be produced at Huisman's production facility in Zhangzhou, China.
The GustoMSC-designed NG20000X vessel will have the capability of installing offshore wind turbines with a rotor diameter of more than 300 meters, as well as XXL monopiles weighing up to 3,000 tons at water depths of up to 70 meters.
---