Following news on Tuesday that the Norwegian parliament had approved some of Aker BP's offshore oil and gas development project in Norway, the confirmation came Wednesday from Aker BP itself.
"Today, the Storting has approved Aker BP's plans for development and operation of the Yggdrasil area and Fenris, as well as further development of Valhall," Aker BP said.
"With this decision, the Storting [the Norwegian parliament] has said yes to thousands of jobs and great value creation in Norway. I am proud of what we will deliver together with our licence partners. Yggdrasil and Valhall PWP-Fenris alone constitute more than NOK 165 billion [currently around $15 billion] in investments. We are talking estimated tax revenue of more than NOK 120 billion for our nation," says CEO Karl Johnny Hersvik in Aker BP.
The Norwegian share of deliveries in Yggdrasil and Valhall PWP-Fenris is about 65 percent, and the projects will contribute 130,000 full-time equivalents in Norway through the fields' lifetimes. Approximately half of this is during the development phase. There will be activity at yards in Egersund, Stavanger, Haugesund, Stord, Verdal and Sandnessjøen, as well as in several hundred suppliers across the country. On top of this, it will generate activity and jobs for suppliers and yards all over the world, Aker BP said.
"The development projects contribute to Aker BP delivering on the ambition of creating the oil and gas company of the future with low costs, low emissions, profitable growth and attractive returns. We have a solid resource base, high production and have the lowest CO2 emission intensity of all oil and gas operators in the world," says Hersvik.
At the end of March, the Government submitted Proposition 97 S, including the development of Yggdrasil and Valhall PWP-Fenris, to the Storting. A majority in the Standing Committee on Energy and the Environment gave a positive recommendation on 25 May, which was heard by the Storting in plenary session today. The Ministry of Petroleum and Energy issues final approval for the development plans.
Development of the Yggdrasil area
Yggdrasil consists of licence groups Hugin, Fulla, and Munin. The area is located between Alvheim and Oseberg in the North Sea, offshore Norway.
"Yggdrasil is the next major development on the Norwegian shelf, and along with partners Equinor and PGNIG Upstream Norway, we are now opening up a mature area in the North Sea. We see considerable potential in the area and recently announced a significant oil discovery on Øst Frigg Beta/Epsilon. This means further improved profitability and increased value creation," says SVP Yggdrasil Lars Høier.
Preliminary calculations of the Øst Frigg Beta/Epsilon discovery show 40-90 million recoverable oil equivalent. The overall resources in the Yggdrasil area have thus increased by about ten percent to more than 700 million barrels.
According to Aker BP, the development concept has a high degree of flexibility and is designed to accommodate future discoveries and fields. Extensive new infrastructure is planned.
The entire Yggdrasil area will be remotely operated from an onshore integrated operations center and control room in Stavanger.
"Through this development, the licence partners will set a new standard for operating a field, with remote operation, unmanned platforms, new technology and data-driven decisions and work processes. Power from shore will contribute to low emissions of less than 1 kg CO2 per barrel," Aker BP said.
"Detailed engineering is well underway. All major contracts have been signed and we have started placing thousands of purchase orders to suppliers, both nationally and internationally. We are on track to start construction according to plan in the autumn. We will be present at all central locations to closely monitor important equipment deliveries and construction work," says Høier.
Valhall's lifetime extended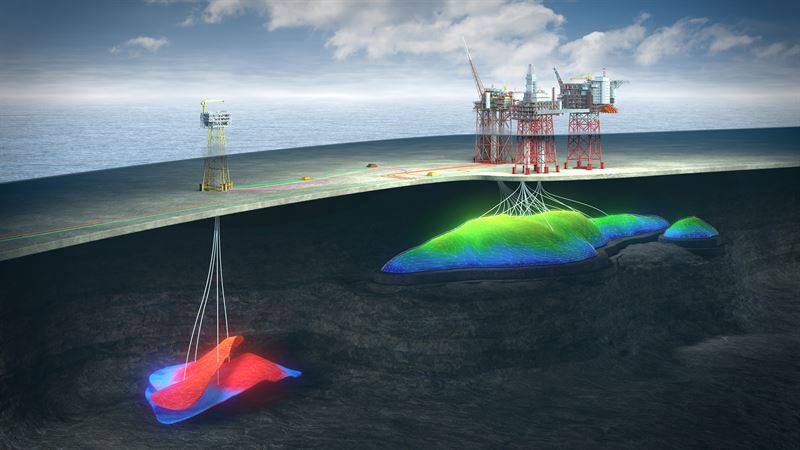 Valhall PWP-Fenris - ©Aker BP
Valhall PWP-Fenris in the southern part of the North Sea is ready for construction start-up before summer, right on schedule, Aker BP said.
"Detailed engineering is progressing well. Together with alliance partners and suppliers, we have built an integrated team that is ready to extend the lifetime of the giant Valhall," says project director Rannveig Storebø.
Pandion Energy AS is a partner in Valhall and PGNiG Upstream Norway AS is a partner in Fenris, located 50 kilometers away. The coordinated development comprises a new centrally located production and wellhead platform (PWP) connected by bridge to the Valhall field center, and an unmanned installation (UI) on Fenris that will be connected to PWP through pipelines on the seabed.
"Together with our licence partners, we ensure lifetime extension and continued Valhall production. This development will enable access to new, highly profitable volumes on Valhall and Fenris with considerable upside potential," says SVP Valhall Ole Johan Molvig.
New reserves, as a result of the development project, are estimated at 230 million barrels of oil equivalent. The project also ensures a lifetime extension beyond 2028 for Valhall and continued production of existing Valhall reserves estimated at 137 million barrels. The development will utilise the existing power from shore system with minimal emissions, calculated as less than 1 kg CO2 per barrel, Aker BP said.
"We are now also establishing Valhall as a gas hub. Production from Fenris will substantially increase gas export from Valhall to Europe and will more than double gas processing capacity. This will make an important contribution to Norway's long-term capacity for stable energy deliveries to Europe," says Molvig.