VIDEO: Noble Innovator Rig Departs Port of Aberdeen for Central North Sea Decommissioning Project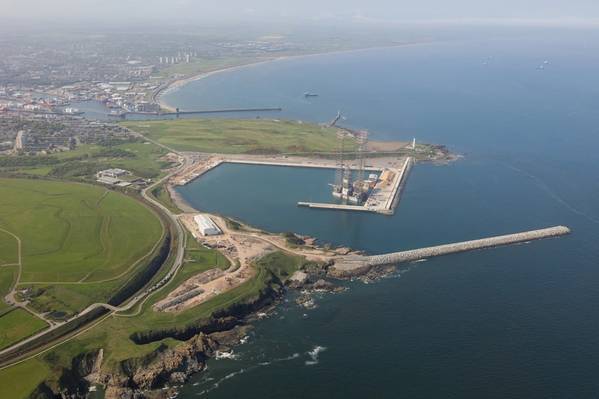 Noble Corp.'s jack-up drilling rig, the Noble Innovator, which in February arrived in the Port of Aberdeen, has now left the port after a 105-day stay to complete a special periodic survey.
The Noble Innovator jack-up rig sailed away from Port of Aberdeen's South Harbour last Friday, May 26.
"We celebrate the positive economic benefits the Noble Innovator brought to the local area through the multi-million pound contracts awarded to the local energy supply chain during her time in port, and bid her well for commencing her forthcoming decommissioning work scope for bp in the central North Sea. We look forward to welcoming more energy sector vessels and rigs to Port of Aberdeen in the near future," the port said in a social media post.
The Port of Aberdeen said in February that the Noble Innovator, with legs measuring more than 200 meters in height, was the largest vessel to ever enter the port.
The Noble Innovator, which also got repainted during the stay at the Port of Aberdeen, is now starting decommissioning work in the central North Sea with the oil major BP.
The 2003-built ultra-harsh environment Noble Innovator was previously known as Maersk Innovator. The name was changed after Noble Corp. bought the Danish drilling firm, Maersk Drilling, in October 2022.
---
Noble Corp. Wins $50M Contract for Jack-up Rig in UK North Sea
---