Vard Electro's SeaQ Integrated Bridge solution is being implemented in the offshore wind sector for the first time, following installation on Rem Offshore's newbuild construction service operation vessel (CSOV) Rem Power to assist in optimizing environmental performance.
"We are making strong investments in new low-emission technologies to cut the environmental impact of offshore wind operations in line with increasingly stringent regulations and requirements from clients, banks and other stakeholders," says Rem Offshore's Chief Commercial Officer, Ronny Pål Kvalsvik.
The Rem Power CSOV, recently handed over to Rem Offshore, is the first of two CSOV newbuilds being built by Vard Group for installation and maintenance operations at offshore wind farms.
"We are very happy with the SeaQ technology delivered by Vard Electro. Its seamless integration with onboard systems is incredible and has given great flexibility in the choice of make", says Rem Offshore's Chief Commercial Officer, Ronny Pål Kvalsvik.
"The sleek and modern design of the SeaQ bridge ensures seamless navigation, control, enhanced efficiency, and safety during offshore operations. It is the perfect fit for our vessels."
The Rem Power CSOV will perform testing next year as part of the Ocean Charger joint industry project to develop offshore charging infrastructure off Norway.
"The SeaQ Integrated Bridge is an ideal fit with the green power configuration of these vessels as it integrates control functions for propulsion, thruster, dynamic positioning, and other systems into a centralised user-friendly interface for greater operational efficiency to improve safety while minimizing fuel consumption," Vard Electro's VP of Sales and Marketing, Gisle Anderssen explains.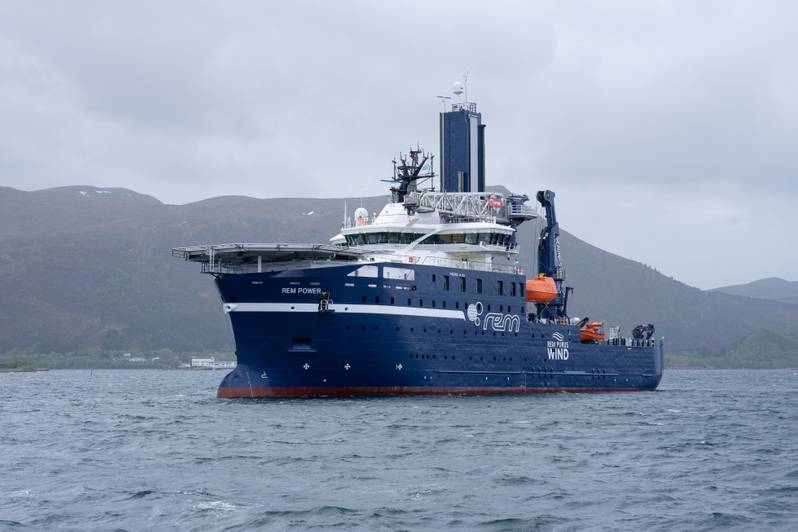 Rem Power -Credit: Olav Thokle via Vard Electro
According to Vard Electro, the benefits of the SeaQ Integrated Bridge developed by Vard Electro have been demonstrated in real-life operations through deliveries to 25 vessels across the fishery, cruise and offshore sectors since 2017 and the Norwegian supplier is now gearing up for further orders in the offshore wind market.
The system carries type approval from DNV according to the NAUT class notation that is intended to reduce the risk of collision, grounding and heavy weather damage through enhancement of bridge system reliability.
This notation also includes the additional OC and AW qualifiers that set requirements for bridge design, workstation arrangement, installation of navigational equipment and provision of maneuvering documentation for vessels operating in ocean, coastal and open waters, as well as the OSV qualifier for offshore service vessels, Vard Electro said.
According to Vard Electro, the set-up allows each operator to configure a personalized setup of integrated systems from a 12-inch touch screen, with an array of displays in various sizes from 27-55" "giving an instant and comprehensive overview of system status within a clean and efficient workspace ergonomically optimized for long work shifts."
Per the company, the smart multi-functional touchscreen integrated into the workstation has an intuitive user-friendly interface with apps for functions including search lights, navigation lights, outdoor light control, window heating control, CCTV, Central Alarm System (CAM) and Bridge Navigational Watch Alarm System (BNWAS). Furthermore, the system can be personally customized according to individual user preferences.
Vard Electro's Gisle Anderssen said the system complemented the battery hybrid power systems on these newbuilds as it enables optimal decision-making on the bridge to maximize energy efficiency.
The hybrid battery power solution being installed on the Rem Power and its sister vessel, due for delivery in 2024, incorporates the SeaQ Energy Storage System with 2.2 megawatts of power to store excess energy available from the vessel or shore connections that can be used later to reduce fuel consumption or optimize performance.
The Battery
The battery can be used as a spinning reserve for more dynamic response capability versus a diesel generator that needs to ramp up, thereby improving seakeeping and manoeuvrability, and also has enhanced ride through.
In addition, it enables peak shaving of loads and strategic loading where the operating point of the gensets is optimized. Running solely on battery power results in zero emissions and less maintenance as there are no moving engine parts, which also reduces noise and vibration, Vard Electro said.
This is augmented by the SeaQ Power Management System for smart control of energy usage to ensure power is supplied in accordance with the vessel's operational needs, which can avert blackouts and maintain reliable operation in demanding situations, Vard Energy said.
SeaQ Green Pilot monitors fuel consumption to generate real-time data on emissions to track progress against energy management KPIs and comply with the Ship Energy Efficiency Management Plan. In addition, SeaQ Drives enables low harmonic drive for efficient operation of thrusters, while SeaQ Switchgear ensures safe operations of closed-bus dynamic positioning, the company said.
As well as the two CSOVs, the SeaQ technologies will also provide the building blocks for a new generation of zero-emission vessels being developed under the Vard Group's ZeroClass initiative.