Subsea optical inspection technologies developer Voyis Imaging Inc. has launched a new product line called Discovery Vision Systems that it says will advance ROV vision systems, and deliver a new level of situational awareness to ROV operations, achieving both high-resolution video and real-time 3D perception for piloting, inspection, and autonomy applications.
"Subsea inspection operations are a challenging task which have historically required specialized knowledge and complex technology. The growth in ROV (Remotely Operated Vehicles) operations have drastically improved underwater situational awareness, but their effectiveness has been hindered by a lack of advancements in their vision systems. Current ROV cameras still only offer two-dimensional data, prioritizing vehicle piloting and situational awareness as the most immediate needs of the operators. However, both piloting and inspection capabilities can be significantly enhanced with a three-dimensional understanding, presenting a new frontier for underwater robotics," Voyis said.
"Voyis has recognized this opportunity to advance ROV vision systems and set its goal on creating a vision platform that could capture both low-latency enhanced video for piloting while simultaneously capturing high quality stills images for 3D modelling – a solution that could generate incredible 3D reconstructions without specialized technicians or expensive 3rd party processing. With this goal in mind, Voyis endeavored to solve the historical challenges limiting the widespread adoption of 3D inspection cameras by combining computer vision technology with edge processing to unlock new ROV piloting and inspection capabilities," Voyis said.
Voyis says that the newly launched product line, Discovery Vision Systems, addresses the trade-off that is currently made between Piloting Cameras and 3D Inspection Cameras.
"Piloting cameras prioritize low latency video at the expense of the image data required for 3D model generation. Conversely, 3D cameras prioritize image data at the expense of piloting effectiveness, limited by a higher latency and smaller field of view. The Discovery is a vision platform without compromise, delivering 4K piloting video together with 3D data," the company said.
Voyis says that Discovery is offered in two versions, the Discovery Camera and the Discovery Stereo.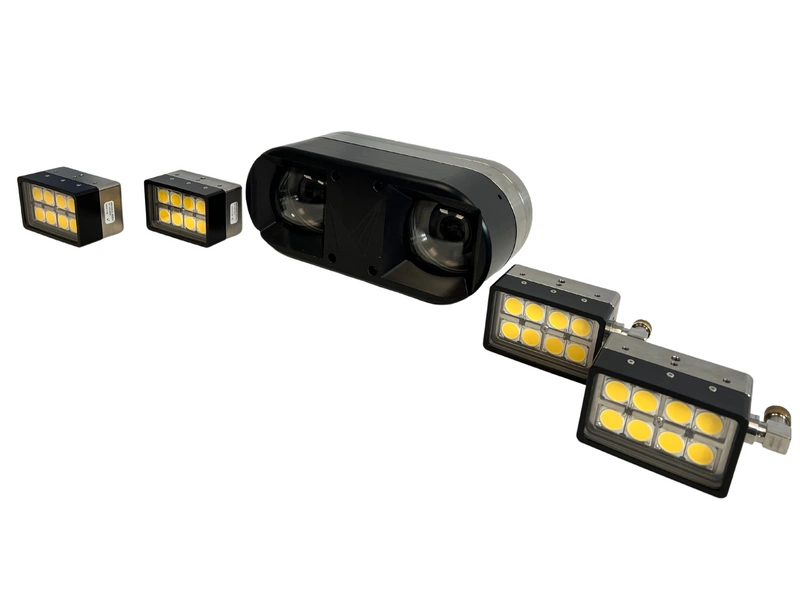 Credit: Voyis
According to the company, the Discovery Camera provides small ROV platforms with a compact imaging and lighting payload that streams both 4K low latency piloting video, as well recording crisp stills images for direct 3D modeling.
"By utilizing a large high-sensitivity sensor and wide-angle lens, it provides an ultra-wide field of view (130°x130°) for complete situational awareness without needing to tilt the camera. The camera's 8-megapixel sensor with resolution-matched optics achieves true 4K video quality, along with lossless sensor zoom. The synchronized high-power Nova Mini lights provide an industry-leading 125,000 lumens of even illumination, increasing the operating range and feature detection capabilities of the vision system. Edge computing corrects visual inaccuracies in real-time and uses high dynamic range information to correct lighting that enables the stills images to be directly used for 3D modeling," Voyis said.
According to Voyis, its Discovery Stereo solution brings true depth perception and real-time 3D modeling to ROV platforms operating at up to 4000m depth.
It maintains a wide field of view (75°x75°) and low latency for the piloting video stream, while onboard computing instantaneously calculates 3D depth maps for measurements and coverage monitoring.
"These depth maps are 3D point clouds calculated from feature matches between a pair of images at a single point in time, which can be displayed in a real-time rotatable video stream to observe the changing 3D scene and allow the pilot to monitor the vehicle's position relative to the target. This depth perception has the potential to enable autonomous capabilities on newer robotic platforms, like manipulator automation or station keeping without seabed bottom-lock.
Both product versions come integrated with Nova Mini lights, as well as direct support of DDS (Data Distribution Service) and ROS2 (Robot Operating System).
Chris Gilson, CEO of Voyis: "Voyis continues to lead innovation that enhances capability in underwater exploration and inspection applications. The Discovery Vision Systems represent a significant leap forward in the performance of ROV vision systems, delivering simultaneous 4K video and 3D data streams. We believe this system will become the standard platform for underwater machine vision and autonomy, helping to advance a revolution in subsea robotics."