Heerema Marine Contractors' offshore installation vessel Thialf is set to install the offshore substation platform topside within the Dogger Bank A offshore wind farm construction area in the UK North Sea.
The vessel has previously installed the jacket foundation for the Dogger Bank A substation platform.
The giant Dogger Bank offshore wind farm is being built in three consecutive 1.2GW phases; Dogger Bank A, Dogger Bank B, and Dogger Bank C.
SSE Renewables is leading the development and construction of Dogger Bank Wind Farm while Equinor will operate the wind farm on completion for its expected operational life of around 35 years.
According to the notice to mariners issued by the project operators, the topside installation works for the Dogger Bank A substation will start on approximately April 18, 2023.
A statutory safety zone of a 500-meter radius will be in place around the heavy lift vessel (HLV) Thialf during the installation of the Dogger Bank A substation platform topside. The Dogger Bank A platform weighs 7,500 tonnes measuring 74 x 51 meters across and 40 meters high.
The HLV Thialf will deploy anchors (12No.) in an area with approximately up to 1.3km radius from substation installation location. Vessels are requested to maintain a minimum safe passing distance of 2km from the HLV Thialf during the operation, the notice reads.
Once operational, the platform will receive electricity from 95 offshore wind turbines and convert it into 320 kilovolts of direct current, which will then be sent to shore.
Once the Dogger Bank A substation topside work is completed, Thialf will also start the installation of the offshore substation platform jacket foundations within the Dogger Bank B offshore wind farm construction area.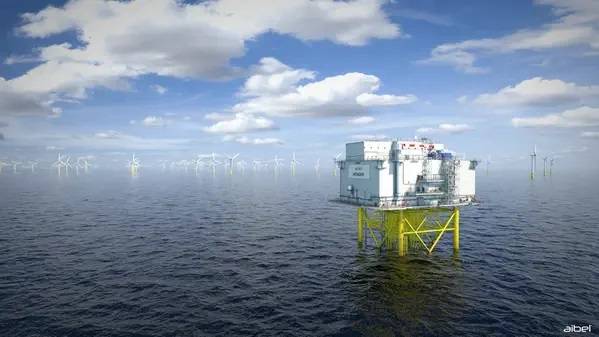 Credi: Aibel
---
---
Worth noting, Heerema Marine Contractors is conducting the works on the Dogger Bank A & B substations as a subcontractor for the Italian offshore services firm Saipem. Saipem secured these contracts in June 2020.
Also worth mentioning, Heerema, in March 2022, secured a contract for the transport and installation of the Dogger Bank C offshore substation.
Under the Dogger Bank C substation installation contract, Heerema will be responsible for the transportation and installation of the 3,500 metric ton jacket foundation, four main piles, and the 9,500 metric ton offshore substation topside.
Heerema will perform offshore lifting to position the jacket foundation on the scour bed, using main piles to provide jacket on-bottom stability. The offshore substation will be lifted from a barge prior to the set-down on the jacket foundation.
The full 3.6 GW Dogger Bank project in the UK, will be the world's largest offshore wind farm once fully operational in 2026 and will have the capacity to power six million British households.
---