Texas-based seismic services company SAExploration on Friday announced the award of two ocean bottom node programs for the North Sea during the 2023 acquisition season.
"Currently SAExploration has commenced mobilization of the required assets in Norway with production starting on the 15th of April 2023. The expected duration is approximately 150 days," SAExploration said.
The company, which shared the news via social media, did not share further project information.
Worth noting, the company used the Sanco Star and REM Andes marine seismic vessels to illustrate its announcement.
According to MarineTraffic REM Andes, departed from Kristiansand, Norway, on Thursday at 11:45 local time and is currently sailing at 8.5 knots in the south direction, but the destination is only described as the "project area."
As for the Sanco Star, the 80m seismic vessel departed from Kristiansand on Thursday at 10:34 local time and is currently sailing at 8.8 knots with the southwest direction, its destination, according to AIS, is the Heimdal field area.
However, information from the Norwegian Petroleum Directorate indicates that SAExploration, using the two vessels, is about to start a survey in the North Sea area, to the south of Handal, on behalf of TGS, as part of a survey named TGS23202.
A map on NPD's website shows the Balder, Ringhoorne Ost, Breidablikk, Grane, and Svalin field areas as planned to be covered by the TGS23202 survey.
Worth noting, back in February, TGS, in cooperation with CGG, secured the contract for the acquisition and imaging of a dense ocean bottom node (OBN) multi-client seismic survey in the Balder and Ringhorne areas of the Norwegian Continental Shelf (NCS).
"The Heimdal Terrace OBN survey, located directly north of the Utsira OBN survey in the North Sea, will span an additional 500 square kilometer area under receivers (AUR) to increase the contiguous multi-client OBN coverage in the region to 3,778 square kilometers AUR.
The survey area covers a mature part of the North Sea, including the Balder and Ringhorne fields, the Iving/Evra and Enniberg discoveries, and surrounding infrastructure-led exploration (ILX) areas for potential tiebacks to existing infrastructure," the companies said ad the time.
The companies said in February that the survey would start in April and that TGS would be the operator throughout the acquisition phase, with the aim of providing insight into enhanced exploration opportunities across this part of the NCS.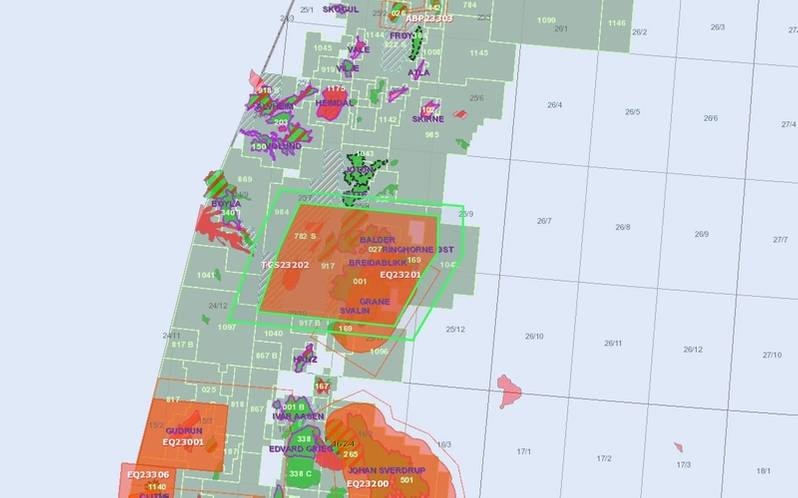 ©NPD